Author News & Updates
Trooper – Chapter 9 has been published, please check it out.
Surviving Hirkland Town - Chapter 2 has been published, please check it out.
I'm steadily getting through some read requests today, read below for more infomation.
A lot of my work has been taken down for a re-write.
Read Requests
Novels – Closed
Short Stories – Closed
I'm very busy being a full time mummy and writing my own works. This means I've only got a small amount of time to read. If I've fanned you, I'll accept all your read-requests, even if my requests say closed. If you read my work and leave generous comments, I'll return the favor and read yours. (KMU!!... I liked it!!...etc... Doesn't apply, how do I know you've actually read it by that comment? Lol). 
Reading List
** Catching up
An Apocalypse Hero & The Creepers – Ashley I Read
The Vampire Tamer – raindancer97
Always Clowning Around – km2
Daddy's secret - Westgirl
Remedy & Rescuing Destruction - Sparrow01**
Beneath the Surface - BrittanyBright21
My Contest Winners
Contact me
Like me on Facebook at:
https://www.facebook.com/BUnique2013
Or email me on:
My Featured Novel
Click the picture for a fast link to the story
Title - Trooper 
Genre - Romance
Summary -  This romance novel is set in 4014, follow the main characters Logan and Skylar's complicated love as it's put to the test when secrets are forced out into the open causing lies and tragedy to become unavoidable. 
How hard can it be to love your enemy? 
Upcoming Novellas
Link coming soon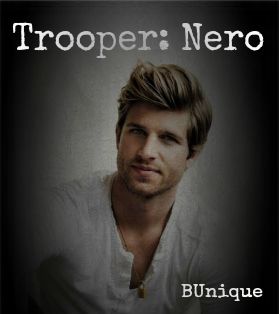 Title - Trooper: Nero
Genre - Science Fiction/Romance
Summary - Coming soon.
These make my day, I always try my best to return the favor!