"Be who you are and say what you feel. Those who matter don't mind; those that mind don't matter." –
Dr. Seuss
Hey everyone! Just a heads up, I haven't been on as much as normal lately. I'm still popping on occasionally, but some things have been going on lately and I don't feel entirely safe on this website anymore. But I'll still try to post some things every now and then. When I officially "come back" I'll have plenty of crap for you! C:
Love you guys!
~Coralie
XD just kidding... maybe...
Welcome to my page! Be prepared for some great bands, quotes, chaos, funny memes, and randomness. YOU'VE BEEN WARNED!!! :'s
Let's keep these two lovely little signs coming, please! It brightens my day to see them!
This is where people explain themselves, right?
Well lemme get started.
Obviously I like to read and to write. But I also enjoy skateboarding, singing, drawing, swimming, and dancing. I'm an aspiring writer/singer/actress/fashion designer. I'm a bit of a Renaissance woman.
I freaking love these series:
Hunger Games
Divergent
Matched
Harry Potter
Fallen
Interview with a Vampire
Ghostgirl
I also really love music. As far as I see it, this is very simple math to explain me. ME+MUSIC= You all can live. ME-MUSIC= FUCKING CHAOS. RUN FOR YOUR LIVES.
The bands I like are really all over. I like Bring Me the Horizon, You Me At Six, Gorillaz, Red Hot Chili Peppers, Sister Hazel, Flyleaf, the Cab, All Time Low, Falling in Reverse, Linkin Park, Nirvana,  Puddle of Mudd, Theory of a Deadman, the Runaways, Nicki Minaj, Lady Sovereign, Die Antwoord, Edith Piaf, Billy Holiday, Loretta Lynn, Patsy Cline, Ellie Goulding, Panic! At the Disco, Fallout Boy, Escape the Fate, Carrie Underwood, Skrillex, Drake, Borgore, Zomboy, Big Chocolate, Regina Spektor, Abandon All Ships, Letters to Cleo, Joan Jett, Hole, Jack Off Jill, Busta Rhymes, EXO, 4minute, Tegan and Sara, the Rolling Stones, Death Cab for Cutie, and many, many more….
So if that doesn't tell you something, let me spell it out for you. I'm pretty much all over the place.
OH. And I DJ. If you ever hop on a little site called aimini.net I have a few of my remixes up under my DJ name, Bass Whore. :D
I'm always up for reading requests. All I ask is that if you want me to read something of yours, please return the favor!
I have absolutely no tolerance for bullying. NO HATERS ALLOWED HERE. Bullying is fucking evil and it needs to stop. All it does is hurt people in some way or another, and I have lost way too many people to suicide because of bullying issues.
I have a few little goals that I've set for myself:
[XXXX] Have 50 fans
[] Have 100 fans
[X] Have 100 reads on Let the Rain Come Down
[] Have 500 reads on Let the Rain Come Down
[] Have 1000 reads on Let the Rain Come Down
[] Win a Contest
[] Host a successful contest
[] Have 15 people involved in The American Wasteland
[] Have 75 comments on a story
S
o will you guys help me out, please? :D
I'm sure you might be wondering what the hell "Let the Rain Come Down" is. Well, it's my novel entry for Future Author's New Year, New Contest. It's about Adrian Meyers as he struggles to recover after the sudden death of his fiancée Ana. With the help of a newfound friend, Evelyn, he attempts to make a better life for himself and learn how to rejoin society as a better person, and maybe just learns how to love and trust again. From all of the feedback I've gotten on it so far, a lot of people like it! But I'd still love if you would read it and give me your opinions on it!
UPDATE ON LET THE RAIN COME DOWN!!!!! It is completed and there are two spin offs coming out soon! One is from Ana's point of view, so it may just be a short story! It will lead up to her death and give new insights on she and Adrian's relationship, as well as explain some unanswered questions! The other spin off will be through Evelyn and Adrian's daughter, Rainy's point of view!!! She will be a teenager in the novel. And yes, you read that right. A WHOLE NOVEL.  XD
opin
ions!
The American Wasteland is another one of my projects, currently, and it's a little bit of a debate forum. It's where I'll be setting out my opinions on a lot of topics, like abortion, music, spirituality, religion, LGBT, same-sex marriage, money, and politics. Plus a lot of other things. Then you, in turn, can either post a response of your own as an essay and comment on my initial essay letting me know, or you can leave a short response as a comment. If you're interested in participating, let me know!
I like a lot of movies, too! Some of my favorites are Benny and Joon, the Breakfast Club, the Full Monty, a Walk to Remember, Mama, the Hunger Games, Breaking Dawn Part Two (although I will admit it, I am a Twihard!), The Fast and Furious, Fast Five, Bag of Bones, Heathers, Jawbreaker, Almost Famous, Dazed and Confused, Pitch Perfect, That's My Boy, the Hangover, Kick-Ass, Knocked Up, Baby Mama, the Jerk, the Toy, 50/50, Death at a Funeral, Scott Pilgrim VS. the World, Juno, Whip It, Nick and Nora's Infinite Playlist, and Valentine's Day
I also love American Horror Story, House, the Middle, Modern Family, Dance Moms, New Girl, Bones, Criminal Minds, Supernatural, and Raising Hope.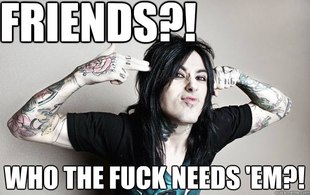 I LOVE watching funny videos, like Tobuscus and Pewdiepie. Oh, and Your Grammar Sucks. Not sure why, but I do. And I play a lot of video games, which apparently is "weird" since I'm a girl. Yes, I'm female. Yes, I have lady parts. And yes, I COULD be in the kitchen or something like that. But then, your ass would wind up dead, because I cannot cook, and I would accidently wind up poisoning us. Somehow. *BROFIST!!!*
OKAY! SO NOW FOR THE AWESOME AUTHORS!!! *drumroll*
*MyHeartisaRadio
*Happiness
*Lacey Gerard Monroe
*MrV
*Future Author
*Maddie Grey
*ThoseMidnightEyes
*Ella Lynn
*Vjamrite
*Vampire17
*VintageBubblegumClub
*Oakwood
*Meenakshi Sharma
Alright, well, thanks for possibly reading my page? I don't know if anyone actually does or not. 
Yours Til Niagara Falls,
~~~ Blake