Hello!
You can call me Kyra :) (P.S. The 'y' is pronounced like in 'sky')
Things you should know:

  1.  The reason I'm known as the Queen of Cats is because cats/kittens have a tendency to follow me around before going back to where ever they live, some times strays even rely on me to feed them!
  2.  I like the color purple. I don't know why but the color just fits into a place in my heart. . . That and it's a color of royalty!
  3.  My birthstone is a ruby :D I feel like I needed to add that. . .
   4. I'm home-schooled so I'm online a lot of the time!
  5.  I like writing poems even though some aren't really even poems . . . I'll put some on here when I get a sudden burst of confidence! :D That won't take long at all~
  6. I love anime!!! From Hetalia to Clannad! That anime was so sad. . . but so sweet!
  7. I have a cat named Flashy! When we first got her the woman that sold her to us said she was a boy! But turned out to be female. . .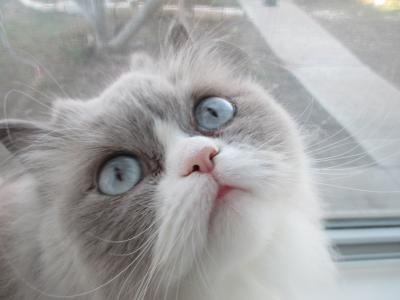 Isn't she cute!!! She likes boxes :D I mean who doesn't like a good box?

  8. I love music! Seriously I can't go a day without listening to it~
(Other website profile is:
  http://www.quotev.com/QueenOfCats )
***
Ever since I was a little girl, I was a loner. That girl nobody really ever paid attention to. The girl whose name you'd forget in a years timing. Every friend I've had, has always left me. Now practically everyone I've ever known can't even remember something as simple as my name. But I remember them. And now it's painful to watch them move on with their lives, because I remember all the times we've laughed, cried, and shouted in victory. But now all I am is a memory pushed in the back of their minds. Replaced by new ones.