I AM NOT INACTIVE, I AM STILL AROUND, JUST BUSY
I write the things that have not yet been written...
...and seeing this box here after I've written it really makes me happy:)
***********************************************
Just a guy who likes to write down the things on his mind
If you hate me, that's fine
Because my stories will always be undenied
And If you hate me then that's alright
Because who know's
I may even end up being better than the 5 of you combined
So if you hate me, that's fine
But keep in mind
You may be making the biggest mistake of your life.
Whoever said life is short 
probably lived a short life
---
THE NOVEL/PROJECTS
I AM WORKING
ON RIGHT NOW
---
REVELANCE
-PROGRESS: IN DEVELOPMENT-
Two years after global destruction kills 9/10 of the worlds population, the survivors form a new government which later creates an agency that serves and protects the survivors who are left. Their purpose was to help them rebuild their world to the way it was but when a shocking discovery is revealed, one member, (Ventia Mason) turns against the agency and their corrupt ways. He befriends a suspected criminal named Malcolm and together they find a man named William Shaw who eventually helps them start a rebellion.                                    
Day 3
Technically this isn't really a novel. It's more like a short story divided into 3 parts. I will not post any chapters until I am finished writing all 3.
Synopsis: Chronicles the life of two police officers in a small town in Texas who pursue a criminal rumored to obtain a supernatural power.
Deceitful (Short story)
A grossing comedian steals good jokes from other local comedians to create his own fame. Like all rules that are broken, there is always a consequence and soon James Newton will discover his own. What will it be exactly? There's only one way to find out.
---
 UNKNOWN DATE  
2014, 2015 or later
(Books I plan on writing) 
---
Insufficient Dreams
Noah Winfeild, a young teenager, discover's he has an interest in writing and hopes to become an author.
While still in the middle of finishing up high school, his father's software company is forced
to shut down and his family of seven are left to live on the streets. For Noah and his family, the only
hope left for survival, is finishing the book that he started writing. While hoping to get the book published to
save his family from poverty, Noah makes a friend along the way, who is also homeless. As they become close,
they inspire each other and Noah's life changes. But, will he ever be able to save his family and successfully publish his
book? There's only one way to find out.
FOLLOWERS (Revelance Prequel)
Many people have questions about Revelance and this novel
is sure to achieve the answers. The prequel will talk about Jon
Devoddens past and Malcolm's past and explain how the new
government was formed and why both Sovense and Revelance
were created. It will also discuss the recovery missions of the
survivors and how they survived in the first place. The novel will
be short, sweet and to the point with only 7-10 chapters. Followers
is guaranteed to answer all of the questions you have been asking.
The Sabbath Trilogy (Starting in 2014)
PART I
PART II
PART III
The Sabbath is the story of a young boy who is born during World War I. Raised by his catholic mother he also has an older brother as well. When an invasion occurs in their hometown, all hell brakes loose. After his mother is shot and killed, she makes an attempt to convince the brothers to surrender to the German invaders, but will they really do as there're told? Or will their own reckless decisions put them on an unexpected path in the wrong direction? Theres only one way to find out. COMING IN 2014 and/or 2015
Much more historical research has to be done before
I can even begin writing this. Sorry this was such a bad summary:(
The rest of the story is still being worked out. When I finish working on Revelance and start working on Sanora I will put up the official summary to these three upcoming novels. 
The Examiners
A story about a wildfire that becomes uncontrollably chaotic.
Unfortunately, I don't write multiple novels simultaneously, so this book probably won't be written for a really long time but at least I put up a poster:)
(A real summary will be written soon.)  
The Six
I don't know for sure yet if I am going to be writing this or not but here's the summary:)
Six people are arrested as suspects for being involved in the 9/11
attacks eleven years ago. When certain evidence is revealed, it turns out that only
one of those six people are guilty and the other five are innocent. As time runs
out, the jury must choose who dies and who goes free. But will they make
the right decision? There's only one way to find out.
Carver
Four people volunteer for a top secret scientific experiment and are put inside of a machine that allows them to mentally create their own version of Earth in their head but have the ability to feel like it's actually happening. After each of the four people are placed into their imaginary universe they soon discover that these worlds intercept and even though their worlds aren't real, the damages that they do to each other are and all four volunteers are forced to fight each other until only one remains.
The Bridge
I can't decided if I want to make this story a short story or a novel. I will put up the summary once my decision is made.
____________________________________________
I <3 MINECRAFT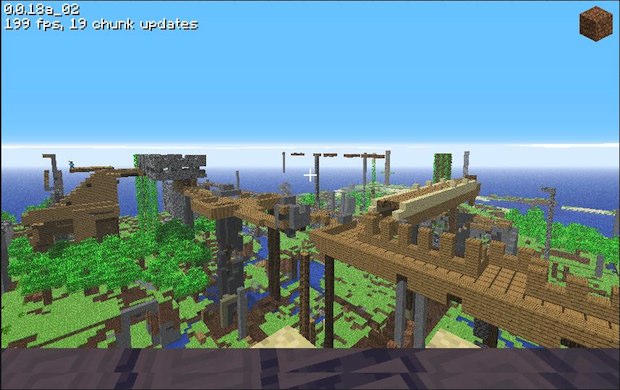 MINECRAFT RULEZ
---
---
Recommended Novels
---
---
Pure Leaf by LittleMizOz
 Felixa Warren is a lover of archery and apples. But when she goes outside to practice, she finds herself stuck in another world. As she wanders farther and farther into this world she gets stuck and that's the problem...she's can't get back. So what will she do in this strange new world? And will she ever be able to get back?
Demon Catcher by LittleMizOz
 Welcome to Reusmerdith. A dazzling city with all your hopes desire...desire that is to become apart of the Dinosoruth Training. Like Oxanna Jerix. A tamer of demon like Dinosaurs. Join Oxanna and find out more about these demon creatures and what it takes to tame them before the enemy Dinosaurs attack the city!
---
---
Writers You Should Check Out
---
---