Online [X ]
Offline [  ]
Heyo, just like ythe good ol' Terminator, I am back! Still taking a break from writing for reasons that are too boring to describe but Im back on the site, so ya know, Ill be floating around and stuff :P
Crimson Knight - Brand new fantasy novel! If you like magic, female protagonists, questionable sleeping positions and moral ambiguity then you might just enjoy it, probably.
If you're just stopping by then I urge you to check out some work here on Booksie, no, not my own. It's cool if you do that too but everyone should just go check out The Walking Game by GhostOfTheRain! Below you'll find my rabble of words that really doesn't do it justice! Go check it out, you owe to yourself if you possess any form of humanity! GO GO GO
Okay, so I don't usally do stuff like shoutouts on my wall, I mean how many people even look at this? Regardless, I have to make an exception for what is probably my favourite book on Booksie now. 
the-walking-game by ghostoftherain is undoubtedly one of the best things I've ever read! Ghost is an extremely talented writer who's genius plot twists and unique characters will keep you more than entertained on an emotional, action packed rollercoaster! Personally I've fallen for one of characters, the wonderous and bat shit crazy Kanna. so she's mine. Just thought I'd say, already called dibs. Aura, the main character is equally as badass and her development throughout is masterfull. I could say the same for all the cast, not a single character feels under - developed in any way whatsoever! It's a perfect plend of serious plot, comedic and heartfelt character interactions and all round badassery. If ever a story has deserved to be published for the masses to see then it should be The Walking Game. There was an instance where I stayed up until 5 in the morning just to read the next chapter (time differences are OP) Anyway, enough blabbing on, go check The Walking Game out now or you'll face my almighty wrath! :)
HEYO people! Currently working on a new Fantasy story - !'m Just An NPC" check it out if you can!
PSN Account - NoMuffinsLeft - Add me fellow playstaion peeps, I'm on Ps3 + PS4
Steam Account - NoMuffinsLeft
Reading Requests - I don't really have any rules regarding requests. If it sounds interesting to me I'm likely to check it out but don't take offence if I don't decide to, it just means it wasn't for me.
To make things easier for potential reading requests - I'm a big fan of fantasy/action and sometimes Sci - Fi depending on the story. As far as Romance is concerned I don't mind it at all. However, I do usually prefer it mixed in with other genres but I make exceptions if it holds my attention. 
I don't care about the whole "Ill check yours if you check mine" thing. If you want to read my work then It's up to you, I'd rather have one reader who actually continues reading than have 100 lazy return read comments for the sake of returning the favour. So in short, don't comment on one chapter of my work for the sake of a return comment because that's not really how I roll and don't feel pressured into reading my work iff you don't like the sound of it purely because I read your work first. Reading and writing is meant to be fun, just enjoy yourselves and keep it cool.
Hey all I'm not exactly new to booksie. I used have an old account(Craig Akuma). I was trying to think of a really awesome reason behind why i started writing. However, it really comes down to the fact that I like stories and writing is fun. :P
Quick Bio - I'm 18 and live hail from Scotland. I'm Going to University in September so I have way too much free time until then! I'm pretty much just a massive gaming/anime enthusiast who has a general hatred for modern society but apart from that I'm a nioce guy, probably.

Games: I could make a list but that would take too long. Mostly a fan of RPG's or just about anything that has a decent story. I guess if I had to name a fave game it would be the Final Fantasy Series!
I watch/read a lot of anime/manga, probably too much. Finding new anime is a bit of a challenge after all these years xD. Some of my faves include:
Fairy Tail Baccano, Durarara, Steins Gate, Gintama, One Piece, Sword Art Online and many more!
Music wise I listen to anything that catches my attention. Though my fave band is Paramore(I love Hayley Williams XD).
So yeah, I'm like just one massive Final Fantasy Fan. Easily my fav game series of all time. From the old classics like 7,8 to the new games, I love them all! Super excited for FF 15...whenever Tetsuya Nomura decides to release the darn thing. 
Tifa Lockhart - Final Fantasy 7
It's pretty much impossible to not love Tifa. I wish Square would re-make Final Fantasy 7 for modern tech! Picture above is from the movie, ahh a modern day re-make with some HD Tifa? It would be a truly miraculous day!
Lightning - a true badass!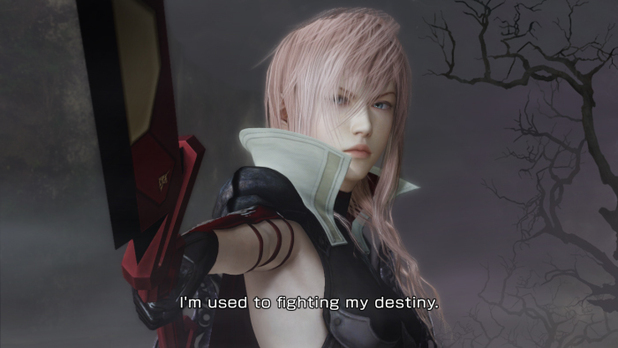 A picture of Kanna from The Walking Game, thanks to Ghost for the link :P I feel like my wall is becoming a showcase for all my fictional crushes, I like it...