Latest news:
I'M AWESOME O___O Okay, yeah I just deleted the list I made this morning -_-
NOM. NOM. NOM. O__O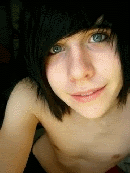 Okay it kinda gets annoying after a while .-.
Ugh, I'm having my 'omg! how cute!' moment here...xD
AGHHH D8
This guy is cute but the gif is a bit weird ...xD
HOLY SHIT AND OF COURSE THIS GORGEOUS MAN JUST STEALS THE SHOW *_____*
LOOK AT THAT HAIR..THOSE EYES..THE WAY HE JUST CASUALLY FLIPS HIS BANGS...
I have only one thing and one thing to say....
 MARRY ME ANDY!! >8U