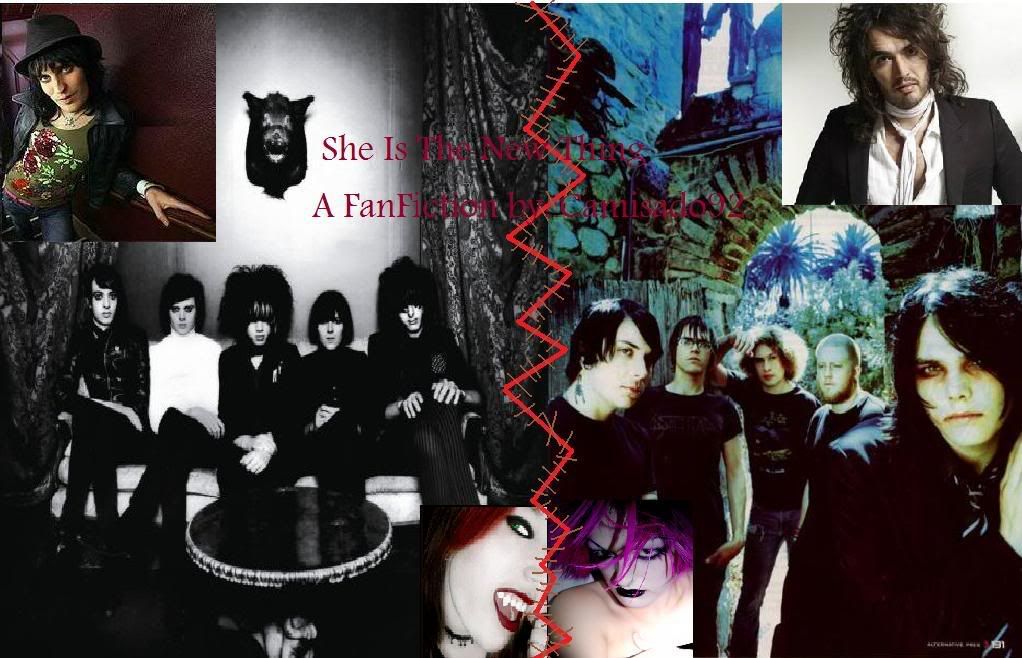 It isn't hard tobe miserable in London. The fog, the rain, no sun. It's just so easy. I combed my long black hair into a ponytail, leaving my bright red bangs out to cover my pale face. I relined my bright green eyes with lots of black and added a lot more mascara. I grabbed a black AFI hoodie to cover up my Cure shirt and headed downstairs. I slid on my black combat boots over top my black skinny jeans and straigtened out the suspenders that hung down to my knees. I sighed, flipped my bangs out of my eyes, grabbed my house keys, messenger bag, and opened the door to leave.
"Devi! Devi! Are you leaving?" My father called from the front room.
"Yeah, I'm leaving. You need something?" I asked impatiently.
"Yeah, can you stop by the drugstore and pick up some aspirin?" He asked.
"Yeah. I'm heading to Topshop so I'll pick it up on the way back." I sighed. He grunted slightly and I headed out the door. The second I got outside I noticed a tall gangly girl with short, neon purple hair smoking on my porch.
"Oi, Tessa. What are you doing giving cancer to my porch?" I smirked. Tessa turned to me and put out the cigeratte.
"Sorry, Dev. Forgot your not a smoker." She laughed.
"That's because I'm originally from Los Angelos where hardly anyone smokes as opposed to here where everyone does." I laughed and we started walking.
"So," She stated simply. "Where are we off to today?" Tessa looked at me with a raised eyebrow.
"Uhm, I think I'm going to go put another hole in my face," I pointed to my nose. "Get aspirin for my father, and stop by Topshop." Tessa hissed slightly.
"Topshop? Really?" Tessa gave me a looke of pure disgust but I just laughed it off.
"Yes Topshop. I need new jeans!" I grinned maniacly. She rolled her eyes at me.
"Oh really? You do know that Vince Noir isn't real and isn't going to be at Topshop?" Tessa pushed me slightly. I stumbled dramatically and laughed. Only Tessa knew about my huge Boosh obsession and how much I loved Vince Noir.
"Yes, I know but we can always take the chance that Noel Fielding might be there." I smiled and we laughed together.
"Yeah, we might as well get Topshop out of the way then. You really want to get your nose peirced? It's going to hurt like a bugger but It'll look so cool!" Tessa smiled. I nodded slightyl realizing how much it would hurt. It would be my first peircing after my ears so I cringed slightly.
|
Email this Novel |
Add to reading list