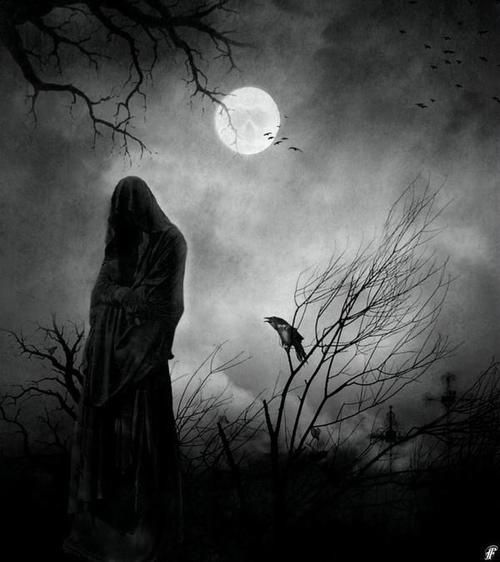 "So, what happens to him?" Sar asked bluntly.
"Well,they'll take the body to the night hags and.."Alora trailed off. She ran a quick hand through her hair.
"And what?"
"And they'll use what's left in their spells and curses." She finished, reluctant. Sar slowly began to shake his head as her words sank in.
"No..no. He won't reach the UnderRealms safely." He stammered. "He must be blessed by a priest."
Alora's thin patience snapped at the mention of a priest. She reined in her anger with difficulty and struggled to keep her expression composed. She jabbed the stick viciously into the entrails.
"Are you feeble-minded? Is that it?" She gave him a quick,appraising look. "There are no UnderRealms for Gareth. He belongs to the Night Hags."
"But you could save him."
Alora looked up, her brows raised. A grotesque animation had begun to steal across Sar's features. He looked towards the woods with a pitiful eagerness.
"No. I can't bring him back."
Sar's face was a window and the expectation that shone from his expression caused a sudden hurt.
"Can't? Or won't?" Sar looked at her as his excitement began to fade. That oh-so-small-but-it-was-there surge of having the chance to make everything right began to slowly recede.
"Both." Alora replied. "The Night Hags are dependent on the bodies the dogs bring back. They need them to survive. The hags are the last relation to my Clan and I won't interfere."
Sar saw a stubborn set to her jaw that warned him that he was forging into dangerous territory but the opportunity to fix everything was too powerful.
"So...how much?" He ventured. Her eyes narrowed. Sar knew he'd blundered but the words were already spoken.
"I don't care how much it costs. I'll get you the money! Just bring him back.." He pleaded.
Sar stumbled back a step as Alora swiftly rose and came towards him like a striking snake. Two icy hands slapped against his cheeks and held him tight . A blast of pain etched its way through his brain.
"That feel like life to you?" She whispered, her face grim. Her anger rolled through him and he stared at her,speechless. A droplet of blood peeked from his left nostril. It glistened, black in the firelight, then began a slow trek towards his upper lip. He was filled with terror yet a part of him calmly wondered if it were tears he saw in the savage eyes that peered into his own.
He moved his head from left to right than stilled. Blood hung in a frozen tendril from his chin. She nodded and gave him a tight smile.
"That's right." She replied and let him go.
Alora watched him struggle to stand. In that moment she hated Sar, hated his simple way of life and the power he'd given her over it. Hated that somewhere, someone loved him enough to tell him that what he'd done was all right, even though they knew better. Hated him because he made her so aware of herself.
She un-clenched hands that had seized into fists and walked over to Loki. He'd watched everything, his bright eyes a non-judgmental audience to everything she did. She stroked his mane and rid her hands of the warm, meaty feel of Sar's flesh. She was tired. And cold. She'd let the fire die down. She left Loki and went and got some wood from her woodpile. She tossed it on the small camp fire then sat back down in front of what was left of the tiny cur. She looked across the firelight at Sar.
"Do you still want me to tell you about tomorrow?"
Sar shrugged. What he really wanted was to wake up in his bed and have The Twiceborn, Gareth, and Lese be nothing more then bad dreams from too much pepper in last night's stew. But if he said no, than Gareth would have died for nothing even though this dark song and dance could hardly be called a good cause. He slapped his hands against his sides like a tired, whipped child.
"So,tell me." Sar's eyes were leaden, his face slack. Alora sensed she could tell him that everyone he loved would die tomorrow and he wouldn't bat an eye.
She pointed a finger at the spot on the opposite side of the dead cur and Sar reluctantly moved closer. He eyed the mess of intestines and rotten organs. The smell overwhelmed him. His jaw dropped open and he gasped for air. The odor reminded him of animals that had exploded, hot and gassy, from strong sunlight. He could taste the smell in his mouth. An ominous rumble started in his stomach and his legs gave way. A high-pitched moan slipped from his lips as he retched. Nothing came up but burning air. He stayed on his hands and knees. He didn't think his trembling legs would hold him up.
Alora waited as she sat cross-legged with her hands on her knees. She sucked in a large draught of air, solely for his benefit, and he noticed that she simply couldn't keep a large grin from spreading across her features.
"C'mon Sar. Sit across from me."
"I can't. This is close enough."
With an exasperated sigh, Alora leaned out and grabbed the sleeve of his tunic. She jerked him closer. Her strong yank brought him eye level with the seething mass. Sar scrabbled back on his palms and pushed himself upright. He glared at the girl across from him.
"Breathe through your mouth." She instructed and recrossed her legs.
"I am." He gasped. He darted a quick look down then away. Ah god,were those maggots?
"That's the most disgusting thing I've ever seen." He managed to say before gagging again.
"Really?" Alora leaned forward and peered at Sar with wide-eyed fascination. "I think it's a neat trick."
"Is that what it is? A trick?"
She leaned back and shrugged.
"You tell me. What is it you want to know?"
"Well...why can't I sit by the fire?" He looked over his shoulder longingly at the orange glow. Alora stared at him, her face bland. She placed her hands against the small of her back and stretched.
"You paid ten gold pieces for that?" She snorted. "Shit, what a waste of a dog."
He gaped at her. To joke about this after everything he'd witnessed was beyond his understanding.
"And now here we sit around this mess like two women at a tea party" He thought. A dull ache caused by the rancid air had set up house behind his right eye.
"All right." Sar slowly said. "Tomorrow. Will we be able to surprise them?" Or will they be waiting for us?"
He watched her as she stared down into the bloody gristle. She leaned over and filled her lungs with the sharp, acrid aroma. He looked away.
Alora was unaware of Sar's discomfort. This was an alive smell to her, the scent of something deeper than breath or voice. The bittersweet tang of the soul, at times more bitter than sweet, spoke to her in the language of her Clan.
("Feart the dogdrivers aback. You be known by the dark dayname. First dark to middle-night, she own!" The laughing wraith had said in a tongue Alora had called her own but she'd been young and had heard it all before.It was so tiresome then,so "down deep" but now so special, so needed. Something to call her own.)
She saw what Sar had paid to know. The men of Gandoura skulked through the underbrush in their ridiculous battlegear with Sar in the lead. The vision was so clear she could see the cheesy complexion of his face, and the fear stippled into the grain of his skin. She watched them crouch in the brush and stare at a slowly waking village with just started cookfires and an air of poverty heavier than the stench of the tiny cur.
"Yes. It will be a surprise attack." Her voice was strained, her face averted. A bunch of farmers fighting over who was the biggest frog in the pond. And they thought her gods were cruel.
"Will I lose a lot of men? Sar hesitated. "What about me? Will I live? Do we win?"
Once again, Alora looked down into the entrails. She frowned. Too many questions at one time always muddled up her ability to see. She reached one finger out and slid it across the greasy organs. Unaware of Sar's horrified expression, she raised her finger to her mouth, her expression far away. Sar choked and stumbled to his feet.
"No,I don't want to know." He stuttered. He'd expected magic. A vision drawn from the cosmos. Or the pristine alchemy of the wizard. Instead he'd gotten some back alley freak show, complete with a primitive hocus-pocus that turned his stomach.
"I wish I'd never asked to know." He stated dully.
He moved off and stood by the fire. He held his hands over the meager heat. Embers popped and floated upward, small dancing motes of light borne away by the night breeze. He watched them go. Something nameless yet essential was gone from him and he couldn't bear the thought of it being stolen. It wasn't a feeling of great depth. It didn't weight down his bones or make thought an effort but, oh god, it was vast, stretching beyond an endless sea of emotion. He felt like a man adrift in a tiny boat with only a wooden spoon to dip out the water with. To try and make it dry again. To make it right again.
|
Email this Novel |
Add to reading list