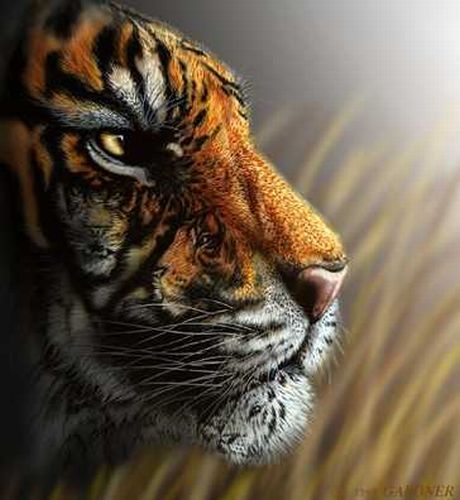 Alora ran her fingers through her tangle of hair. Her appetite was at a sudden all-time low. The man who'd called her a "dybbuk" stared at her, his licorice-black eyes avid with wonder.
His curiosity reminded her of the time she'd come across a bunch of peasants headed to a faire with what they called a gilly show. They'd had the biggest cat she'd ever seen sprawled in a rolling cart with bars. The beast had had long black stripes on its washed out orange pelt. A rope had been tied around its neck and paws. It lay stunned and still in the heat.
A dried up old man had seen her looking and had poked the cat with a stick. It had struggled to its feet and made a crying sound. A wailing note of pure sorrow. The blue black eyes had touched on her and she'd seen a bleak existence in them. Not the rise to heaven or the fall to the UnderRealms as she'd expected. Surely such an exotic beast from some faraway land would have witnessed such things. No,she'd seen just its being. Bound to an earth made of nothing more than bars and staring eyes and even though she didn't know what kind of beast it was she knew it was a broken one on display.
"I'll have the stew. And bread. And bring me some ale."
Her hands shook. She clasped them together tightly and hoped no one noticed.
Fetch hadn't thought it could get any worse. It was a brief sentiment he usually had before things did. He managed a weak smile. It stretched his moonlike face and gave his tiny eyes a cornered glint. The smile surprised him because the fat lady had just stepped up, smoothed down her dress with an emphatic pat, and burst into song.
The Twiceborn had ordered ale. Ale that would be drawn from one of his casks, marking it as surely as if the devil himself had carved his initials in it with one blackened fingernail. Unless she drank the whole keg herself (he'd like to see that) he wouldn't sell another drop out of it.
And to stick a pretty bow on top of everything, instead of buying slaves at the auction tomorrow, he'd be bending his knees with the rest of the sinhounds and praying for Brede's forgiveness. And he had a feeling that forgiveness wouldn't be forthcoming until long after the vendue had ended.
He drew up an ale and took malicious glee in ignoring Jacky Kath's request for a refill. He slowly carried the tankard to the end of the bar. Funny,he couldn't recall her ever drinking before. Hopefully she wasn't going to make it a habit. He set the tankard down and,with a heavy sigh, headed towards the kitchen. Jana was going to be less than happy (a mild choice of words; enraged was more like it) at having to toss out all her bread but no one was going to buy any after he served The Twiceborn.
Alora watched Fetch slink away. His slow steps rivaled a condemned man's approach to the scaffold. She knew what he was going through and had to bite back laughter. At times her sense of humor was like trying to hang on to a squirming puppy that wanted to be put down. She hoped she wouldn't later regret ordering the ale. She usually didn't drink but the Gandoura fiasco seemed to have ridden into Leomedon with her.
She sipped her ale. Fetch's reaction wasn't a surprise. She'd expected it. She knew all the hinky little rituals everyone engaged in when she came around but it didn't make them any easier to tolerate.
The purification by fire of everything she touched was ridiculous but she'd always thought (hoped?) people had a basic common sense. She'd ridden through Pavis last winter with a cold and made the mistake of pulling Loki up when she started to sneeze.
She had dug through her cloak for a handkerchief, unaware that she'd stopped beside a family with a wagonload of potatoes and turnips bound for market. Never mind they had holes in their shoes and a herd of children to feed. They'd dumped the entire load beside the road and left it. Better to starve to death then sell cursed vegetables to the neighbors and suffer eternal damnation.
Fetch slapped the bowl of stew down in front of her with a trencher of bread. Every fucking stray dog and ragamuffin kid in Leomedon right now thought he was just a swell guy for throwing free bread out the back door.
"Anything else?" He asked. He tried to sound congenial.
"Nope. Not right now." She smiled. She'd save the special treat of her needing a room for later.
She put some coins down on the bar but Fetch had already turned his back. She shrugged. She knew the ropes. The coins would sit on the bar until they'd forgotten they'd come out of her pocket or whatever and Fetch would pick them up after she left.
She looked down at the stew. Small, grayish chunks of meat bobbed like refuse in an angry looking gravy surrounded by what she guessed to be cabbage and potatoes. She poked at it with her fork. She was immune to most poisons but that wasn't her main concern. She was more worried about how many people in the kitchen had spit in her food. Ever since she'd caught one cook doing it she'd driven herself crazy by wondering how many had done it before. And the food to saliva ratio. And what else might have been tossed in for good measure.
She took a careful taste.
What she had really thought long and hard on though was did people really believe their soul was being polished up for Brede by spitting into her food? It was that common sense factor again.
|
Email this Novel |
Add to reading list