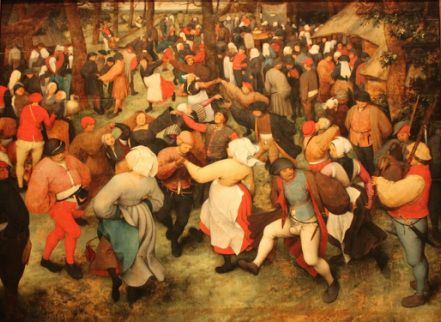 Loki plodded along, the ribbons in his mane bobbing gaily. Alora noticed a few upraised eyebrows as she passed by. She'd decided that when she went back to the Livery she'd tell Duran that he was merrily hopscotching to the Underrealms by showing favoritism to her horse. His religious beliefs were obscure (he did let her stay at The Livery,after all) but the threat of burning in eternal fire should easily outweigh the ponderous bulk of unrequited puppy love.
The rich,smoky aroma of meat caught her attention. She pulled Loki up in front of a tiny stall occupied by a man in a flowing red robe with one of those strangely curved swords strapped to his side. She recognised him as being from the Sand Flats, a place her people had called "The Saties."
The inhabitants there spoke a strange tongue and had skin as hard and brown as beef jerky. Their horses were small, with oddly dished faces, and moved with a stunning quickness. She'd never gone intoThe Saties because, according to everyone she'd ever overheard, there was nothing there but sand and these strange people who thrived in the empty heat.
The man smiled at her. His teeth were a startling white against his leathered face and his black eyes glittered with the optimism of the merchant trying to turn a coin. He'd dug a long pit and filled it with slow burning wood. A grill made of steel bars was fashioned across the top. On these, rested skewers of spiced meat.
The man waved his hand in a grand gesture over the pit.
"Kefti." He informed her proudly. She studied him,confused. Kefti was either "hello", the meat on the rack, or the ever possible, "Get away, you demon bitch".
"Okay." She nodded and pulled two copper pieces from her purse. It was probably too much but she tossed them to him anyway. He caught them,smiled, and handed her one of the skewers.
"Maybe I should move to the Sand Flats." She thought as she marveled at the simple exchange. "Not speaking the language isn't that big of a barrier."
She took a bite of the meat. Her first impression was she'd stuck a piece of burning wood into her mouth. Her eyes teared instantly and she choked. She leaned forward off of Loki and spit out meat along with strings of saliva as her mouth desperately worked to rid itself of the fiery taste.
"Poisoned! Oh shit,I've been poisoned!" She thought frantically. Her mouth was on fire. Her throat worked as tears dripped from her face. A rush of heat enveloped her back as though someone had tossed a burning blanket over her.
She felt a nudge at her leg and opened one burning eye to see the merchant holding out a bowl, his face frantic. She snatched it and poured the liquid down her throat. It was thick and sour-tasting with just a hint of sweetness. The scalding heat slowly receded and she shuddered. She groped for Loki's mane and managed to pull herself upright. The merchant stared at her,frozen.
"Kefti." He gave her a helpless smile and shrugged. She handed him back the bowl and gave him a weak smile in return. "Kefti." She repeated.
Her voice wasn't much more than a ragged whisper. She said the word with an equal amount of awe and respect. The fire was gone but it had left a raw feeling in her throat. She wondered if the spicy meat had peeled some of the coating off her tongue.
With shaking hands,she gathered up Loki's reins. He hadn't been very impressed with her brush with death. His head was down as he contemplated his hooves. She nudged him with her heels and he grunted irritably and started to shuffle along. His ears bobbed along with each step and his head dropped lower and lower.
"He's drunk." She realized with dismay. What was she going to do if he just dropped out from under her? This was a definite sign from above or below, take your pick,to call it a day.
The sun was still viciously bright and Alora noticed her tanned skin had taken on reddish overtones. She wasn't sure though if that was from the sun or the spiced meat. Her lips and throat still burned. No wonder no one ventured into The Saties. The blinding heat, the little slat-sided rat quick horses, the rapid twisty language, and the strange peppery food. They were a people that, instead of being broken by the sun and sand, had become a part of it. That level of adaptability was beyond her comprehension.
Yes,she'd had more than her fair share of the sun and so had Loki. He was plodding now,his ribbons limp in the heat. He looked like the world's largest and most ill-tempered pony. She decided to head back to the Livery and let Duran cool him out.
She'd ask Duran to bed Loki especially deep tonight (and oh he would, probably pile hay right up to Loki's asshole in an attempt to win her undying devotion. A backup plan in case the ribbons failed). She realized Loki wasn't the only one in a pissy mood. And she hadn't even had a drink.
She dropped the reins onto Loki's neck and stretched. She lifted up her mass of curly black hair in the hopes a faint breeze might find her neck. "I wonder what I'll have to do to make Fetch have someone cart some water up for a bath?" She thought.
She moved Loki forward and left the reins loose so he could meander, her thoughts on what to do about Duran. She suddenly heard Behrin's voice as he shoued over the hum of the streets and she looked up,startled.
Her lack of attention had brought her to a street she'd been actively avoiding. She surveyed the scene glumly.
People were everywhere. Talking, gesturing, and drinking. The center of attention was a hastily constructed platform that reminded her of a gallows. Huddled beneath this structure were Behrin's slaves. They were all clothed in the universal garb of the chattel: sandals for the women and sack-like tunics tied at the waist with pieces of rope. The men wore only roped up trousers.
In spite of her misgivings, Alora urged Loki closer. There was an air of deception about the whole scene that fascinated her. Vendors called out their wares in the same strident voices and people milled about,laughing and shouting, but there was an undercurrent of desperation.
She wondered if the people of Leomedon were aware of how thin the line was between themselves and the ones huddled under the platform. She manuvered Loki through the crowd towards one of the few shade trees that dotted the street and settled down beneath it. Loki heaved a sigh and stood, hipshot and dozy. She wished she could dismount but she felt the legend of The Twiceborn wasn't nearly as awe-inspiring when she was on foot. All she needed was for some overgrown swordsman with a snootful of ale to suddenly come to the realization that her head barely grazed his elbow.
She stared out into the sunlight. Her face was an arresting mixture of curiosity and disgust. She realized most of the men had already been sold. She saw them in the crowd, hopping from foot to foot, as their new owners chatted with one another and sized up their purchases.
"Behrin could have at least bought them sandals too." She thought. But no, that wasn't the right line of thought at all. She'd been around this slavery thing long enough to know all the reasoning. All the jargon.
Behrin hadn't "shod" his "bulls" because it cost too much. They only needed to be "sound" or "game" when purchased. The "wenches" were "shod" because it presented a better "package." Why spend more money than you have to on "stock" you were putting on the "square?"
And just as sure as Loki was three sheets to the wind, Behrin had bought the cheapest sandals for his "mares" that he could find: dhajutis, nothing nore than a strip of leather tied around the top of the foot and once around the ankle.
For some reason, this above all else, caused her stomach to jump with a funny little hitch. It was overwhelming if she dwelled on it. If she took the time to study the beat of every heart purchased. Before her stood men and women who'd once been blacksmiths and leatherworkers. Wives and daughters. And in the space of time it took them to forge a shoe or bake a loaf of bread, they had become objects themselves.
All the intelligence in their eyes was gone. It had been replaced by a stunned watchfulness. A bred in the bone survival instinct that hung on long after the body wanted to let go. And now their entire worth, everything they were, was defined by a shitty pair of dhajutis and the "package" they presented.
Was it really that easy to turn people into possessions? To put them on display and...
Alora stopped, her face now distant and sad. Yes,sometimes things could be so constant that, over a period of time, they bred their own acceptance. You never knew it until you looked back and realized you'd spent your entire life looking down.
She watched Behrin mount the platform. He stood there with his hands on his hips. His white,moon-like face stretched into a grin and it was easy to see that Leomedon had made him a wealthy man several times over. He walked up and down and nodded to the crowd. She noticed, with an appalled eye, that he had a bright red sash tied about his waist.
He'd tried to affect a casual air in leathers, boots,and a white linen shirt (with ruffles no less) and,of course,the sash. The sash fluttered with each step he took but his entire appearance, Alora knew, was nothing more than a farce. A mid-course correction that said: Howdy neighbors! I'm here to sell goods at a fair and just price, just like any other merchant!
She glanced at the crowd, eyebrows raised. Yes,they were buying it. They hooted and hollared like he was a newly elected official and she made a disgusted sound under her breath. The noise summed up her entire view of the situation.
|
Email this Novel |
Add to reading list