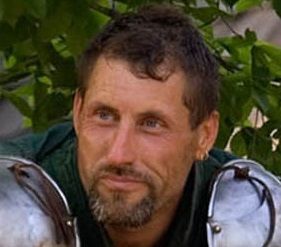 Not that Islinn hadn't been worth all that, she was quite easy on the eyes, even red-rimmed ones like Gre's. But that wasn't what had set her apart from the other slaves. She had had a quiet dignity about her and her brown eyes had always had an infinite amount of tolerance with a dash of contempt thrown in.
Gre had spent a lot of time watching her and Behrin. He'd been fascinated. Not many people stepped over the line with Behrin, what with his odd complexion and even odder outlook on life. But, much to Gre's amusement, Islinn had managed to inject a little bit of fuck you into each and every one of Behrin's days.
"Find them. And bring her back."
Behrin's voice caressed the words as they flowed over his lips. Gre's heart twisted in his chest and he forgot all about having to take a piss.
"You want me to go up against The Twiceborn? By myself?"
Gre thought that maybe he hadn't heard right. But, when he thought about it, all the times he'd questioned what was said, he'd heard right the first time. Always...terribly...horribly right.
"No. Take Aubery with you." Behrin's voice was serene.
"Aubery??"
Gre realized he'd begun to sound like an echo to everything Behrin said but…Aubery? He couldn't fathom Behrin's line of thought. Aubery was nothing but a ragamuffin kid, a slat-ribbed scarecrow who'd shown up at their camp a short while back and had hung on with all the stubbornness of an engorged tick.
He reminded Gre of a kid with too much time on his hands so he spends said time torturing anything or anybody who gets in his path just to break the monotony. A lot of kids were that way at some point in their life but they usually grew out of it. Aubery never did. Instead he got a little older physically but mentally, he just found ways to justify what was, to Gre, out and out meanness. Hate was almost too mild a word to describe how Gre felt about the little cock knocker.
"I'll try and get her back, Behrin. But not Aubery. Let me choose someone else." Gre said.
Behrin ignored him.
"Aubery. Come over here."
Gre watched with distaste as the gangling boy separated himself from the men and trotted over. Gre eyed him. Long days in the saddle and a lack of bathing water told Gre he was no bouquet of roses but Aubery took the definition of filth to a whole new level. The boy always looked…greasy.
His dirt-colored hair always stuck up at odd angles and his green eyes were always on the move, jerking here and there, never still. Gre always felt edgy around him. The little piece of pigmeat was like water on a hot skillet, jumpy, unpredictable.
"Behrin?"
Green eyes jittered over Gre then back to Behrin. Behrin smiled.
"You're going to do something for me, Aubery. It will be a…favor."
Aubery's eyes lit up. Gre sneered. Leave it to Behrin to think of the one way to up Aubery's already slavish devotion to him. Aubery's eyes had a sly glint as they slid over Gre again. Gre bared his teeth at him in a big shit-eating grin.
"What is it?"
The little shitpoke was almost hopping up and down in his excitement to please Behrin. Gre looked away, disgusted. Behrin reached out and rested a fatherly hand on Aubery's shoulder.
"It's Islinn."
Aubery stilled and cocked his head at Behrin.
"You sold her to the devil whore. What about her?"
"You're going to bring her back to me."
Behrin coated his words with a breathless excitement and made it sound like a trip to the Faire. Aubery's eyes widened and for a moment Gre thought the boy actually had enough sanity left in him to realize what a fuckbrained idea it was.
"When I get her…can I have her?" Aubery stuttered, his voice high with excitement. Behrin laughed and Gre realized he couldn't keep quiet any longer.
"Behrin, you need to re-think this. This is impossible! There's a slim chance I can get Islinn back but it's slim to none. And with Aubery along, it will never happen at all! And you know this!" Gre exploded.
Behrin smiled at Aubery.
"Can you get her back Aubery? Or is like The Gray says? Is it impossible?"
Gre caught the use of the derogatory nickname but chose to ignore it. Sickened by the whole turn of events, Gre turned a little to the side, and unbuttoned his trousers. The thick heavy sound of his urine hitting the underbrush aptly sized up his opinion of the whole affair. He turned back, buttoning his trousers, and caught Aubery staring, entranced. Gre scowled at Behrin.
"You've gone crazy if you think this idea of yours is going to wo…"
Behrin was suddenly inches from his face and Gre felt the cloth of his tunic jerked up around his neck.
"You lack the ability to understand, is all, my friend." Behrin softly insisted. "If you don't want to do this, say so now."
The two men stood eye to eye for a few moments and then Gre nodded.
"I'll do it." He whispered.
He said it because he'd always believed a man could be measured by the loyalty he had to his friends. And he said it because he had nowhere else to go. But mostly, he said it because he didn't like the strange aberrant light he saw in Behrin's eyes.
|
Email this Novel |
Add to reading list