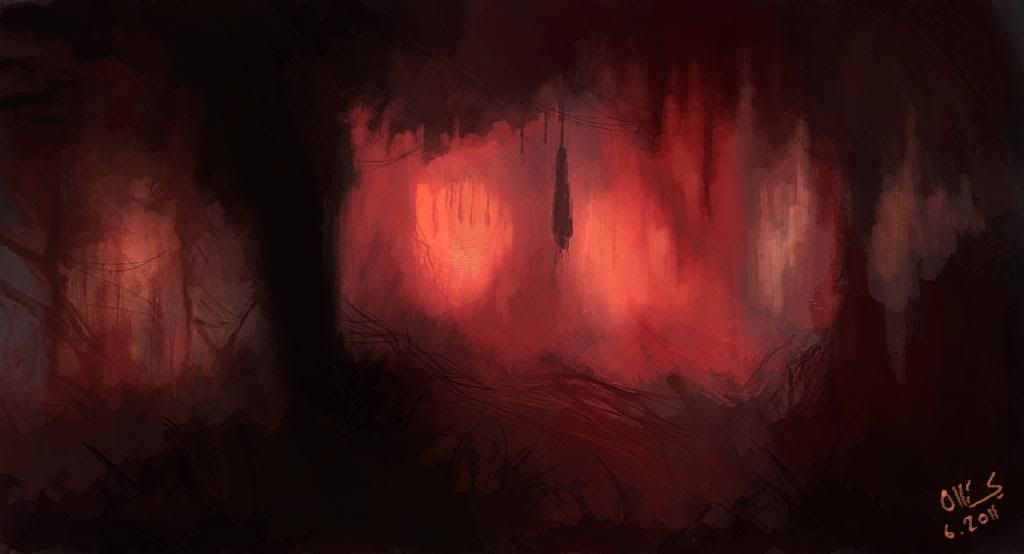 Islinn started to laugh as well and a part of her stood back, a little appalled at the togetherness of the moment but she blithely disregarded it because laughing with Alora, however brief, left her with the feeling of being whole and strangely complete. And sometimes it was just easier to simply take what was given. So, she laughed and when Alora caught her eye ducked her head and blushed as though she'd been caught red-handed enjoying instead of simply enduring a quick moment in her life.
Their laughter died away and they both looked into the flames of the campfire, thinking their own thoughts. Loki wandered over and bumped his head against Alora as though checking on her, then ambled off into the darkness to graze a bit more.
"What did Behrin whisper to you up on the platform?" Alora asked, her voice mild.
"He said to me that all I had to do to keep from being sold was to ask him not to." Islinn said. A slight sneer marred her pretty features. "I don't know if it would have made any difference at that point, he only wanted to hear me beg."
"I'm surprised he decided to sell you in the first place." Alora observed. "If I hadn't of been there and things hadn't turned out the way they did, I think he would have changed his mind."
Islinn shook her head.
"No, he wouldn't have. He thought I'd outfoxed him and that by putting me on the block, he'd win because I'd be so afraid at being sold I'd beg him not to. He was very sure that was what was going to happen."
"You outfoxed him? How?"
Islinn gave a short humorless laugh.
"He figured I'd appreciate his…charms…more if he gave me to his men for a bit. How did he put it? Oh yes…that I'd be more "amenable."
Islinn wrapped the cloak tighter about herself.
"I figured out how to play one against another and before Behrin was able to sort everything out, six of his men were dead because of lies I'd told. That was when he decided to sell me."
So that was the taking Islinn had done.
Alora nodded. The girl might be afraid of some god and whatever power he'd blessed or cursed her with to the point of having to have a light on against the darkness but she was also capable of conjuring a bit of darkness herself.
The hardest part of that was Islinn was well aware of what she'd done, it was written in the bleakness of her eyes. But in the set of her jaw, Alora read the fact that she'd do it all over again if she had to.
"Six men huh? Shame it wasn't more." Alora murmured.
Islinn opened her mouth to protest the callousness of the words, thought better of it, and merely shrugged.
"I didn't want them to kill each other." Islinn's eyes flickered. "I just wanted there to be…problems. Behrin doesn't like it when his men tend to try and think for themselves."
"I'm sure." Alora replied dryly. "So…will Behrin come after you?"
"Yes." Islinn closed her eyes for a moment. "Of course he won't come himself. He'll send some of his men. Whatever this game is he's playing, he's not done yet."
Alora smiled. It was a lonesome smile filled with an uneasy power. It reminded Islinn of abandoned things, buildings where doors swing open and shut in the wind and the unseen yet felt mystery below the darkness as the night comes on. She shivered and pulled the cloak tighter.
"Good. I wish I hadn't of committed to Lochedge, it would be fun to play some games with Behrin, since he's so fond of them." Alora murmured. " I could though, send a little messenger to entertain whoever he sent after you. I know of one that just loves little pranks and games like this."
"No." Islinn shook her head adamantly. "No demons or spells. I just want him to leave me alone."
"But he won't." Alora replied flatly. "You said so yourself. As for demons and spells…"
Alora got up to fetch more wood to toss on the fire.
"That's what I am." She finished resolutely as she stoked the fire and retook her seat. "Unfortunately, I don't have the time to amuse myself at his expense but if you're going to travel with me, you need to understand the nature of who I am and what I do."
"I understand it. But that doesn't mean I have to accept it." Islinn replied.
"Fair enough." Alora agreed.
She stretched out in the grass and lay on her back, hands behind her head as she contemplated the stars. And the fact she'd have to buy another cloak to sleep on since she'd given the only one she had to Islinn. Of course, she had Loki's saddle blanket but she'd already made that mistake once and wasn't prepared to try it again. She'd woken up smelling like horse sweat and covered in itchy black fur.
She watched Islinn quietly as the girl got up and set about cleaning the campsite and checking on Loki and the stag. "Life is dark." Alora mused idlely to herself. No matter how many knee-benders there were or eyes lifted piously to the sky, the world was always full of people like Behrin who were more than willing to cut the hearts out of innocents like Islinn and make them eat it to prove…what?
That their heart tasted every bit as bitter as the one Behrin carried beating in his own chest. The only difference, Alora believed, between Behrin and Islinn was strength. Behrin had the strength to bend Islinn to his will and she had the strength to stand and bear it. A peculiar match.
But now…Islinn had been handed a different kind of strength, the kind neither her nor Behrin was truly familiar with. And that was Alora.
She could show Behrin more fear in a second than he'd experienced in a lifetime and laugh while doing it because she loved it, she lived for it, she was born in the black of nowhere and was headed towards nowhere with futility in tow and would grin with glee all the way and if that lunatic's rope had been in her hand like it was now in Islinn's, she would set that dark dog free to run down Behrin and anything else in its path.
But no. After everything was said and done, Islinn just wanted him to leave her alone.
|
Email this Novel |
Add to reading list