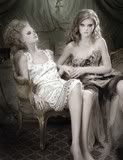 And I stared at the dark figure

In the darkness of the evening

A woman's silhouette

Mystical, so divine

And I stood therein immobile

My bodice drench in sweat

Dripping, rippling

By what seemed fear but not

"Come to me, ma déesse.

Let us walk in the dusk together.

Hold my hand, ma femme.

I will share with you my secret.."
|
Email this Poetry |
Add to reading list