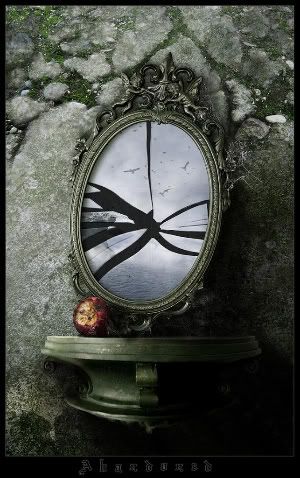 For you, a tale of haunted rhymes
But first, a bygone truth--
The source of Satan all begins
Within both me and you.
~~
It's now I must confess my sin
Though please do understand
Demons often trick the minds
Of those at their command.
~~
I chose two boys that I abhorred
Filling them both with fear
Their weakened pleas to stay alive
Refused to reach my ears.
~~
(Their father terrorized me in my youth
At times I'd often bleed.
I swore I'd rectify my wounds
With violent wrathful deeds.)
~~
"Destroy them now" a voice enticed
Within my morbid mind
Revenge is pure when steeped in blood
And nothing's left behind.
~~
Thrashing about like captured fish
I drowned the two in gore
I'm sure they gurgled once or twice
As both their throats were torn.
~~
My madness and tyrannical spell
Was all at once displayed.
The omnipotent strength I sought
Dripped slowly from my blade.
~~
The vision of their lifeless forms
Confirmed I was deranged
Designs they may have had in life
Would never be arranged.
~~
I stowed away their dead remains
But where I can't recall
I fled on foot without a sound
Through tall trees by a wall.
~~
But soon I started feeling grim
Detecting Satan's game
Those vile thoughts I held before
Were now a source of shame.
~~
I felt detached from all I'd done
And all that was before
Knowing my former evil self
Would reappear no more.
~~
Within my mind, the truth was blind
Deceiving spirits in me
Placing illusions in my eyes
That couldn't or wouldn't see.
~~
My ethics shattered like broken glass
I knew now I'd never win
Resigning any judgment left
To schizophrenic sin.
~~
A devil's spell or dark mirage?
The phantom is still unknown,
But God in heaven, worse yet still,
The two dead boys were my own!
|
Email this Poetry |
Add to reading list