Dearest Dom,
I am going to write my letters here in this prettily bound journal Milo gave me, and hope to God himself that they one day reach you, since I doubt I will ever see you agian my love. But, whenthis reached you, maybe I will be calling another that, as I am sure you will be. But let me expain, because I dont know if my parents ever found the letter I left them, though I am certain they found the money left.
Do you remember that bright beautifull June day, we were playing together on the beach. I remember I was wearing my long white lacey dress, with the hat, and you had hlped me tuck it up so we could run around, since Mother was and probably still is, like the other girls mothers and doesnt approve of girls wearing pants. Yet..
Anyway w were playing on the beach, and then your brother came and got you for lunch. I went on home, ate the cold cuts mother had left for me. Then I went and jumped rope.
I know ful well what you are sayingnow, Dom. I can pcture you perfectly as I sit here at my desk in my room on this hee ship, where we will stay for just a few more days as we travel across the great oceans, my chin propped in my left hand as you might remember me, and my right hand scribbling away at this dear writing. I have to thank Milo for it. But you dont even knw ho Milo is yet!!
Anyway, as I was skipping rope, something you considered below me, to girly for your best freind, your girl, I saw the strangest sight. Mis paterson, the recent widow od Mr. Paterson, the sailmakr., was in thei largest cariiage with er son, Adrian, and they were coming staight towards our yard!
I watched in amazement as the footmn, or whatever you would call the diver, came down to help Miss Paterson down, and I only stard as she bustled over to me, where I stood still now, skiping rope almost forgoten at my side.
"Are you Marie Abati?" she asked me, and I drew myself up to full height and looked up at her to high up face and said, as sweetly as I could, Yes'm, I am Marie. Are you looking for my moter Miss? She will be home ina da or two. She went to visist Auntie, and Nannie's at the store,"
The woman smiled kindly at me, and held out her hand t me. "No, Marie, I have come her for you. Your ten these days, right?"
"I am Eleven now, M'am."
"All the better!" she crowed, truly delighted, "I need a traveling companion to tour the worldwith me. I wrote and have permission fromn your dear father, and he was to tell your mmother, but I cant hellp that noW! See, me cherie, yu are to come and travel with me, and my adopted son, Adrian. I have ought you a new wardrobe, your own shabby attire ont do, and we will fix up that would be pretty hair of yours, and make you perfect! There is asalon on the ship, a newer feature, believe it or not, but we must go now!"
s she led me into the carriage, I sw Adrian drop a huge manilla envelope on our table, ad weight it down with small stones. I had nevr before noted how fluid his movements were. In fact, I had yet to really notice him at all. I have always been sole with you.
When we got to the docks, we boarded a massive ship, on wich I saw numerous things I'd never before dreamed of. Adrian grabbed y hand, and, followed by his Mother, who has told me to call her Mum, wich is what she called her foster mother, plus it makes it seem to her like she tuly has a dughter, he ran me straight to the railing on the deck and lifted me up by my waist so I could wave farewell to the cheering crowds." goodbye, France!" I yelled, "Goodbye, my old home, thank you ever so much!"
Adrian later asked me what I meant. And so I began to tell him the marvelous stories I had seen in my home country of France everday. And he sat and litened for hours, and followed me as I was led to have my makeover, and I just kept talking, ad everyone near mewaslistening, and I was suprised, especially when an old man came uo to me and asked me if I worte my stories, and Wwhen I told him te only thing I wrote was my lessons and my diary and my letters, he smailed, and shooed me off, wich Adrian was indignant about for some reason. But right bfore we were totally gone, he told me to find his son, Milo.
So Adrian had me wait in a corner of the ship, and soon he was dragging back a biy his age, by the tails o his coat, and the boy was holding a big leather boo in his pale skinnyhands, and he smiled all crooked at me and handed it to me.
"My dat said to give you this if you came to find me. My names Milo, and I am a writer, but I a on my way home from Frace, a I told your freind, here."
I smiled sweetly at him, and Adrian let him go, and Milo hung round us for a while longer, until, finally, Miss Paterson found us and tld us we neee dt get ready for supper. She took me to thishere room and showed me what to wear, including a pair of soft gloves, because it was extremley cold ere on he boat in the evening, and she didt want her newest child to freexe over.
Adrian used the camera Mum (I have troble remembering to call her this) gave me and took a suprise snap sot of me.
Speaking of dear Adrian, I hear him pounding down the hall this way now, to my cabin room, I presume, and so I will bid thee fare well for now, dearest Dom, and I enclose the photo he took of me, into this memory book I dedicate to you, for you to read one day.
Your Lassie, as your mum said,
Marie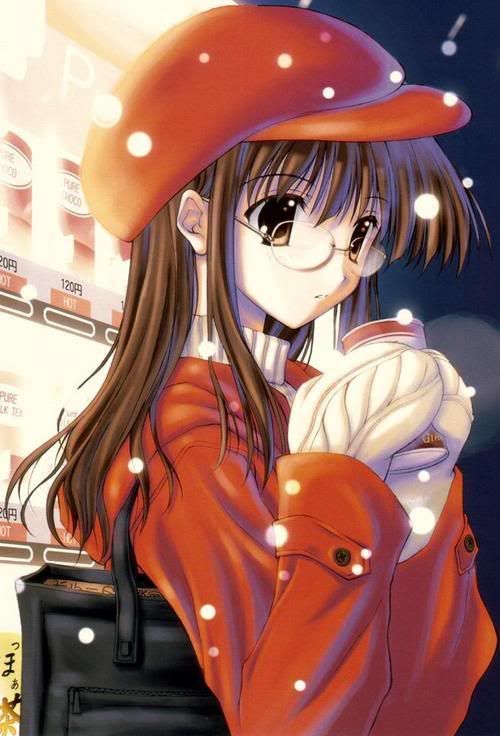 They had me get glasses, you see?
|
Email this Novel |
Add to reading list