Just a few random facts about myself
Name: Brittany (Brat)
Age: 15
Birthday: July 31, 1996
Siblings: Two older brothers, one younger, and a twin sister named Amber. She's very annoying and gets on my nerves constantly. But, hey, I annoy her back.
Interests: I like boys. Obviously, come on. Unfortunatley, too many hot guys are gay *sighs dramatically* But anyways.
Hobbies: Reading(obviously), writing(obviously), drawing, singing, and the occasional song writing.
Just a few favorite books and series: Hunger Games, Twilight(not a uber fan), Percy Jackson and the Olympians/The Lost Hero Series, The Seven Realms(If you don't know it, find it, and read it, it's AWESOME!)...just a few, right...
Favorite Manga, in order of top five: 1. D Gray Man*** 2. Bleach*** 3.Fairy Tail*** 4.Naruto*** 5.Witch Hunter(very good)
MORE RANDOM FACTS THAT NO ONE CARES ABOUT, BUT I'M STILL GONNA WRITE THEM!!!! HAHAHA!!!!
I am a crazy manga fangirl, and i am NOT afraid to admit it.
I sometimes wish reality was manga, then i would be able to kick anyone who pi$$es me off, I can kick their a**. (Pardon my violent language) :D
I have to admit, i am crazy, not a lunatic, just a crazy person. But i'm fun to be around, considering i am the best class clown I have ever met... Hmmm, that was not worded right, but i am not stopping to sort it out.
I can be the best friend you've ever had or the worst enemy you'll ever meet, so word of advice, stay on the good side, *random voice: She's INSANE!* Shut up, voices. *sighs heavily* Ignore the voices, they don't know anything.
I have a very wise saying that i stole from someone else. We're friends. You laugh, I laugh. You cry, I cry. You jump off a cliff, I'm gonna miss your sorry ass... Not very good words of wisdom, but they'll do.
Gotta go now, but before i do, a few stories you should read.
Anything by sethlover0731, who is threatening me to put this on here, since she is my sister and all.
Hero High by avery01*
Sick and. Twisted by nicoleD*
The Senior Trip of a Lifetime by BloodyNinja87*
* I just read their novels and they were great!
Well since I've only been on here for two days, thats all.... for now.
PEACE OUT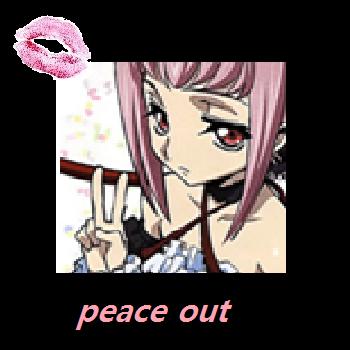 Here are just a few of my favortie Manga/Anime characters of all time!
D Gray Man:
Allen
Lavi
Kanda
Fairy Tail:
Gray
http://c.gigcount.com/wildfire/IMP/CXNID=2000002.0NXC/bT*xJmx*PTEzMjk1ODk1ODk1NDcmcHQ9MTMyOTU4OTY1NDIzNSZwPTY5NDMwMSZkPSZnPTEmbz1lNjc3ODgwN2EyY2Q*NDIyYmI5/Njk1NDMxODkwOTgxMyZvZj*w.gif" />
http://www.playlistproject.net/mc/mp3player_new.swf">>
You must be logged in to register.