♥♥ OMG 250 FANS! THANKS ALL YOU FANS! I LOVE YOU MWAH!!!!!!! ♥♥
♥♥ Name's Nikki! Age 24 and married for 5 years to a hot, tattooed, pierced man name Clayton! I have been writing for over 10 years. I will admit, I SUCKED! I mean, I thought my stuff was hot shit, but after reading it again, shit...the plot was all over the place! I am a nurse, and I love my job. It's my dream job! I am bi-sexual, and proud of it. I use to hide it, but now I don't. My husband said "Why hide it if you are not ashamed of it?" Good words my love!
♥ I write Erotica...and ONLY Erotica. I write all kinds as well, from ooey gooey romances to hardcore action and rape stuff. I wrote rape scenes and I scare myself, so I guess that is good. Y'all have to give me some time since I work a full-time job to update. I try my best to write before I go to work. I usually update before I go to work, but mainly on my days-off and weekends off. Sorry for the waiting, but I can see that y'all are willing to wait!
♥ Here are some things that makes me very hot ;)
Oh wow, love when Clay does this to me!
And this too <3
Giving me ideas for my upcoming story!
YUM!!!
♥ My top 3 stories for me that I written are "Don't Cry Tonight", "Somebody Save Me" and "You're Mine Now". Funny thing is all three of them are mysteries!
♥ I got a sense of humor. I like anything that will make me laugh, which is almost anything. I am addicted to YouTube comedians such as PewDiePie (Yes, I am a Bro! BROFIST!, CinnamonToastKen, Cryaotic and RPGMinx. You should totally check them out! I mainly watch Pewds! I also LOVE The Simpsons, Family Guy and American Dad.
♥ I am UBER obsessed with BATMAN! NA NA NA NA NA NA BATMAN! Sorry, I just love Batman and The Joker. Someday, I am going to Comic Con dressed as Harley Quinn (Joker's girlfriend)!
♥ Favorite book? FIFTY SHADES OF GREY! I mean, people are getting worn out from it, but I am not. I am UBER excited about the movie! Even though Christian Grey was a total ass and very controlling, you got to admit, he was the perfect man!
♥ Favorite Band you ask? RAMMSTEIN! I am totally obsessed with them! I just found them a little over a year ago. It began with a little song called "Du Hast" and "Sonne". I have a HUUUUGE crush on the guitar player, Richard Kruspe, and the singer, Till Lindemann. You should go listen to them, they are awesome! Richard is the one leaning against the wall on the right with the spiked hair and Till is right smack in the middle!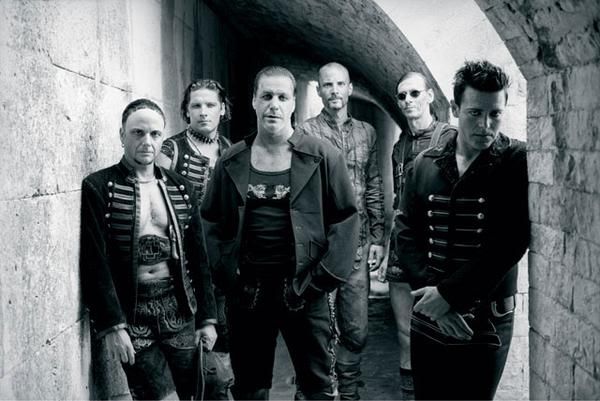 ♥ I got a wonderful bestie/sister on here, IceBreaker. We met by reading each other stories, then we began emailing each other. After that, we went on facebook. We talk for hours sometimes, from our stories to anything we can talk about. We coordinate stories, as you can tell. It began just us "borrowing" each other characters, then we co-op a story just recently and it was our best my opinion! She is my sister, my everything! I am so glad I met her! ♥
Well that is all my friends! To all my fans, thanks for the loving support and reading my stuff! I LOVE YOU!!!! ♥♥