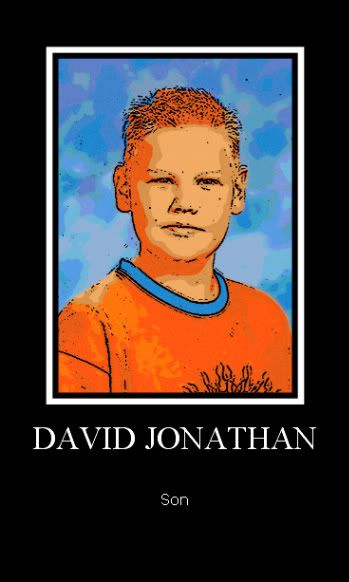 David Jonathan
by Susan H Fouts
Named from a king
After God's own heart
Named from his friend
Son of a king
Large in stature
Big in heart
When it comes to video games
You're oh so smart.
It takes a lot to feed you
But we are happy when you are pleased
Sometimes you are grumpy
But you work hard
To take care of your family
We appreciate you
We appreciate your heart
We appreciate your childish innocence
That children are drawn to.
They sense the gentle Ben
A great big teddy bear
You make us laugh with humor
You make us cry when you are sad
But gentleness engulfs you
So quietly you move
You have sacrificed a lot
To take care of your family
I hope you are blessed a hundredfold
For your sacrifices made.
You're a wonderful son
I'm glad you were born
To make a smile come to my face
To capture a little heaven and a little grace
|
Email this Poetry |
Add to reading list