SALUTATIONS AND MABUHAY!
Yes, it's me! Sherinne! Yes, that's the "S" of "SCAZA". The initials hail from my really long name (thanks to my mother!). I'm 22 years old, I'll be 23 by the end of the year 2013.
I have to admit, that I'm often not active because of a lot of reasons: work, school, work some more and so on. Sometimes I get too exhausted to write or that I'm too shook up to get inspirations. It sucks though because I wanted to write but because of the world, duties and responsibilities, my inspirations and enthusiasm is disappearing. I hoped I could still find my way to the paper, pencil or computer and write like there's no tomorrow. I miss that part. But it's nice to meet all of you and WELCOME TO MY BOOKSIE PAGE!
But as you have noticed most of my works are fantasy, adventure, mysteries and even poetry. I'm not into other stuff but I would like to read though so long it isn't about spamming and that such. I'm into pencil drawings, amateur painting and photography, anime and manga! 
Anyway, if you are ever bored. You can also check out my bookrix page: Just click it and it will lead you right to it.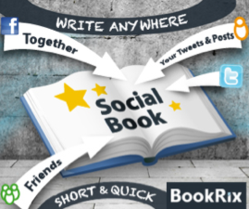 Of course, if you are ever want to explore more. You can also check out my blog (still a novice. I have to admit, I have to spend sometime with myself and recollect where I'm going in life.........Shucks! I'm such a dreamer!). Just
click
it and it will lead you right to it.
YOU CAN ALSO FOLLOW ME HERE MY FELLOW FAVORITE READERS AND WRITERS!
Well I hope you guys will be enjoying it here and if you ever want some feedback in your works. Don't be afraid to holler (is this right?). I won't bite. Also check out my other LINKS of the other works I have that isn't published in Booksie! Thanks!