Hello and thanks for stopping by! I've been told I'm rather difficult to understand, but you'll get used to me, I promise. ;D Romance novels are exactly my cup of tea, but I probably couldn't write a poem to save my life. DX If you have a story you want me to read, just call and I promise I'll answer. =D
Um...
I ♥ Snoopy. A lot.
I have more-4 that I can think of off the top of my head-more stories. I have written some poems, but they're probably crap. DX
I read. A lot.
I hate homework although that seems to be my teachers' favorite part of school. So if I don't log on for a while, you know why.
I ♥ Jacob Black[and Taylor Lautner]  Here are some of Jake's quotes:
"Who's afraid of the big, bad, wolf?"

"Does my being half-naked bother you?"

"Did you seriously just stamp your foot? I thought girls only did that on TV."

"The clouds I can handle, but I can't fight with an eclipse."

"Your lips are still blue. Want me to warm those up for you, too? You only have to ask."
"I swear, they're like hall monitors gone bad."
"I told him you were planning to corrupt my youthful innocence."
"We're a pretty messed-up pair, aren't we? Neither one of us can hold our shape together right."

"Sure, Sure"

"Normal humans run away from monsters, Bella. And I never claimed to be normal. Just human."
"It's not like love at first sight, really. It's more like… gravity moves. When you see her, suddenly it's not the earth holding you here anymore. She does. And nothing matters more than her. And you would do anything for her, be anything for her… You become whatever she needs you to be, whether that's a protector, or a lover, or a friend, or a brother."
Yes, yes, I like the Twilight sega. Sue me.
Uh.....
I ♥ Charlie the Unicorn. The thrid one is the best out of em all.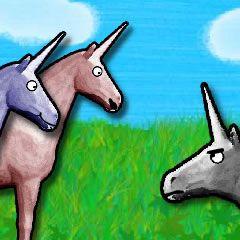 "....The door can see into your mind!"
".....The door can see into your SOUL!!!"
"Really? The door can do all that?"
"Ha ha! No!"
Right now, I just really wanna do this
STRIKETHROUGH
=0 COOL!
So...
Thanks for stopping by. You are AWESOME!
;D
You must be logged in to register.