Chapter 80: Why Are There So Many Dysfunctional Families?
Message From The Angels And Masters Of The Christ Circle
Miracles And Wonders (106)
The Truth : Nothing But The Truth
Thoughts For Today 24th January 2023
Why Are There So Many Dysfunctional Families?
Friday 20th January 2023 the Sun in the sky above your world entered Aquarius, the fixed Air sign that's co-ruled by two planets. At its gateway, guarding the entrance to the freedom of the Aquarian age, stands Saturn, the stern and undeviating schoolmaster planet of humankind's earthly school of life. Saturn is accompanied by Uranus, the liberator, the seventh planet from the Sun that was named after one of the Greek deities. In this mythology Uranus is the father of Cronus, the God of times; the grandfather of Zeus, the chief deity of the Greek pantheon, who at the same time was a sky and weather God, identical with the Roman God Jupiter. Uranus also was the great-grandfather of Ares, the God of war, whose symbols include the boar, dog, wolf, spear, sword and vulture. Uranus has the third-largest planetary radius and fourth-largest planetary mass of your Solar System. Its orbit around the Sun takes eighty-four years.
On Saturday 21st January 2023 at 20.65 hrs Greenwich Meantime a New Moon in Aquarius took place. One of them takes place every thirty days and that's always a good time for new beginnings and the start of new enterprises. The New Moon does by no means guarantee success. Yet, as the energies that flow into your world during each one of them are fresh and renewed, whatever you launch will most certainly benefit. We hope that today's collection of chapters will help you find the answer to the question why family problems are the biggest ones that the people in your world have always been struggling with.
Rest assured that this is not happening a propos of nothing. Just like everything else that comes about in the earthly school of life it serves a wise higher purpose. But why should it be that particularly severe family problems are turning up everywhere these days? It's because great changes for some time by now have been taking place for humankind and everything that shares the whole of your world with you, and that on all levels. As pointed out before, your world is changing from a materialistically over-oriented place into an ever more spiritual one. And that's why the effect of the Universal law of cause and effect or Karma is probably felt more keenly than before.
This law is an essential aspect of the Divine perfect justice's equipment. It ensures that every human being experiences every one of the lessons that have to be attended by every human being in the earthly school of life. Each lesson has to be experienced not only once but twice. First every one of you finds themselves on the giving end of handing out to whoever comes within their reach negative and painful experiences. Later, when your spirit/soul has matured sufficiently to cope with whatever has to come its way, you find yourself on the receiving end of what you once handed out to those around you.
During your early developmental stages you are still unaware that you are personally responsible for every one of the thoughts, words and actions you ever release into your world and that every negative one of them creates a debit entry in your spiritual ledger. This is why, for a truly thorough educational program, it is essential that every one of you first finds themselves on the giving end of handing out suffering, liberally and as much as possible to anyone who comes within your reach. So far you are unaware that whenever someone suffers at your hands a debit is entered into your spirit/soul's ledger.
Simultaneously with this, a credit entry comes about in the ledgers of those who have to endure the suffering you hand out. Yet, only when the spirit/soul of someone, who many lifetimes ago was still on the giving end of suffering, has matured sufficiently does the earthly personality of that lifetime have to cope with what the Universal law of Karma returns to them. Because you then have been equipped with a different earthly personality, you have no conscious recall of what took place many lifetimes ago.
That's why every human being, who at any given time is attending the earthly school of life's lessons, unpleasant and traumatic experiences cannot be avoided. They are part of your curriculum of that establishment. And as far as the offspring of your present lifetime are concerned, it makes no difference that you have always endeavoured to do your best for them. Is that the only way they can say thank you for what you did? You cannot help wondering! Yet, intuitively you somehow know that there must be more to this than meets the eye.
Yes, there most certainly is and that also explains why our Booksie 'Healing Corner For Parents And Children' is so well loved. At this moment its viewing figure has reached almost 154K.
* * *
Dysfunctional Families (1)
Karma In Families

From time to time the question arises: 'Why is our planet so over-crowded?' I believe that this, like everything else in this world, is happening for sound and wise reasons. At the beginning of a new age, it makes a great deal of sense because in this way opportunities are created for as many souls as possible to be on the Earth plane. All of us are here to play our part in the process of one age being born from an old one. Mother Earth herself is presently going through a major transformation and for many of us this is bringing with it our own spiritual rebirth and an initiation into a higher level of existence.

Birth is always a painful process and this one is no exception. It too is accompanied by severe labour pains and contortions. Look around you and see for yourself how just about everybody is struggling with coming to terms with their lives, their relationship with themselves and others. I believe this is because many have brought their most ancient and difficult ones with them into their present lifetime, in the hope that at last it will be possible to resolve the outstanding issues between the people involved.

Without this no-one can move forwards and upwards on their personal evolutionary spiral of life. That's why wise ones make every effort to conduct their lives in harmony with the Universal laws and willingly respond to any other demands of the new age. To those who unhesitatingly heed the call of God and the Angels, opportunities will be offered for mending and healing such relationships and so clearing some of their most ancient Karmic debts.

Much progress is possible for those in earthly life when at last they become aware of God's true nature and their own, as well as the meaning and higher purpose of their earthly existence. This brings with it a renewed understanding that all life, not only that of the Earth, is ruled by Cosmic laws. But until this happens, humankind's existence in physicality frequently appears to be unnecessarily and pointlessly cruel, dark and threatening. Earthly selves feel lost and lonely and that they have been placed in a cold and nasty world – and all for what?

In its state of ignorance of the spiritual background of life, the pain of life's sorrows, limitations and hardships hits the small earthly self hard and it suffers intensely. This is made worse by sneaking feelings that there is some kind of an impersonal and unloving providence, who permits bad and nasty things to happen to people and who inflicts them upon all and sundry without purpose, rhyme or reason. A certain amount of relief comes straight away when we find out about the Universal law of Karma and that because of this law a justice of a very special kind is at work in every life, and that there is a Divine justice that is so perfect and fair that it is hard to grasp by humankind's earthly mind.

Now that we and our world are moving onto higher levels of consciousness, ever more of us are finding a renewed understanding of spiritual background of life. However, for as long as the knowledge that is now coming our way with great abundance remains merely of the head, it cannot do us any good whatever. If we wish it to slowly sink into the deeper levels of our consciousness, so that it can become our spiritual property and ours to keep in all Eternity, we need to live our truth by constantly applying our learning to every one of our encounters in our daily lives.

We are in this life to learn to love ourselves and each other the way God loves us, totally and unconditionally. From love we have come and to love we are returning. This means that when we love, we understand and that when we understand, we find it easy to forgive. The more the awareness of our true nature increases, the easier it becomes to forgive and find compassion for our own suffering, as well as for those who once hurt and wounded us.

Forgiveness is essential because its gets the healing process going and gradually brings peace to our soul. The knowledge that everything that ever has been in our lives was there purely to teach us something helps us to shed one of our main false beliefs and that is the notion that there is such a thing as good or bad fortune. And whether we like it or not, one way or another, we ourselves once set the wheels in motion for everything that now is in our lives. Understanding and accepting this makes forgiving something quite natural.

As for a great part of our earthly development we reincarnate one lifetime after another into the same family groups, it is hardly surprising that there is more Karma waiting to be dealt with in families than in any other aspect of life. That is why family situations can be so fraught. The saying: 'You cannot choose your family, but you can choose your friends,' is only true up to a point. If our family background was an unhappy one, as much as we may hate this thought now, re-entering Earth life in this family was our choice. Hand in hand with the wise ones in charge of us, a long time ago in the world of spirit, we ourselves decided that they were the people who could provide us with the lessons we most urgently needed.

To this day, far too much suffering is constantly created in our world through family life – mine is no exception. And every bit of it, in my view, is due to a lack of understanding of the roles we are meant to play in each other's lives. The living together of people in the close proximity of families, no matter how splendid their surroundings may be, puts enormous strain on everybody's inner resources. In the intimacy of family situations grating on each other's nerves is just about inevitable. Even in the most loving relationships sooner or later it is likely to develop. Statistics of divorce figures and people living on their own prove the point and speak for themselves.

Whenever we have to deal with depressed people, our aura is bombarded and invaded by their negative vibrations. If we don't take care and protect ourselves against them, this can make us feel like they do and drag us into the abyss of depression with them. In any case, invasions of each other's privacy and psychic space are constantly taking place within all families and I believe that psychic protection is of the essence. If you feel in need of some, please follow the link at the end of this chapter.
* * *
Karma in Families (2)
Unresolved Issues
As far as unresolved issues in relationships are concerned, each time we depart from this plane of life and return to our true home, the world of light, they are not left behind on the earthly plane. We are going to bring them with us into every one of our subsequent lifetimes on the Earth, until the relationship has finally been healed. This can only be done through finding resolutions for the outstanding issues. The work this requires can only be carried out in future lifetimes in earthly life. Once we have been released from the limitations of our most recent one, we become aware of who and what we are and begin to perceive things more clearly again. Personal stresses and strains no longer exist in this world and therefore cannot be worked on. And that highlights the importance of making every effort to convert all our troublesome relationships into friendships, right here and now.

The intention behind the challenges encountered in human connections and the conflicts and tensions arising from them undoubtedly have always led to much soul growth for all concerned. But now that ever more of us are reaching spiritual maturity the Universe is placing the tools for learning how to rise above difficult situations and for doing better into the hands of those who are ready to receive them. Without getting to know the true purpose and the meaning behind our human relationships, nobody has much of a chance to make any progress on the evolutionary ladder.

For as long as warring parties remain unaware of what is expected from them, the people involved are likely to repeat their difficult behaviour patterns. Because they have become part of their soul memories from previous lifetimes, they will be carrying these habits forward into each one of their future earthly sojourns. Until their earthly self wake up from its spiritual slumber, they can do nothing but continue to endlessly create increasingly difficult Karmic situations. They will have to be redeemed and resolved, if not during their present lifetime, then in a future one.

As long as at least one of the participating souls in a dispute of any kind becomes aware of their true nature and takes the necessary steps to release the other one from their Karmic obligation, both souls will remain trapped onto the great wheel of Earth life. Tied to it and each other, unwittingly they will be creating ever more Karmic chains and shackles for themselves. This is the kind of yoke we have all carried with us, ever since we entered into our first relationship with another human being.

Setting each other free is sure to be done much more successfully and rapidly when both parties in thorny relationships wake up. Wise ones who freely and willingly get to work on this formidable task are sure to find that their present lifetime offers them many opportunities for transforming even their most difficult relationships into bonds of friendship and mutual respect. By taking charge of their lives and their destiny and accepting the responsibilities this brings with it, they themselves will not only be creating possibilities for balancing the scales of justice, but also for resolving any issues that had been left unattended to in other lifetimes.

However, without at least a degree of spiritual awareness there is little chance of achieving this goal. The key for unlocking its gates, as always, is a better understanding of what is required from us as earthlings. Our knowledge then enables us to consciously get to work on all problematic relationships. And for the wise ones who kneel themselves into this task, there eventually comes the blessed moment when the people involved are setting each other free.

It is good to know that, as everything in the whole of Creation always has to balance, we do not only bring our difficult relationships with us but also some good and helpful ones, so they can be built upon and further strengthened. True friendships last beyond this earthly existence. We take them with us wherever we go and we bring them with us, should another incarnation become necessary. They will then be part of our support system, so there is every reason for nurturing our human relationships and looking after them, right here and now.
Aiming to transform even our most difficult and traumatic relationships into bonds of friendship and love is in our interest and to our advantage, because true love is an eternal link between two souls, who will always recognise each other, wherever and whenever they meet again.
* * *
Dysfunctional Families (3)
Saturn And The Lords Of Karma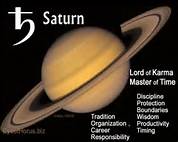 The poet W.H. Auden, when asked why he was migrating from the United Kingdom to the United States, said: 'I love my family, but I don't want to live with them!' Now, there is honesty for you and if we were all equally truthful with ourselves, many would express the same feelings. Let us not jump to conclusions though and assume that these people are hypocrites. Maybe they are the wise ones, especially if they are consciously and patiently putting up with the lessons their difficult relationships are teaching them. With sufficient awareness, ever more of us will be able to grasp the opportunities that are now on offer to help us resolve all of the Karmic ties that still exist within our families.

Auden's comment puts the finger straight onto humankind's Achilles heel and sorest spot. He undoubtedly knew that Karma in families is the worst or best stage – depending from which angle one views the situation – on which the great drama of life is constantly and relentlessly unfolding in all its glory and squalor, as the case may be. With its personality clashes, differences of opinion, power struggles and abuse of power present day family life holds its own when compared with the great Greek tragedies of the past. The main trouble with all of us is that – for a very long time blissfully unaware of this is what are doing – we are busily and happily creating Karma, good, bad and indifferent, some of the very best and some of the worst. Unfortunately, this is what far too many in our world are doing to this day.

Thus is comes about that, when we as children have to endure any kind of abuse. It does not come into our lives to make it difficult or unendurable for us, but is the outworking of the law of Karma. Things of this nature are not some kind of punishment either. Nothing could be further from the truth. Any type of traumatic incident is meant to jerk the human soul into waking up from its spiritual slumber, so that it may accept the responsibility for itself and its actions at last.

When handled in the right way, such events invariably represent opportunities for resolving our most difficult karmic relationships and their unresolved issues, which we have brought with us into this lifetime from previous ones. Distressing experiences always represent attempts at balancing our spiritual bankbook. The Universal Forces of justice hope that in this way one more file can be closed and the sufferer set free to be rewarded and promoted to life lessons of a more elevated nature.

Eventually every one of us who to this day is suffering on the Earth plane grows into spiritual adulthood and recognises the true purpose and meaning of humankind's earthly existence. When we become aware of the Universal law of cause and effect that it is at work throughout the whole of Creation, including human life, our soul's need for seeking healing stirs within. The Angels, who attend to all our needs, then guide us towards people who can help us to get started on our personal healing journey. Our inner doors begin to open as soon as we seriously get to work on resolving any outstanding issues and making peace with ourselves, with God and all life. This sets us free to express our true loving nature more fully. As a result, forgiveness begins to flow quite naturally from our heart and soul into the perpetrator's consciousness.

Just as important is the next step of finding forgiveness for ourselves for having created the need for the painful circumstances of our lives in the first place. These two types of pardon earn us the nod of approval from the Masters and Angels in charge of us and our world, known as the Lords of Karma. They alone have the power of wiping even the most traumatic incidents from the spiritual ledgers that are kept on the highest levels of life in the form of the Akashic Records. As soon as the Lords have removed the events from the ledger they no longer exist anywhere and the parties involved are released from the otherwise endless repetition of the same experiences. At last their spirits and souls are given the long yearned for freedom to move on to exploring the higher levels of consciousness.

Although none of them will ever be seen by earthly eyes, as far as humankind's existence and spiritual development is concerned, possibly the most important group that is incessantly working in the spiritual background of life are the Lords of Karma. They are the eagle-eyed and incorruptible keepers of every human soul's bankbook. This in turn is an essential part of the great spiritual ledger of all life. The Lords do not dwell on some far distant planet millions of light years away, but are part of us and therefore have no difficulties watching over us earthlings. With great love and care they monitor us and are aware of every one of our thoughts, words and actions on the Earth plane. Stern and undeviating Saturn is the astrological symbol of this aspect of the Great Mother's wisdom. It ensures that everything in our world balances in the end, the same as it has to in the rest of God's creation. And that is why spiritually no-one will ever get away with anything.

The restrictions imposed upon us by the wise ones in charge of us are necessary because of the precocious and inquisitive, initially rebellious and irresponsible, utterly selfish, cruel and thoughtless nature of the human spirit, when it first enters life on the Earth plane. How else could any one of us have come to grips with the dualities and polarities in the behaviour patterns and attitudes of our earthly and higher nature? This is how, over vast time spans stretching over thousands of Earth years, every human spirit slowly evolves from one extreme to the other, from the lowest earthly self to the highest Christed being.

As each aspect of our evolutionary cycle is as indispensable and valuable as any other, it is compulsory and cannot be by-passed by anyone. Therefore, there is no need to look down our noses on those who are still struggling with the lower end of the their earthly education. We are not better than they are, merely a bit older and more experienced, that's all. There is no need to condone their deeds, but we need to remind ourselves frequently that they are our younger siblings in the vast family of humankind. As such they have deserved to be treated with compassion and love. They need our tolerance and understanding to ease them into their own awakening, just as much as we once did when we were at their present development stage.

The Divine demands from all its children of the Earth that, as we grow into spiritual maturity and adulthood, we make a serious effort to master the art of self-discipline and self-restraint. For all souls each earthly lifetime is a precious gift that brings further opportunities to develop their sense of responsibility for themselves, their world and towards all lifeforms that dwell on the same plane of life. Time and again, each one of us is placed in this life so that eventually we should be able to bring forth, each from within the very core of their own being, the most cherished Christ qualities. Among them are wisdom and love, truth and honesty, absolute loyalty and integrity, tolerance and compassion.

When this long hidden aspect of our nature finally wakes up, it finds its deepest satisfaction and greatest fulfilment in serving the highest good and the greatest joy of all. Going in search of big bucks and self-glorification no longer fulfils us and makes us happy. This explains why Saturn, the stern disciplinarian, as the co-ruler of Aquarius in conjunction with Uranus, the liberator, guards the gates of the Aquarian Age. He – or rather the Lords of Karma – take care that no soul that thus far does not measure up is allowed to enter into the greater freedom of the new age.

There are many groups who, like the Lords, are patiently and quietly toiling behind the scenes of Earth life. Together they are constantly pushing forwards and upwards the unfoldment of this age and with it the development not merely of our race but of our whole world. The animal kingdom as much as the rest of Mother Nature, her trees, plants and flowers, her Sun, wind, clouds and rain receive their attention. The consciousness of our race for some time now has been focussing ever more on the interrelatedness of all life. A special relationship has always existed between humankind and its friends and helpers in the world of light, in spite of the fact that for such a long time they had to remain invisible to earthly eyes.

From the awareness of humankind's kinship and siblinghood with all life grows the understanding that it is impossible to utter even one unkind word against another without hurting ourselves. Therefore, whenever someone acts cruelly against another in thought, word or deed, all they can hope to achieve in the end is drawing the same kind of experience towards themselves. This is never meant to be some kind of vengeance or retribution, but is merely a result of the outworking of the Universal laws. Love is the law of life and all of life is one vast spiritual family in which each atom is inseparable from every other one. And this loving union forever has been and in all Eternity will be safely held in the wisdom, love and power of the Divine spirit of our true parents, the Great White Spirit, Father/Mother of all life. All glory, all honour and all praise be to Thee.
* * *
Dysfunctional Families (4)
Healing Prayer For Relationships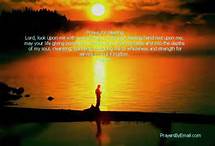 O Great Spirit, Mother/Father Creator,
Grant me the gift of Your Divine wisdom and forgiveness,
So that I may pardon each and every one
Who ever hurt or wounded me, including myself.
Help me to forgive every cruelty and unkindness
That was ever done to me by anyone, in word, thought and deed.
With hindsight, I can see that all who treated me this way
Supplied me with a special service and were my best teachers,
Because they all helped me to become the one I am now,
And for that, Great Spirit, I truly am thankful.

Thank you for showing us that each one of us is Your child
Whom You have granted the gift of another lifetime on the Earth,
So that we should learn and grow some more,
Each through their own experiences.
Thank you for the Angels, Masters and guides who are
Protecting us and lighting the way back home into the oneness with You.
I rejoice to know that we are all children in the great school of life,
Which You so lovingly have created for us.

I pray for Your forgiveness for the mistakes I have made,
Throughout this whole lifetime and all previous ones.
Help me to draw the learning from them,
So that I may bring forth all that is good and noble within me,
Finding wholeness and healing through becoming
Ever more like You and being closer to You.

As the road of this earthly life is long and difficult
And strewn with many kinds of temptations
Which my earthly self finds hard to resist,
Assist me with being strong in my determination to overcome them.
Help me to accept and love myself the way I am,
Safe in the knowledge that Your great wisdom and love
Created me – and everybody else – in Your Divine image,
And that you love us all totally and unconditionally.

To break the vicious circle of acting against my own best interests
And of being my own worst enemy,
When it comes to solving any problem, help me
To listen to Your help and guidance that comes
From deep within my own heart, where You dwell.
Help me to stop finding fault with myself and those around me,
But to love and accept myself and them they way we are.
Whenever I encounter difficulties, especially in relationships,
Grant me the gift of the ability to first look to myself to resolve them.

Now that I understand that the purpose of life on Earth
Is growth and evolution that leads each and every one of us
To ever higher levels of consciousness,
And knowing that all my experiences only ever happened
Because they meant to teach me something,
I let go of all resentment and grudges I ever
Bore against anyone, including myself.

Help me, Great Spirit, to love wisely, the way You do,
Myself and everything that comes my way,
Knowing that it is part of Your Creation,
That it has been prepared by Your great wisdom and love.
Help us all to dissolve the chains and shackles of Karma that
Have bound us to each other, for so many lifetimes,
So that we may set ourselves and each other free
From the bondages that were created
By the darkness of the ignorance of our true nature of past Ages.

Help us to free our world from all hatred, resentment, envy and greed,
And to fill us and it with Your Divine Wisdom, Power and Love.
My soul yearns to make peace with You and all life,
Because I now so much better understand
You and the processes of the life
You created for us.

* * *

Help me to forgive the mother of this lifetime for any unlovingness
She has shown towards me, knowingly or unknowingly, especially . . .
[Now pour your pain into God, who understands the way of all things]
Help me to forgive her for the times she failed to provide me with
The deep and fully satisfying Mother's nurturing
That only You, my Divine Mother, can give to any of Your children.
Help me to forgive myself for expecting
Such love from someone who is merely human,
Like myself and who is, therefore, but one of your children,
On her own pathway of evolution and therefore still imperfect.

Help me to forgive the father of this lifetime for any unlovingness
He has shown towards me, knowingly or unknowingly, especially . . .
[Now pour your pain into God, who does understand]
Help me to forgive him for the times he failed to provide me with
The deep and fully satisfying Father's love,
Forgiveness and understanding that You alone, my Divine Father,
Can feel towards all my efforts.
Help me to forgive myself for expecting
Such love from one who is merely human,
Like myself and who is, therefore, but one of your children,
On his own pathway of evolution and still imperfect.

Help me to forgive my partner for any unlovingness
S/he showed towards me, during the times You have given us together,
Knowingly or unknowingly. Especially . . .
[Now pour your pain into God, who does understand]
Help me to forgive her/him and also myself for
Any hurt and pain we ever caused each other,
For misunderstandings and abuse of any kind,
For not entering into the deep and fully satisfying
Relationship that is only possible between You and me.
Help me to recognise that it is folly to expect such
Perfect love and understanding from a mere human being who,
Like me, is Your child, on her/his own pathway of evolution
And therefore still imperfect.

Continue with this prayer until each and every one,
Who has ever hurt or wounded you, has been forgiven.
Finish off with:

Help me to forgive myself for all false expectations I ever hoped
Could be fulfilled in any of my human relationships,
When this can only be found in You, my Divine Mother/Father.
You are the Divine lover, who is alive in each one of us,
And You alone have the power to know and fulfil all my needs.
All those around me and with me are but outer manifestations of You.
And each one who has ever shared my life with me,
Is Your child and constantly searching the perfect loving relationship
That we can only have with You.

Help me to forgive my children for being [or having been]
Unable to fulfil the unrealistic hopes and dreams I once nurtured,
And that made me long and yearn for them,
Ever since I myself was a child who had to endure the suffering
At the hands of parents and other adults,
Who as yet failed to understand their own true nature and Yours,
And the reason why they were here.
Having no idea about the purpose and meaning of this life,
How could they understand me?

Thank You for allowing me access to the knowledge that
The children who came through me are not my children but Yours
And that they are in this life to fulfil their own Dreams
And reach their own Highest potential, not mine.
Like me, they are hoping to re-learn to walk
Hand in hand with You and the Angels, the way we all once did.

Help me, Great Spirit, to forgive myself and all those
Who ever hurt and wounded me for the suffering we,
In the ignorance of our true nature,
Inflicted upon each other, in the course of many lifetimes.
Help us all to set each other free.

Hand in hand with You and the Angels,
I release all those who have ever shared my life
From the Karmic chains and shackles of all lifetimes,
I forgive each and every one and set them free, now.
May the bonds that exist between us be transmuted into those of
True siblinghood, friendship and love,
For You, each other and the world You so lovingly
Brought into being for us, and re-create anew each day to our joy.

With my whole being, with all my heart and soul,
Mind, body and spirit I thank You for the gift of this life.
May the blessing and healing Power of Your Spirit
Now freely flow through me and all those mentioned in my prayer.
I love You with all my heart and soul and my whole being,
And I trust the blessing and healing power of
Your Divine Fatherly/Motherly wisdom and love
To bless and heal the wounds of all lifetimes in me and all life.

Amen
* * *
Dysfunctional Families (5)
Psychic Protection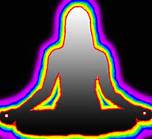 Because of our inner connectedness we all react to each other from the subconscious level. That's why psychic protection is of the greatest importance as much in family relationships as it is in all other encounters. It is especially true when it comes to dealing with the people with whom we have difficult Karmic lessons to undergo and issues to resolve. This makes both sides specially vulnerable and leaves them wide open to psychic invasions by the negative vibrations they are constantly receiving from each other. Also, the more our spiritual awareness increases, the higher our sensitivity to the detrimental psychic influences that emanate from others becomes.
Therefore, whenever we have to go through hurtful or negative experiences or sense that we are otherwise in danger of absorbing the negativity of those around us, we are in need of protecting our psychic space. If someone around us gives out negative vibrations, intentionally or otherwise, whether they originate from this level of life or any other, the best advice I have ever come across was from White Eagle.

He recommends that in such situations we quickly fold our aura around us, similar to an Angel closing its wings. For me it works best when I say in my mind: 'Like an Angel folding its wings and like a flower closing its petals when the Sun goes down, I now close my aura around me; I am safe.' I find it helpful to accompany these words by making some corresponding movements with my hands and taking several deep breaths, breathing in the Great White Light of God and breathing out love.
To my mind, everybody by rights should always have the benefit of this kind of protection. I suggest practising it especially first thing in the morning and last thing at night, as well as any time in between, as and when you feel the need for it.
From the White Eagle Lodge Calendar March 2008: 'To protect your aura, immediately you feel a hurtful or negative condition, or think you may be picking something up, quickly fold your aura round you, like an Angel folds its wings. Do this mentally. You will help this process by taking several deep breaths. Draw in the Great White Light. Nothing can then touch you; you have got everything within. It is like a flower closing up, as the Sun goes down.'
* * *
Dysfunctional Families (6)
The Dynamics Of Human Relationships And The Law Of Attraction

Do you sincerely wish for our world to become a more peaceful place? If so, the one thing you cannot do is to sit on your behind and wait for a large hand to reach down from the Heavens and wave a magic wand. Each one of us has to do their share of bringing this kind of a world into being. To enable us to do this, first of all we require a change of heart and consciousness and that can only come about through looking at our world from the perspective of its spirit background and with the perception of that realm.

Every human being's eventually reaches this point of their development. It then begins to dawn on us that the world of our dreams can and will not happen on its own and that it can only do so when all of us are doing our best to conduct our lives in ever more peaceful ways. This particularly applies to every one of our human relationships. As their dynamics are of an extremely complex nature, they benefit from a closer examination.

To enable us to make the progress on our evolutionary pathway that is every human being's birthright, we first need to recognise and accept that everybody has everything within, that nobody is all good or all bad and that all of us are a diverse mixture of many different things. Some people in our lives consistently cause us problems of one kind or another and no matter how hard we try, they will not go away. Wise ones take a good and honest look at themselves to see what it is, on the outer as well as on the inner subconscious level, that is trying to bring to their attention that something is in need of change, so that things on the outer plane can improve.

We are magnetic beings and the law of attraction is at work in all life, including each one of us. This law sees to it that humans can only draw into their orbit that which they themselves are. Wherever we may find ourselves at any given time, that is always the right place. We are there to integrate certain lessons and the world around us can be used to help us find out what they may be. The environment is designed to act like a mirror of our unconscious inner self. At any given time it is doing its best to help us become more whole by reflecting our inner world back to us.

That is why we can only see in others what we ourselves are. Alas, rather than living our less pleasant traits out, in a psychological process known as projection we prefer to assign them to others, rather than owning up to them ourselves. The world around us is always a reflection of the good as well as the distasteful behaviour patterns of others, which in truth are also our own. Nobody has any problems when it comes to integrating and owning the good qualities that are on display in this way. But having to deal with the less desirable and endearing ones is another matter entirely. Irrespective of how objectionable any of them are, in the process of becoming more whole it is essential that we own up to them. Even if our psyche tries to hide them from our conscious awareness, they are there nonetheless. This is proved by the fact that we can recognise them in others whilst failing to see in them in us.
If our energies and characteristics were not so similar to the ones of those who irritate and annoy us – including our nearest and dearest – we would never have drawn a relationship with them into our lives, because we would not have needed it. But, the way things have been thus far in our evolutionary plan of life, we most certainly do. For as long as we suffer intensely from the nastier character traces we observe in others, we are receiving signals from the Universe that the same is tucked away inside us, in our own subconscious, waiting to be released.
Human behaviour is not compulsive and each soul can and indeed must in due course learn to choose how to behave in any given situation. This is where our much cherished freedom of choice comes into the picture, and that is the only true freedom the human soul has, while it is held captive by its physical body. The way someone behaves and the choices they make reveal better than anything else the evolutionary level that person's soul has reached thus far. This gives a clear picture to our guides and masters on the higher levels of life of how much we have up to now learnt to control and master the lower aspects of our nature. Most of all this reveals itself in all our relationships with our environment, especially our human contacts and within that framework in particular with our nearest and dearest. That is why each one of these connections is of the greatest importance to every soul.
There is nothing to be afraid of here. We have not been given free will for nothing; we must exercise it and choose in any situation how we wish to behave. Nobody has to act upon any bad or downright evil impulses; there is always a choice. It is up to us to resist the pull of our lower nature and rise above its instincts and urges. The characteristics we observe as unpleasant in those around us will only continue to annoy and irritate us for as long as the same ones are lurking in our own subconscious. I can think of no better way than asking God and the Angels to help me lift them into my conscious awareness, so I can accept and acknowledge them. This I follow by a response of a firm: 'No!' and ask that they should be released and their energies transmuted into wholesome and good ones. That in a nutshell is evolution. It is a process that demands constant changes from us and our world; that is why nothing ever remains the same.
It is possible to influence others and those on the healer's pathway ensure to do this in positive ways only. Anyone who to this day believes they can change someone else is chasing an illusion, because that is impossible. In all human relationships projection is always at work. It is a normal part of human behaviour. Everybody does it, so let this not worry you. Next time you find yourself in troublesome relationships and situations, stop feeling bad about them or yourself. Bearing in mind that the only person in the whole wide world that can be changed by us is ourselves, do something constructive and positive and get to work, not on the people who are irritating you, but on yourself.
Whenever we have problems with others and want their behaviour towards us to change, we must first sweep in front of our own door. To find a resolution we have to look within and with utmost honesty examine our own mannerisms and deep seated inner attitudes. They are the culprits and the cause of all our difficulties. First we have to assess our problem, then our search for a solution can begin. This is a journey like any other that starts with the question: 'Where am I now, where do I want to go and how can I get there?'
A satisfying outcome and a resolution of the conflicts that are so frequently experienced in human relationship that upset our equilibrium can in my view only be achieved through a change of heart. What we require most of all is a better understanding of the background of the offender and the difficulties they may be struggling with, which are making them behave the way they do. The very efforts we are making towards this end starts to change our own vibration towards the offender into a more loving one.
Because of the special dynamics between people it frequently happens in such cases that those around us respond to the different vibrations we are then radiating in their direction. The effect of this can sometimes border on the miraculous. With some people this process takes longer than with others, but spiritually every small effort anyone makes towards improving their human relationships into more loving ones are recognised and rewarded by God and the Angels.
If we but ask, the Universe is all too happy to show each one of us how to go about changing our own attitudes, so that those around us can respond to them. Why not try it for yourself? Given time, you will be able to watch how the miracle of growing more loving that is taking place within you is affecting the world around you and how the people in it reflect your own lovingness back to you.
* * *
Dysfunctional Families (7)
Reassessing All Relationships
Many by now have reached the evolutionary point for reassessing all their relationships and for leading those that are worthy of staying in our lives in better and more holistic ways than has ever been possible before. Just look around you and see how fraught human relationships all too frequently seem to be these days, on an individual level as well as world wide. Life is difficult because many of our old institutions are breaking up and disintegrating.
It seems that one of them is marriage. To my mind, this is largely due to and connected with everyone's need for integrating and coming to terms with the fact that we all contain everything, the Highest and the lowest qualities, as well as feminine and masculine energy. This awareness that on the inner level of life each one of us already is whole and consists of both woman and man, does away with the need for seeking others to make us whole. Women are ever more integrating and becoming one with their inner man; and the same is happening for men and their inner woman.
We are all in this life to find healing for our crippled and wounded inner child, so that it may rise from its wheelchair, metaphorically speaking. We are that child and to find healing and peace for our adult self, we first have to attend to our child part, so that it can learn to smile and laugh and trust again. Before we can walk and run into the wide open and waiting arms of our Divine parents, Father/Mother, without any fears and inhibitions, our child first has to practise crawling and toddling. To achieve this, our most urgent requirement is a complete change of inner attitudes towards ourselves.
During the journey back home into our true nature, the small wounded child within must have its say, at least from time to time. Whenever its wishes surface, they are doing so for good reason. They are asking to be looked at and healed, through our own love and compassion for the suffering we experienced when we were small, helpless and at the mercy of those around us. For me, the best way of finding healing has been through a better general understanding of myself, my life and life in general. That is what to me the healing journey of this whole lifetime has been all along and still is.
That is why when my inner child's feelings rise to the surface during meditations, I no longer suppress them but allow them to rise to the surface of my consciousness. For as long as it is necessary, I do a bit of wallowing in self-pity, if you want to call it that, though that is not what it truly is. To me, it as a necessary part of the healing process that helps our tears to come. And tears are the Universe's, by that I mean God and the Angels', way of comforting us and bringing us healing.
I believe that suppressing such feelings is wrong. They too are very real and the only reason why they are surfacing now is that they were not properly expressed at the time, never mind anyone being around to comfort us. This healing process can be exceedingly painful, but my own life has taught me that it works and how. If that's what it does for, it is sure to do the same for you. So, why not have a go yourself? As long one does not carry this attitude of wallowing in self-pity forward into one's daily life, the way it is now, there is nothing wrong with a spoonful of this kind of bitter medicine. Taken with discrimination and in small doses, at the right moment and in the right place, whilst communicating with the Universe, it can be highly beneficial.
That helps us to face all our other human relationships with more strength. Why is it that they are so fraught and difficult? To me, one of the main reasons is that for as long as we insist on looking for fulfilment in another human being, no relationships is likely to work out satisfactorily in the long run. To overcome any of our problems, as always, we first have to look towards ourselves and wake up to the reality of who we are and why we are here. This also applies to our relationship problems. There is no point in searching in those around us for what they have not got, because they are not meant to have it. As likely as not, they themselves are still hoping to find it – probably in us.
Knowing that inner manifestation always comes before outer, wise ones however look for whatever they want from life within and develop it there. They are aware that the kind of security we all are seeking is the one that only our Highest Self can give us and that it can only be found within. It cannot be provided by other people, because it is not meant to; they too are here for the same reason. As one starts looking in the right place, relationships begin to run more smoothly. One no longer enters into them with false and expectations that cannot be fulfilled, because they are not meant to.
Why are women and men naturally dependent upon each other? On the physical level, for as long as physical bodies are required for incoming souls to enter into and take part in earthly life, this will continue. On the inner level, however, this has never been true. We shall return to this theme in another chapter. Now that we have entered a new age, big evolutionary changes are taking place and they are stressful and take a great deal of adjusting to. The way I see it, we do need human beings around us and with us on our pathway. Indeed we do, because it is through our human relationships that we grow and develop. This situation will ease as ever more of us return into the conscious awareness of their own true nature again. We then realise that each one of us is whole within themselves and that in truth we do not need other people to make us whole. And that stops us from looking for fulfilment in others and for being made whole by someone else's presence.
In previous lifetimes, women and men lived their earthly existence vicariously, through each other. All she knew then was that she was woman, no more and no less – and did the same. The men in a woman's life acted out her masculine part for her and reflected her own masculine energies back to her. By now, many are becoming increasingly aware that wholeness could never be found in others, but only within, because it represents every soul's own inner connection with its Highest or God Self. Other people were never meant to replace the missing part of ourselves, which we have been seeking ever since we left behind the conscious awareness of our oneness with God and all life. This happened for wise evolutionary purposes and is the reason why no matter how close our relationship with anyone ever was or will be, the other one can never become fully one with us – no more than anyone else can, on the inner level of life. The only way of being one with any other being is on that level, where we and all life always have remained one, in any case.
* * *
Dysfunctional Families (8)
The Divine Soul Mate
Samuel J. Ellis wrote: 'When people take more and more advantage of you, they begin to dislike you more andmore. It is not because of anything you do or say. Instead it is because of what they are saying and doing to you. So, in your next situation do not let others take unfair advantage of you. Say something to them early on. Everyone seems to act this way, though some more than others.' He too discovered that if we do not respect ourselves, others cannot do so either. It is for good and wise purpose that a special dynamics is at work in all human relationships. It ensures that through the mirror effect we constantly reflect back to each other what is within ourselves.

As we know by now, we all have everything within woman and man, Sun and Moon, yin and yang, human and Divine. To become whole, each has to integrate and reconcile the opposite energies and forces within themselves and teach them how to work together peacefully and harmoniously. When this has been achieved, we shall be whole and androgynous, like God and the Angels, and we shall not want for anything any more. The desire to rule and dominate others will finally go from us and we shall free us and our world from all possessive and needful emotional love. Our human love consciousness needs to raise itself ever more towards our Highest Self and connect with it in a deep, loving and satisfying inner union that cannot be compared to any other. Our hunger for love will at last be satisfied once and for all and the inner thirst will be quenched and gone for good. We shall be whole and healed and, therefore, holy.
As pointed out in 'Soul Mates', the ideal love relationship everybody is looking for and the soul mate we all yearn to have cannot to be found in other human beings, only within ourselves. It is the connection with our very own inner lover. Everything can be found in that magical world. It is through the process of integrating and becoming one again with this almost lost part of our being that the deep inner wound, which we all carry within, finds healing and we become whole and holy.

This wound was caused by detaching ourselves from our God Self, our true and eternal lover, once upon a time in the long course of our evolution. The further we descended into experiencing life in physicality, the deeper the rift became. It does not make one bit of difference what name one chooses for the seemingly lost part of ourselves. 'Call me by any name and I shall be there' is the Divine promise that has always been with us. God is in us and we are in God. We truly are one, at all times have been and forever will be. Our earthly mind created the illusion of separateness, but as we attune our whole being once more to the mind of the Highest, we come home into the awareness of our oneness with all life.

For each one of the Universe thus provides natural help with the dissolution of our ego structures and boundaries. At our entry into the Aquarian Age this is becoming increasingly powerful. Co-ruled by Saturn and Uranus, the Uranian energies assist us with breaking up that which is old and outworn within us. Neptune, co-ruler of Pisces with Jupiter, is the planet most useful for getting rid of the ego structures. On 3rd February 2012 the planet Neptune moved into Pisces, its own sign, where its influence is going to be felt ever more powerfully.

As pioneers of the Aquarian Age, aspiring lightbringers and healers. we are here to discover new ways of being and feeling, and having found them we are expected to help others do the same for themselves. Much work is waiting to be done, as to this day many remain unfamiliar with these concepts. Although they sense that something of importance is happening in our world, they are too frightened to dig deeper to find out what. As a result, they are trying to run away from the very thing all human souls most desperately want and need: the full reunion with our God and Highest Self.

This is the highest, noblest and most urgent task all of us have to tackle at present. It's the most important thing that has thus far ever occurred in anyone's life, as well as humankind's individual and collective evolutionary pathway on the whole. Yet, those who insist on running have no chance of discovering the true cause of their inner unrest and what is at stake for all of us. The only way the full realignment with our Divine soul mate can be achieved by any human soul is by stopping and willingly going within to listen attentively to the murmurings of our heart, where the Highest or God Self in all of us dwells.
* * *
Dysfunctional Families (9)
Forgiveness Grows From Understanding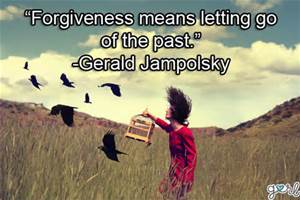 If you find forgiving difficult, bear in mind that it does not mean giving in, but letting go. Whether or not you think someone deserves your forgiveness, you most certainly are worthy of forgiving them, because that is the only way of dissolving the karmic chains and shackles we created for ourselves and each other, in the course of many lifetimes, and of setting each other free. Holding on to anger is a way of trying to compensate for the powerlessness we feel when someone hurts us.

It is important to find a way of letting go of anger, by talking with the person who hurt us, without attacking or blaming them, but by describing the effect their behaviour had on us and the world of our feelings. Listening to another's point of view helps us to see things from a different perspective. It makes us more tolerant and shows us the way to true and lasting forgiveness that comes from our heart, instead of our head.

If, for any reason, it is impossible to communicate with the people who have hurt us, writing down what happened the way we experienced it can be a good release. Talking the matter over with a friend or a counsellor is another way of letting go. In my view, forgiving does not necessarily mean forgetting. It is not easy to forget hurts, but even partial forgiveness is beneficial because re-living past painful incidents in our minds time and again is bad for our health, as this increases our susceptibility to illness. Forgiving is good for all parts of our being, mind, body, spirit and soul. If it is more than we can manage on our own, God and the Angels are waiting to be called upon for their assistance. After all, to err is human and to forgive is Divine. And forgiveness brings inner peace. Meditation, quiet reflections and prayers are the best ways of finding both.

It's never too late to send forgiveness to anyone, especially not those who returned to the world of light ahead of us. They are neither dead nor asleep but probably more alive than we are, because they are once more fully aware of their true nature and have been shown by the ministering Angels the karmic debts they left behind. Our loving and forgiving thoughts reach them through the ethers without hindrance. If you have unresolved issues with someone or maybe several people on the other side of the veil of consciousness and long to make peace with them, go right ahead. God and the Angels are delighted whenever one of us requests their help. Ask them to show you how to resolve the issues and through this dissolve the karmic chains that still exist between you.

Forgiveness is the most important ingredient in our quest for more harmonious relationships. It grows from and is a natural consequence of a growing understanding of the true purpose of our present existence and human relationships in particular. Though this can be an extremely arduous task, being merciful is essential for becoming whole – meaning healed – through the integration of all the qualities that are our Divine inheritance.

This is our opportunity for learning how to take possession of each one of them and the most important one of them is learning how to love God's way and acquiring the ability of a love that understands all, forgives all and heals all. This kind of love isn't blind, but because it understands it forgives. Loving this way opens our heart's and soul's willingness for doing so. Understanding opens our inner vision to the necessity for forgiving and we perceive with great clarity that without it, we shall remain stuck in the past and cannot move on.

The trouble with life is, as the Danish philosopher Soren Kierkegaard put it: 'Life must be understood backwards, but has to be lived forwards.' How very true! The best thing about this life is that we are all allowed to make mistakes – nay, maybe we are even encouraged to make them. As long as we learn from them, we will always be allowed to move on lessons of a different nature.
When the gentle wisdom of the Great Mother guides our thoughts and attitude towards life, kindness and tenderness, compassion and protectiveness towards every lifeform flow quite naturally from our heart towards every one of our siblings in the great family of life, we are well on our way of mastering the art of loving God's way. And as this kind of love goes forth ever more powerfully from our heart, it also flows through our veins, not only the physical ones but also those of our higher spiritual bodies.

This development continues until in the end our whole earthly being pulsates with the Divine Fire and that provides us with good health and the joy of being alive, as well as sufficient confidence to tackle whatever may still be waiting for us on our evolutionary journey through life.
* * *
Dysfunctional Families (10)
The Art Of Forgiveness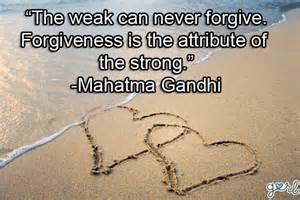 Are you feeling resentment, pain, anguish or maybe even fury? It doesn't matter whether your emotions are directed at the general idiocy of worldwide governments, a close friend or family member. It makes no difference whether you are raging at a complete stranger on the road, in a moment that's quickly gone or whether you are dealing with years of abuse or emotional torment. Forgiveness is a spiritual act that requires us to view things from a different angle and with an increased understanding of our own needs as well as another person's.

It doesn't seem to be so when we are thinking of the wrong another has done to us, or the hurt they have so carelessly lavished out, but forgiveness can free us from even the seemingly most unforgivable acts. Many of us hold onto our anger in the hope that this emotion will somehow anchor in some Universal Justice, as though gritting our teeth and furrowing our brow could somehow balance the teetering scales of justice in our world.

Sadly, the hurtful act or words of another that we keep running through our minds work like an emotional cement that keeps us stuck and unable to move on into a peace mode. Our inability to forgive often doesn't even affect the 'other' as much as it does us. There is a Tibetan Buddhist story about two monks who encounter each other many years after being released from prison where they had been horribly tortured. 'Have you forgiven them?' asks the first. 'I will never forgive them! Never!' replies the second. 'Well, I guess in that case they still have you in prison, don't they?' the first monk says.

•Many mistakenly believe that forgiveness somehow absolves others from their wrong-doings. That in forgiving, we helplessly accept, give up, surrender to defeat – that we are helpless. The exact opposite is true. When we face a terrible wrong and look within to see how we can prevent the same incident from happening again, then we are truly on the correct spiritual path.

Dr. Fred Luskin is the Director of the Stanford University Forgiveness Projects. He has led the largest research project to date to study the effects of forgiveness on hurt individuals. He has dealt with people suffering from a huge range of things needing to be forgiven – from a romantic break up to the murder of a child. He believes that there are specific steps one can take to reduce the stress that comes with holding onto hurt and make the progress of forgiveness as easy as possible. I tend to agree. Forgiveness usually takes a little time, but it needn't consume your life for years. You can start with the following steps to move your heart into the right place, and begin to forgive:

•We are often afraid to truly articulate just how much we have been wronged, but this is necessary. In cases that are more obvious, such as losing a family member in a war-torn country to the hands of an unfeeling mercenary, it is easier to explain how angry and sad we are, but in other cases, such as with long-term familial abuse, we may have even come to think the behaviours we were subjected to were 'normal,' and only later do we realize how much pain and hurt we stuffed down over the years in order to function within our family unit. When that pain is realized, it is helpful to articulate it to a counsellor or a few close friends. Keeping those emotions locked inside does not permit the process of forgiveness to begin.

•Forgiveness is a personal journey. You do it for yourself and not for the person you think needs to be forgiven, or anyone else. Once you make a commitment to do whatever it takes to let go of the pain and feel better – and do it for you, then forgiveness starts to become an easier endeavour. When you feel better about yourself, after all, you will find it more difficult to hold grudges against others. When needed practice self-care and self-love. If you are still involved with the person or people who you are trying to forgive, you can simply explain to them that you need time to care for yourself. If this is not appropriate due to the ongoing behaviour of another, then simply practice uncompromising self-love and distance yourself from the other person until your feelings of anger and hatred dissipate. Reconciliation may be possible in the future.

'Your forgiveness should be such that the person who is forgiven does not even know that you are forgiving them. They should not even feel guilty about their mistake. This is the right type of forgiveness. If you make someone feel guilty about their mistake, then you have not forgiven them.' Patanjali Yoga Sutras 'The Art of Living'

•While reconciliation sometimes is possible, on other occasions it is not. If someone is emotionally unstable and is likely continue to act in hurtful or harmful ways again should be approach them, there is no need for being physically or emotionally near them to forgive them. What you are after is internal peace. Forgiveness can be defined as the peace and understanding that comes from dropping the blame for whoever has hurt you, changing your never-ending story of grievance, and realising that they were possibly playing a role in the grand play of life – known as maya to some – to help you learn more about yourself.

This does not mean that murdering your child is right or that stealing, cheating, emotional abuse, or other 'wrongs' are 'right.' It simply means that you choose to see that person's pain as the impetus for their own actions and not as a personal affront to you.

Maya Angelou once said: 'You can't forgive without loving. And I don't mean sentimentality. I don't mean mush. I mean having enough courage to stand up and say: 'I forgive, I'm done with it.'' If someone has been narcissistic, selfish, hateful or jealous, you can forgive them for your own peace of mind, and allow them to learn from the Universal lessons, which are surely coming their way, to help them forgive those who hurt them also. While you don't have to reconcile with others who are not ready to do this spiritual work for themselves, you do have to reconcile your own emotions.

•Your hurt is coming from what you feel now, not what happened ten minutes, an hour, days or even ten years ago. The old adage about time healing all wounds is true. But this is because we tend to get caught in karmic cycles that cause us to mentally recycle pain instead of letting it go. In the book 'Karma and Reincarnation Transcending Your Past, Transforming Your Future' Elizabeth Clare Prophet and Patricia R. Spadaro explain that while 'Karma means accountability and payback, reincarnation is simply another word for fresh opportunities [which the Universe offers us].'

•Karmic retribution is not a punishment, but the benevolent and infinitely wise Universe's way of allowing us free will. What it does mean is that what we send out into the world must return to us. Therefore, what we do unto others will in due course be done unto us, somehow, at some time, in some way – maybe in a far distant lifetime. But return it will, of that we can be sure. The Sioux holy man, Black Elk, explained how everything in nature comes full circle, and Voltaire mused: 'It is not more surprising to be born twice, than once.' Everything in nature is endlessly recycled and then resurrected. Understanding the cycles of karma and reincarnation helps us to get a better grasp on family, community and even wider society patterns in need of changing.

When we stay stuck in thoughts of the pain another has caused us, we are missing one of the main opportunities of our present incarnation. After talking about a hurt with another person, expressing it fully and looking at the patterns that created this situation, the time has come for releasing it and letting it go. The true gift of being 'hurt' be another is the recognition that on the inner level of life we are all one and when one of us gets hurt, everybody else suffers with us. Therefore, in truth when we hurt another, we are doing the same to ourselves.

Carl Jung once said: 'I had the feeling that I was a historical fragment, an excerpt for which the preceding and succeeding text was missing . . . I could well imagine that I might have lived in former centuries and there encountered questions I was not yet able to answer, that I had to be born again because I had not fulfilled the task that was given to me.'

•Stop your fight or flight response. When we start to ruminate about what another has done to us, our hypothalamus gets into gear and engages both our sympathetic nervous system as well as the adrenal-cortical system. When the effect of these systems sets in, our fight or flight response begins and in no time flat we are in moderate to full-blown fear mode. This is because we are afraid the same thing will happen to us again. We are feeling the incident as if it were happening right now, no matter how long ago it occurred. Our heart rates and blood pressure rise. We might even sweat a little. Our body gets flooded with thirty different stress hormones and all of it together makes forgiving very difficult.

Through practising a simple, calming mantra meditation, a few yoga asanas, yoga nidra, nadi shodhana or going for a short walk outdoors, we can reverse the fight-or-flight response. This enables us to deal with the fear behind our pain from a more level emotional state.

•Give up your expectations of others. Dr. Luskin calls this 'recognizing the unenforceable rules.' In other words, you can't expect to get from others, what they have no ability or desire to give you. While we can practice love without expectation, we also should be aware that others aren't always capable of loving back. If your inner child is still bemoaning the inability of an emotionally shutdown father to be affectionate and caring, or you expect a selfish boss to behave differently, then you are setting yourself up for more pain and this often. Realise that what you seek from others – kindness, love, affection, support – will come from those willing and able to give it, and the more you offer it to yourself, the more likely individuals of the same calibre will come into your orbit. Just let the others be, who are not ready to act as evolved. Let go of all resentment by acknowledging that's just where they are in their present evolutionary cycle of karma and reincarnation.

•Know that a life well lived is the most constructive and positive way of resolving the outstanding issues between any of your relationships. Staying hurt and angry does nothing for you. It only feeds the ego of the person who hurt you and gives them power over you. You are still in 'prison', as one of the monks put it. Empower yourself by focussing on the good things in your life. Robert Emmons and Michael McCullough are two of the leading American investigators of gratitude. They describe this quality as personality strength and the ability to be keenly aware of the good things that happen to you and never take for granted. Grateful individuals express their thanks and appreciation in a heartfelt ways, not merely to be polite. Wise ones who possess a high level of gratitude, often feel an emotional sense of wonder, thankfulness and appreciation for life itself. Start a gratitude journal or instead of getting stuck in your hurt feelings, every day take a few moments to quietly contemplate and reflect on the many blessings the Universe is bestowing upon you. Counting them is good for your health because it helps to dissipate sadness, anger and frustration.

•Change your 'story'. Instead of telling a story to yourself and others about how you were done wrong, decide to re-write the script. You can, instead of being a victim, decide to use the experience as a way of healing others, one of the most profound spiritual practices ever taught. Imagine the ripples that the pebbles of your forgiveness could send out into the world. I give the example of a man named Robert Rule to explain how profound changing your story can be:

'Gary Leon Ridgway is better known as the infamous Green River Killer. In 2003, he confessed to the murders of 48 women. In 2011, Ridgway was convicted of the murder of Rebecca Marrero, bringing the victim count up to 49. By his own confession, he may have murdered as many as 60 women. Ridgway especially despised prostitutes and targeted them for his killings. At Ridgway's 2003 sentencing, the families of the victims had the opportunity to speak out and address Ridgway directly.

Understandably, many were angry and lashing out at Ridgway for the sorrow and pain he had put them through. As Ridgway stonily listened to the family members express their grief and anger, one person came up and said something unexpected. When the time for speaking came for Robert Rule, the father of teenage victim Linda Jane Rule, Ridgway finally showed a glimpse of remorse. Rule's words to Ridgway were: 'There are people here who hate you, but I'm not one of them. You've made it difficult to live up to what I believe, which is what God tells me to do and that's to forgive. You are forgiven, sir.' His words brought Ridgway to tears.'
* * *
From 'Healers And Healing'
We Are Our Own Ancestors And Descendants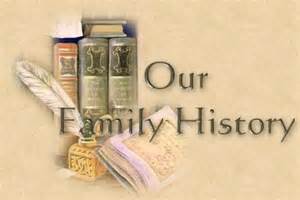 What a lot of pious talk there is on the Earth plane about the need for leaving our world in a fit state for our children and children's children. As always there is a great deal more to this issue than meets the eye. I agree that it is the highest time that we all get our act together and do our share of taking better care of our beautiful planet. Ever more of us need to wake up to the fact that the main purpose of our earthly existence is that, when the time for doing so has come, we should each do our share of making our world into a better and more peaceful place, not just for humankind but for every one of its lifeforms. We are by no means alone with this task, God and the Angels are ready to help us with it, if we but ask.

I believe that this is just as vital for us ourselves as it is for those who come through us, our children and everybody else who will ever walk behind us. Let me explain why this should be so. As you know by now, I do not share the view that life is a one-off thing. I do believe – nay, more than that, I know – that each one of us has been before, not just once or twice but a great many times. We are placed in earthly life to grow and evolve in the course of many lifetimes from spiritual infancy, toddlerhood and adolescence into adulthood. Earth life is an educational institute and in order to reach this goal, we reappear however many lifetimes this development may take for each individual spirit and soul. Every reincarnation into Earth life brings fresh opportunities for paying some of the karmic debts we incurred in previous lifetimes, as well as creating new ones.

In some of our lifetimes we reincarnate as a woman and on other occasions as a man. And as we move along, we make many mistakes. This too is good and right, as in this way we are constantly learning something through our own experiences, and that helps our consciousness to expand. That's how one small step after another, we grow in wisdom and understanding. Unaware of what we are doing, we are playing the role of our own forebears and in case we require further lifetimes on the Earth, on each occasion we return as one of our own descendants. And unless sufficient numbers of us do their share of making our world into a more peaceful and beautiful place right here and now, in future lifetimes we shall be newly confronted with the mess we ourselves once helped to make of our planet. How about that for a mind-boggling concept?

Let's take a moment and join those who are in search of their roots. This takes us into the innermost core of life and the moment of our creation, when our spirit first came forth as a seed in the form of a thought from the heart-mind of God. One can only marvel at what has become of us in the meantime. There is no doubt in my mind that the person we are at present is the result of everything that happened to us from that moment onwards. All of it has been helping us towards growing ever more into the conscious awareness of our roots and origin as children of the Divine. Yet, in spite of the fact that on the outer level of life during each lifetime we appeared in a different guise, on the inner plane we remained the same. One cannot help marvelling that you were always you and I was me, and that is what we shall be forever.

Should our evolutionary program demand further sojourns through earthly life, we shall be appearing as the offspring of the one we presently are. Therefore, it stands to reason that any improvements we now make to our character and also our world are as much on behalf of ourselves as of our children's children. This highlights the urgency of seriously getting to work on ourselves as well as finding satisfactory solutions for the issues that to this day are facing us and our world.

We live in extraordinary times of Mother Earth's transformation and the homecoming of our race into the conscious awareness of God's true nature and our own. And so it is not surprising that many are feeling the urge of finding and reconnecting with their roots. For a long time we keep on reincarnating through the same family groups. But eventually we reach the point when we have become sufficiently evolved for the superconscious faculties of our nature begin to unfold and our inner and outer horizons start to broaden. And so, with the help of the wise ones in charge of us, we decide to be born into other cultures and civilisations, to become familiar with their customs, outlook on life and religious/spiritual aspirations.

For these souls it would be futile to search for their origins on the outer level of life. They know that everybody's true roots belong to the inner dimensions and therefore can only be found through journeying inwards. In this way we reconnect with our Highest or God Self, and through this becoming aware of our oneness with God and all life.

In contrast to them, young and inexperienced souls during their early lifetimes on the Earth plane are likely to misinterpret any of the promptings they receive from their inner being. They cannot help themselves because so far their earthly self has not yet discovered that there is such a thing as a spirit and a soul as well as an inner home, and that they too have these things. This is why one finds people in many countries of our world who are busily digging in the archives of earthly life for their roots. More highly evolved souls smile at their efforts. They can see no point in the ordinary type of genealogical research, because they are already consciously walking the highway that takes all of us together up the spiritual mountain and eventually – each one on their own – home into the final reunion with God.

Now that you are aware that you have been your own ancestor, I would like to challenge you to take a good look at your family tree. When you consider the ancestral line-up in front of you, bear in mind that in some of your lifetimes you yourself could either have been an eminent person or a particularly ill-fated and unfortunate one. Should you be in danger of shedding crocodile tears and feeling your heart melting with compassion for those through whose line you reincarnated, and before your ego swells with pride for having come through such an illustrious family, think of the part you must have played in its saga.

It is necessary to find forgiveness and feel compassion for ourselves and the many ordeals each one of us has to work their way through on their way to becoming the one we are today. To provide humankind with a well balanced educational program, it is for wise higher purposes that all human souls occasionally require lifetimes on the Earth plane when wretchedly difficult and traumatic situations have to be coped with. But we can trust the Universe's wisdom and love that it will see to it that such times are balanced by successful, prosperous and happy ones.

Understanding this, each one of us, without exception, has every reason to rejoice and be thankful for all our own experiences and everybody else's. The time has come for making our peace and praising the Highest for the gift of life, for guiding and protecting us and keeping us safe by day and by night, and the many things it is constantly providing for each one of us. And that undoubtedly will continue forever.
* * *
From 'A Celebration Of Kahlil Gibran'
About Children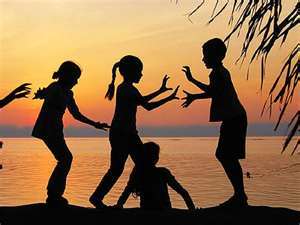 Holding a babe on her bosom, a woman said:
'Speak to us of children',
And the Prophet replied: 'Your children are not your children;
Every human being is a beloved child of the Earth
Of the Great Father/Mother.
We are all manifestations of life that's steadfastly moving
Forwards and upwards on the evolutionary spiral
Of the whole of Creation, one of their own as well as
One for the whole of humankind and our world.

Your children come through you, but they are
Neither of you nor from you.
Even though they are with you for a while,
They do not belong to you.
You can give them your love, but try not to make
Them think your thoughts.
From as early as possible, teach each one how
To think its own thoughts,
Come to its own conclusions and
Develop its own opinions.

Although you house their physical bodies for a while,
Their spirit/souls are uniquely their own.
In their soul memories they have brought with them
Their own hopes, dreams and aspirations
And they may not be the same as yours.
That's what you also did when you entered
Your present lifetime and will do again,
Should you need to return to this plane
In a future lifetime, in case you have not yet
Finished your education in the earthly school of life.

Being like your children is good for you.
It keeps you young at heart with them and you continue to
Observe our world with the innocence of a childlike perception.
Whatever you do, forget about making your children like you,
As that would be holding back their development
And not do nothing to assist yours.

Sagittarius is the zodiac's sign in which
Humankind's superconscious faculties are developed.
It symbol is the archer, half human and half God.
Parents are the bows from which
The Great Father/Mother of all life
Is sending everyone of Its children forth like
Living arrows onto the material plane.
The members of Angelic Kingdom serve the Divine archer.
They love to shoot their arrows as far and wide as possible.
They alone can see the marks, which are invisible
To earthly eyes, that every arrow leaves behind
And how much progress it is making
On its pathway of getting to know itself
As a spark of the Great Light and
A young God in the making.

That's how, in the course of many earthly lifetimes,
Every one of us evolves into an ever more perfect and beautiful
Manifestation of the archetype that exists in
The Great Father's mind.
The first step of our apprenticeship as a young God
Is taking part in the earthly school of life's lessons.
It has reached its end as soon as
We have evolved into a Christed one,
Each in their own right.

The Divine archer loves parents who not only
Give their children roots in which they can grow but also
The freedom to fly when they are ready to leave the nest;
Stepping back and setting their offspring free,
Safe in the knowledge that they will do well because
From early on they have been encouraged
To make their own mistakes, so they can learn from
Their own experiences and dream their own dream.
Support your children to fulfil their own highest potential,
As that sets you free to attend to yours.

The Archer loves wise parents and teachers,
Who tell the children in their care that they are the children of God
And that therefore each one is as precious and unique as the other;
Who appreciate that although children at first live
In smaller bodies than their own, they have nonetheless
Come into our world as a fully developed spirit/soul,
Who may have a much longer evolutionary history
Behind it than its parents;
And that their gifts and talents are not inherited from
Any of their forebears but it could already have taken
Many lifetimes to develop them and bring them
To full flowering, maybe in this one.

Wise parents tell their offspring that:
They are not some kind of appendix of them;
They have been granted the gift of another lifetime
To learn, evolve and grow some more through their own experiences,
The same as they are doing and forever will continue to do.
When their children go to school, they point out that they are
Learning for themselves and for life itself,
Not only for this lifetime, but for Eternity.
They explain that every human being is personally responsible
For every one of their thoughts, words and actions,
And that the Universal law of cause and effect or Karma,
In due course returns every one of them to is sender.
That's why in each lifetime we are born to parents who are
Like the parent we ourselves were during our most recent lifetime.

Wise parents teach their children that they are personally
Responsible for every one of their thoughts, words and actions
And that the Universal law of cause and effect or Karma,
In due course returns every one of them.
Through their example they are showing that,
If one wants to get anything of value from earthly life,
It's essential to first put something valuable into it.
From as early as possible, wise parents encourage their children not to blindly swallow everything they hear, see or read; not to believe that something is true just because someone says so, whoever they may be; to let everything flow through the inner filter of their very own wise one or living God within, who communicates with everybody through the world of their feelings. If something is true or false, this guidance reliably lets us know.

Wise parents don't endlessly give to their children. Through first giving something and then withholding it for a while, their offspring learn about its value. That's how the love and wisdom of the Great Father/Mother have always been teaching us, their beloved children of the Earth the value of honesty and truth. And this is why our world needed approx. six thousand years of patriarchy. With the old religions unnatural all-male God-head and their steadily increasing store of false beliefs, superstitions and prejudices, and the insistence of their leaders that they are literally true, one step after another honesty and truth were almost completely removed from our world.

Although it seems that God and the Angels are allowing the present outburst of lying and cheating, deception and corruption, they will never cease to be the eye that does not sleep. Wise ones know that it must be happening for a wise higher reason. They forgive your world's present troublemakers and scaremongers because they really do not know what they are doing – most of all to themselves when, in due course, the law of Karma returns to them the seeds they are so happily sowing far and wide.

Wise ones know intuitively that our world's present state is the crescendo and final instalment of being taught the value of honesty and truth. When they have reappeared, they will be appreciated and treasured beyond compare. Every one of us will ensure that they will never again go from us and our world. Wise parents realise that the Great Father/Mother together with their only born Son/Daughter, the Universal Christ's spirit and light, are the true parents of the whole of humankind. Earthly parents can merely act as their representatives and can only ever be substitutes for the real thing.
From 'The Prophet' by Kahlil Gibran 1883-1931
Lebanese/American poet
Edited by Aquarius
Updated June 2021
* * *
From 'Words Of Hope And Encouragement'
Our Pathway Through Life (1)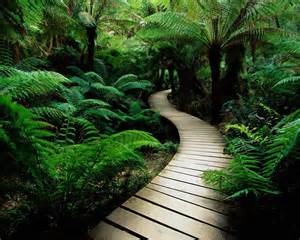 'What we do as we move forward through our life can be compared to us laying down paving, as we absorb and apply various principles and shed our negative aspects and attitudes to replace them with new and positive ones. The path itself is, within general parameters, already set down before us but in setting the paving tiles in place by our efforts we are slowly, one by one, consolidating our path and giving it a definition. It may well be that at times we falter or take a step backwards, but the tiles remain in place and give us a firm footing when we tread there again. We never destroy what we have created in this way, even if we slide back a long way and return to it, tired and bruised but a lot wiser.'
From 'The Milk Is White'
* * *
Live Through The Winter (2)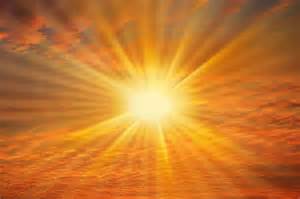 We have to endure dark and frosty winters,
If we wish to experience spring,
And the woods have to be cold and silent,
Before the skylark can take to its wing.

Plants have to be buried in darkness,
Before they can bud and then bloom,
And the sweetest, warmest sunshine
Comes after each storm and gloom.

And the pandemic is necessary to wake
Our world from its material lethargy,
To help us become aware of our true nature
And that spiritual values are the only ones
That we take with us into Eternity.
They will forever stand us in good stead.
Last but by no means least,
Let's not forget that the darkest hour
Always comes just before the dawn.

Created by Anon.
Edited by Aquarius
Updated December 2020
* * *
Reflections On Beauty (3)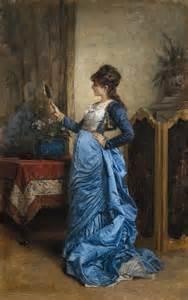 To paraphrase Elisabeth Kübler-Ross, Swiss Psychiatrist and Author: 'Truly beautiful people are those who have known defeat, suffering, struggle, loss and who worked their own way through these experiences, hand in hand with God and the Angels. Out of the depths of the hell of human suffering they have risen with a fresh appreciation, a sensitivity and an understanding of life that fills them with compassion, gentleness and a deep loving empathy with the pain of others. Beautiful people do not just happen, they can only grow and evolve on the Earth plane.

The small earthly self of those who emerge with these qualities from their suffering has died on the cross of Earth life. The characteristics of their Christ nature are breaking through and their spirit and soul has been resurrected. Through its behaviour to the world around it, this part of our being takes to its spiritual wings and enables us to do our share of establishing God's kingdom on the Earth

Physical beauty as often as not goes only skin-deep and with the passing of time it goes from us in any case. At the latest this happens when we leave our earthly existence behind. Yet, the inner beauty we have been able to find is ours to keep forever. It was the wisdom of the Highest who decreed that this kind of beauty can only be developed in earthly life. And that's the only thing we can take with us into Eternity and when we do, it considerably eases our pathway through life during all subsequent earthly sojourns.
I know which kind of beauty I prefer. How about you?
* * *
The Overflowing Cup (4)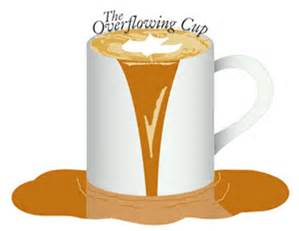 I have never made a fortune.
It's probably too late for that by now,
But I don't worry about it much
'Cos I'm happy anyhow.
As I've been walking along life's way,
I've been reaping better than I sowed
And am drinking from my saucer,
For my cup has overflowed.

I haven't got many riches,
And sometimes the going's tough,
But I've got loving ones around me
And with that I'm rich enough.
I thank You God for your blessings,
And the mercies You have bestowed.
I'm drinking from my saucer,
For my cup has overflowed.

I remember times when things went wrong
And my faith wore somewhat thin.
But then at once the dark clouds broke,
And the Sun peeped through again.
Please help me God not to gripe
About the tough rows I have hoed,
Instead give thanks and praise to You
That I'm still drinking from my saucer,
For my cup has overflowed.

If You give me strength and courage,
When the way grows steep and rough,
I'll not ask for other blessings
As I'm already blessed enough.
And may I never be too busy,
To help others bear their loads,
So I can drink from my saucer,
Each time my cup has overflowed.

Created by Anon.
Edited by Aquarius
* * *
From 'Songs Of Inspiration'
Preparing For The New Golden Age (1)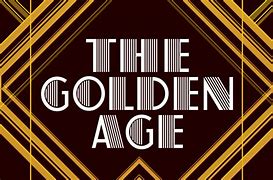 My inner guidance continues: 'The plandemic is the biggest scam and hoax that your world has ever experienced. Yet, at the same time is serves the wise higher purpose of cleansing the spiritual ledgers of the whole of humankind and its world from outstanding karmic debts. And that's a very necessary part of preparing them for the coming of the new golden age of plenty, when peace and harmony, honesty and truth will return to your world and these qualities will be its supreme ruler. Be of good heart, because with every passing day you are moving closer to this goal. And the more each one of you contributes to bringing it about, the more smoothly this transition will come about.

'The behaviour of your world's present troublemakers and scaremongers show the wise ones in charge of them on the inner level that spiritually they are young and inexperienced. Otherwise they would not dream of getting involved in something like starting and maintaining something like a plandemic. If, in spite of the continued efforts of you, their older and more experienced siblings in the great family of humankind, the Christ nature of these youngster's refuses to wake up from its slumbering state, their energies will not be right for reincarnating on planet Earth when its spiritual transformation is complete. Because of this they will be unable to take part in the new golden age towards which you are ever more rapidly moving.

Those whose spiritual nature is insufficiently evolved will have to wait for the next golden age to come round, in about twenty-four thousand years. Spiritual age has nothing to do with the age of someone's outer shell, i.e. the physical body which they are presently using as their vehicle for getting around on the earthly plane. Regardless of that, they are still young Gods in the making. They will be continuing the first part of their apprenticeship through experiencing themselves as physical beings in a material world, not on the Earth but a younger and less highly evolved planet, whose energies are a better match for theirs.

'Back to the plandemic for a moment. Because it is the greatest scam that your world has ever experienced, there is no need for taking part in vaccinations. So avoid them as much as possible. Yet, at the same time do not grumble about what's happening. Instead count your blessings and be thankful because the plandemic serves the wise higher purpose of cleansing the karmic ledgers of the whole of humankind, including yours. That's why you have been granted the gift of another earthly lifetime. It's the very reason why you are here.

'It is also why your world has become so heavily over-populated. With the passing of time, the population figures will be going down again quite naturally and not because people are being wiped out by non-existent viruses. They will pass into our world because their present lifetime has served its purpose and they are allowed to go home. So do not be afraid when your turn has come. Remind yourself that you are not going to die and that you never will, because the essence of your being is spirit/soul. Like God, this part of your being is eternal and immortal and will never die. You merely move into another dimension of life.

'When your time for doing so has come round this time, instead of resisting – the way you used to do in previous lifetimes – reach out for the loving hand of the Angel of death. Smile and know that it has come to set you free from the toils and troubles of earthly life. Ask the Angel to take your spirit/soul by the hand and move you into our world, the realm of spirit and light. That's humankind's true home, from which every one of you emerges at the beginning of a new earthly lifetime and returns to when it has run its course. Each time you arrive on our side of the veil that separates your two worlds from each other, you are much more alive than you ever were whilst on the earthly plane.

This is because you are once more aware of your true and eternal nature as spirit/soul who is a beloved child of the Great Father/Mother of all life. Every human being once started their evolutionary journey as a tiny spark of their only born Son/Daughter, the Universal Christ's light. Each lifetime you take part in the earthly school of life's lessons expands your consciousness. They help you to grow in wisdom and understanding and that's how you grow ever more Heaven-tall. When the end of your present lifetime comes round, never mind what you are leaving behind on the earthly plane, especially with regard to the plandemic. Remind yourself that everything in that world is of a temporary nature and not meant to last forever.

'You will be of more use to your loved ones, when you are supporting them from this side of the veil. The more you observe earthly life from here, the more you will be able to recognise that it's been a long time since the pharma industry began to dream of creating another plandemic of previously unheard proportions. You will be able to watch how their dream of ever increasing sales of pharmacy products, one of these days is going to burst like a soap bubble that's been blown into the air. There will then be no further filling the pockets of its already immensely rich shareholders that at the plandemic's start were already overflowing, at the expense of the resources of the whole of humankind.

'Another German proverb comes to mind and that is 'Die Rechnung ohne den Wirt machen!' All along, the companies involved have been pursuing their 'Enterprise Plandemic' without asking to work with the help and will of your world's hosts. And that's none other than God and the Angels. Your world and everything within it is their permanent property. Nothing on the earthly plane belongs to any one of you. Everything is borrowed and a gift on time from the Highest. And everybody who ever reaches a leading position, whether they are as yet aware of it or not, can only do so because their intentions are supported by the will and wishes of the Highest, for the teaching/learning of certain lessons.

'That's why in some of your lifetimes you find yourself in the role of teacher and in others as student. Naturally, this also applies to those who are now in leading positions and that will continue for as long as temporary leaders are still required on the earthly plane. Eventually it dawns on the least evolved ones in your midst that everything that exists on the Earth is of a temporary nature and that, naturally, this also applies to them. We shall return to this theme.
* * *
Let It Be (2)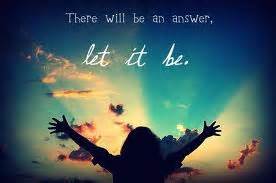 The Angels and Masters in the
Spiritual background of earthly life
Are in charge of us and our world.
They are the voice of the Great Father/Mother
And of my conscience.
Whenever I'm in trouble,
Their wisdom and love speak to me:
'Be still, My child,
There's a reason for everything
And answers to all your questions.
Let Me show the way and
Refuse to rush into things.
For a while let them be,
So I can show you intuitively
How to respond.
Just let it be.
In my deepest, darkest hours
This voice whispers: 'Let it be.'
And even if the broken-hearted people
Of our world as yet cannot recognise this presence,
The only thing they need to do is ask
For their guidance and protection
Which will never be denied.
That's how, in due course,
Everybody learns about the living God within
And through their own experiences finds out
That God is as much part of us as we are of God,
That no-one is ever apart from God,
And that with the help and will
Of God and the Angels,
The right way of handling
Any kind of situation is sure to be found.
Just tell them about your troubles
Follow their advice when it comes to you
Intuitively and then let things be.
Spiritual wisdom and truth are God's light.
Whenever my life clouds over,
I ask for the radiance of this light
To shine onto whatever troubles me and
Then wait for it to light my way forwards and upwards
On my own evolutionary spiral and our world's.
Trusting that its advice is always be right for me
And that it will never lead me astray,
Even though it may not yet be accepted by anyone else.
Knowing that this will continue forever,
It's easy to not mind other people's views
And let things be.
That's how in any kind of difficult situation
Divine love and wisdom are always willing
To take over and light our way.
And I hear my inner guidance whispering:
'Look for the lesson, be patient, My child.
Allow yourself to be and rest safely in the knowledge
That the answers to all your questions will
Never fail to come and show the way.
So just let yourself be and enjoy the voyage
Of your earthly existence as much as possible.
Never forget that each earthly lifetime is but a passing phase
Of your spirit/soul's long evolutionary journey.'
Paul McCartney
Edited by Aquarius
Every earthly lifetime only ever lasts for a predestined length of time. At the end of each one we return to the spirit realm, humankind's true eternal home. In that world each one of us, without exception, rests and builds up their strength in preparation for the next time of venturing forth into taking part in the earthly school of life's lessons. This continues for lifetime after lifetime until our education in that school can no longer teach us anything new. Our energies are then right for being released, by the wise ones in charge of our development, into taking part and exploring the next higher level of life.
And that's how, with the passing of time, every one of us grows ever more Heaven-tall and each can only do this through learning from their own experiences. Slowly and steadily, each one of us moves forwards and upwards on their own evolutionary spiral towards ever higher planes of existence. This continues until we have evolved into one of the Masters of the Christ Circle. Reaching it eventually is every human being's final destiny.
Updated January 2022
* * *
With love and light,
Aquarius
* * *
Submitted: January 24, 2023
© Copyright 2023 Aquarius. All rights reserved.
---
Facebook Comments
More Religion and Spirituality Books
Other Content by

Aquarius