Chapter 27: Humankind's Return to Shamanism
Message From The Angels And Masters Of The Christ Circle
Miracles And Wonders (85)
The Truth : Nothing But The Truth
Thoughts For Today 4th December 2022
Humankind's Return to Shamanism
Today is the 4th December 2022 and on Wednesday 1st December the Sun in sky above your world moves into Capricorn and that is the cardinal Earth sign in which humankind's highest achievements come to the fore. On the 23rd December a new Moon takes place and that heralds a new beginning for humankind's understanding, most of all for Shamanism.
Official figures confirm that ever more people in your world are choosing this as their non-religious identity and that's why by now it has become the fastest-rising belief system. Withholding it, yet only for a predestined length of time has been an essential part of teaching humankind the value We, the Angels and Masters of the Christ Circle, created them to ever more suppress that which already existed. We are responsible for whatever happens in your world, the suppression of the truth as much as returning it.
The appearance of the Abrahamic religions, Judaism, Christianity and Islam were the final instalment of the Great Father/Mother's plan for the lesson of teaching humankind the value of truth. However, we wish to give the higher God or Christ nature of those who presently are taking part in life on the material plane, having reached the right level of spiritual maturity but as yet being unaware of what's at stake during the present great transformation of your planet. We wish to provide for these people a chance of waking their spiritual nature from its slumber, so it can take over the whole of their being, including their lower earthly personality.
As ever more of you these days realise, love and evolution are the two main laws of life for the whole of Creation. Naturally, this includes everything that exists on planet Earth. We hope that the result of our messages will be that as few as possible in due course have to reincarnate on the new planet. For quite a while by now it has taken over from Mother Earth as educational institution on which human beings can continue their educational curriculum until completion. Mother Earth is already is no longer be available for this purpose.
Let's take a close look at shamanism now because it's much more than any religion or belief system ever could be. Shamanism brings a renewed understanding of the wholeness and oneness of all manifestations of life on every one of its levels. The whole of humankind and every human being within it is an essential part of it and that has nothing to do with which evolutionary level someone may have reached, at any given time. The old and by now outdated religions have been a vital instrument for removing the truth from humankind's perception of its existence. And the Aquarian age being the age of truth, that's why ever more of it for many years by now has been returning to human being's knowledge.
The shamanistic natural life of the Native American Indians as well as that of the Australian aborigines, for the wise higher purpose of teaching humankind the value of truth, was suppressed by the invaders that took over they and their lands by one of the new religions that had swept them from the lands that once belonged to them. The third and final part of the Great Father/Mother's plan of teaching humankind the value of truth, for quite some time by now has been taking place. This plan provides that when the truth returns, people will value and cherish it, treasure and protect the knowledge about it so that no-one will ever be able to take it from them.
The deeper your world moves into the Aquarian age, the age of truth, the more of the truth we, the Angels and Masters of the Christ Circle, are bringing to humankind. We are doing this on behalf of the Great Father/Mother of all life and their only born Son/Daughter, the Universal Christ. Every bit of the truth is a special gift from them. So that every one of you, who at any given time is taking part in life on the material plane, can free themselves from believing anything that anyone is trying to convince them is true, whether it really is or not, has been provided with a very special gift.
Because of it every one of you, at any moment, can receive guidance and reassurance about anything from the wise one or living God within them, who at least potentially is every human being's very own built-in lie-detector. It communicates with you through the world of your feelings. If you do not know intuitively whether something is right or wrong, true or false for you, pay attention to how your feeling world reacts to what's before you. Whether you are aware of it as yet or not, every one of you possesses this valuable instrument, at least potentially. For as long as you are unaware of it and therefore are as yet unable to use it, you cannot help being a powerless victim of your world's troublemakers and scaremongers.
We are glad to observe that ever more of you these days are learning about their built-in lie-detector and making excellent use of it, as can be seen from the official figures that have just been released about the growth of shamanism in your world and the shrinking away of the old belief systems. This is how wheat people are revealing themselves to us. At the same time they are leaving the chaff behind. And whenever someone shows through their behaviour that they belong to the wheat category, the time has come for them to start looking forward to the new golden age. They themselves will, hand in hand with us, guided and protected by us, first doing their share of bringing it about and later enjoy taking part in it.
As many of you already know, chaff folks will be reincarnating on the new planet that's been prepared to take over from Mother Earth for their education as young Gods in the making. For every human being it starts with experiencing the lowest levels of your nature. In the course of many lifetimes of attending whatever can be learnt on the material plane, you eventually develop into a Christed one, in your own right. Experiencing and learning about the initial lowest levels is not intended to be some kind of punishment. It's merely education that leads every human being up to the highest levels of life and taking an active part in what's happening there.
The same is going to happen to those who will be continuing their education as material beings in a material world on the new planet. Never forget that every one of them is your sibling in the great family of humankind. Just like you, they are on the road of evolving into young Gods in the making. And just the same as each one of the wheat people, who spent many lifetimes taking part in the lessons of the material aspects of Mother Earth, every one of the present chaff folks will slowly but surely evolve into a Christed one, in their own right. God bless you all, wherever your evolutionary journey may presently have taken you.
* * *
The Voice Of Shamanism
Chief Seattle in the year 1855 at Point Elliot in what for some time by now has been the United States of America, when told that his tribe had to move to a reservation, said: 'We will ponder your proposition and when we decide we will let you know. But should we accept it, I here and now make this condition that we will not be denied the privilege without molestation of visiting at any time the tombs of our ancestors, friends and children. Every part of this soil is sacred in the estimation of my people. Every hillside, every valley, every plain and grove, has been hallowed by some sad or happy event in days long vanished. Even the rocks, which seem to be dumb and dead as they swelter in the sun along the silent shore, thrill with memories of stirring events connected with the lives of my people, and the very dust upon which you now stand responds more lovingly to their footsteps than to yours, because it is rich with the blood of our ancestors and our bare feet are conscious of the sympathetic touch.
'Our departed braves, fond mothers, glad, happy-hearted maidens, and even our little children who lived here and rejoiced here for a brief season, will love these sombre solitudes and at eventide they greet shadowy returning spirits. And when the last Red Man shall have perished, and the memory of my tribe shall have become a myth among the White Men, these shores will swarm with the invisible dead of my tribe, and when your children's children think themselves alone in the field, the store, the shop, upon the highway, or in the silence of the pathless woods, they will not be alone. In all the earth there is no place dedicated to solitude. At night when the streets of your cities and villages are silent and you think them deserted, they will throng with the returning hosts that once filled them and still love this beautiful land.
'The White Man will never be alone. Let him be just and deal kindly with my people, for the dead are not powerless. Dead, did I say? There is no death, only a change of worlds.'
'There comes a time when one must take a position that is neither safe, politic or popular, but it has to be taken because our conscience tells us it is right.' Martin Luther King Jr.
'If you lose hope, somehow you lose the vitality that keeps life moving, you lose the courage to be and the quality that helps you go on in spite of it all. That's why today I still have a dream.' Martin Luther King Jr.
* * *
From 'Songs Of Inspiration'
If I Can Dream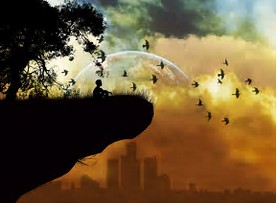 I dream of a world where
Lights are burning brighter and
Birds flying higher in clearer and bluer skies.
If I can dream of such a better land,
Where all human beings walk hand in hand,
Tell me why, oh why should this dream not come true?

If I can dream that there will be
Peace and understanding sometime,
That winds of Heaven shall blow away
Humankind's doubts and fears
And take us to the place that's ruled by
The Christ Star, the Light of all Lights,
That brings new hope to everyone,
Tell me why, oh why should such a place not appear?

Our world has been lost in clouds
That held too much rain.
We've been trapped in it and troubled by pain.
But as long as we have the strength to dream,
We can redeem ourselves and our world,
Through learning to fly on the wings of
The Great Mother's wisdom and truth.

Deep in my heart questions are trembling
And I am sure that the answers
Are going to appear somehow,
For through the darkness of our world
The Christ Light beckons and calls us home
Into the awareness of God's true nature and our own.
And for as long as I can think,
Talk and stand,
Walk and dream,
I shall believe with all my heart and soul
That my dream is in the process of coming true,
Right here and now.
Aware that our thoughts create our reality,
Instead of dwelling on the unpleasant things
In our world,
I enjoy dreaming and thinking of the new Earth
And so do my share of bringing it about.

Walter Earl Brown
Edited by Aquarius
The original song was made famous by Elvis Presley. It was notable for its use of direct quotations of Martin Luther King Jr. Elvis recorded it in June 1968, two months after King's assassination. Elvis Aaron Presley born January 8, 1935 was a double Capricorn. He was known as simply Elvis, the American singer and actor whose followers to this day are calling him the King of Rock and Roll.
* * *
With love and light,
Aquarius
* * *
Submitted: December 04, 2022
© Copyright 2023 Aquarius. All rights reserved.
---
Facebook Comments
More Religion and Spirituality Books
Other Content by

Aquarius