The Vampire Slayer Chronicles: Zafire's Revenge
Chapter 1 (v.1) - The Vampire Slayer Chronicles: Zafire's Revenge
The Vampire Slayer Chronicles: Zafire's Revenge
The woman kneeling at my height was more beautiful than any woman I had ever seen. Her skin was as white as the pale moon, her hair as black as the night, her blue eyes sparkled like sapphires and her blood red lips were as if they had bitten into snow white's poisoned red apple. Her pale hand – that rested on my check – was as cold as the night itself. Her eyes still sparkled and I wished that someday when I grew up to be a beautiful woman that I could be as beautiful as her. The woman stood up straight removing her hand from my check and turned as if to leave but before she did I grabbed onto her hand, tugging on it as hard as I could.
"Wait, where are you going?"
I pleaded of her, afraid that she would leave me alone forever.
"Ah, amore mio, I must leave. I will be back, here again, tomorrow. But for now you must wake up; your mama needs you little one."
She whispered her Italian accent flowing perfectly; she brushed her lips on my check and then glided gracefully away.
My eyes fluttered awake unwillingly, I stared at my lavished bedroom, my mother and father gave me anything I wanted. My father was the town's lord; they were practically royalty in our little town. I placed my bare feet on the ground and felt the chill of the night on the soles of my feet. Something wasn't right and I could feel it in my little stomach, in my tiny heart that the two people I loved dearly was in grave danger. I didn't bother putting on my slippers that laid at the base of my bed or the tiny fur robe that hung on the back of the door as I ran out of the room and into the foyer, I could hear soft noises coming from downstairs, the sound of my feet racing towards the soft noises were lost in the pounding rhythm of my tiny heartbeat. I was racing down the grand staircase that stood in the foyer, when I heard it, the noise that seemed to shake the whole house, a loud earth cracking bang that come from the pistol of the woman who stood at the entrance of the house, the bullet racing towards my father's heart.I stood as still as stone, I couldn't move nor could I scream out to my father, who stood protectively in front of my mother. The bullet entered into the heart of my father and he collapsed over, holding his hands to his heart, his lips moved but I couldn't make out the words he was saying, for it seemed that the earth shattering bang of the gun; had swallowed all the noises of the earth. I saw the woman grin at my now dead father, her eyes flickered away from him to my mother who stood as motionless as stone waiting for her own death, the woman still smiling pulled the trigger for the second time, I didn't hear the noise of the second bang nor I could I hear the scream I felt being ripped out of my chest but as the woman's eyes moved from my collapsing mother to me, I knew she had heard my scream even if I had not. I didn't remain motionless like my parents but I ran; I ran back to my bedroom. I knew there was only one means of escape, the tiny air vat that rested inside of my built in wardrobe. I had only seen it been used one other time and it was by a boy who – when his mother worked in the mansion – came to my room almost every single day to play with me. That boy was far from my mind and the mansion now, he and his mother left a long time ago but neither of them really stayed in my mind for more than a second as I entered into the room and ripped open the wardrobe door and slammed it shut silently, I got onto my knees and crawled on the ground towards the air vat and slid away the metal cage door of the vat. I climbed in as far as I could into the vat and closed it back up, I waited for her in the dark my heartbeat hammering inside my ears as I waited for my potential killer, She did open the door as I suspected she would but only swiftly looked inside and then she closed it back up and I was in the dark again. I didn't wait for her to come back, I kept on crawling through the air vat, it felt as if I had been crawling through the limited space of the air vat for hours when I bumped my head on the other metal door, I moved it aside - as I had with its twin – slowly unsure of what was on the other side and when I could see the room clearly in the dim light, I realized that I was in the servant's laundry room where they cleaned our clothes. I thank god knowing that I was just that closer to freedom since the laundry was right next to the fields beyond the wooden door that stood at the other end of the room. I climbed down out of the air vat, onto the closed washing machine and then down onto the cold hard floor, running on my bare feet towards the door and my freedom. Feeling the smooth wood of the door under my hand, I yanked it open and kept on running, as far and as fast as I could. Once I reached the rim of the forest I turned to look back at mansion, I didn't see the home that should have meant safety to me, I only saw the flicker of far away fire burning away everything that had ever meant anything to me.
I opened my eyes – unwillingly of course – and sat up, I stared murderously at the mid-day sun outside the window of the dark room, how dare it disturb my slumber! But no it couldn't not have been the sun that disturbed my slumber but the high nasal buzzing of my cell phone that rested on the bedside table, flashing an unknown number across its screen. I thought if leaving the phone to ring out but decided that the phone call could have been important and eventually decided to pick it up.
"Hello is this Lady Zafire Bartella?"
He asked with a shaky voice as if he had been calling all the Bartella's in the Brooklyn phone book. I must have looked pissed because that was how my voice sounded when I answered his question.
"Yes and who the hell are you?"
I replied pissed off that this random had woken me from my slumber.
"I am Jeremiah Wayland, I know you don't know me but my mother use to work in the Bartella's mansion, which was your parents mansion and she has some information about the woman who killed your parents."
I couldn't breathe for the first time in years; I was being given the option to possibly find out who had killed my parents, I clearly remembered her face, she haunted my every dream and nightmare, I could not escape the eerie silence of my parents death nor the cruel mocking eyes of their killer.
"Yes, I want to know who killed my parents."
I told him, almost losing my voice trying to force the words out.
"Okay, well can you meet me at the Jeffrey's in half an hour?"
He asked me, he must have been talking about the diner called Jeffrey's which was just a couple of blocks away from here.
"Yes."
I simply said and then the phone started the annoying sound informing me that he had ended the call. I placed my cell phone back onto the bedside table and rubbed at my eyes with sleepy hands. I slowly creaked out of bed and walked over to the ensuite and stared at the fragile skinny body of a beautiful girl. Her skin was pale white, her hair jet black, her eyes were as blue as sapphires and she had blood red lips, were face was as hard and cold as marble her skin was covered with faint white scars but as I stared at the girl, I knew I had gotten what I had wanted the night my parents had died to be as beautiful as the women who had visited my dreams that one night, she didn't come back the next night as she had promised but I still had gotten what I had wanted - even if in the end – it had cost her, her parents lives. She had the skin of a slayer, each little scar and bump that marked her skin, were battle scars, her skinny fragile looking bones, could easily snap the neck of any "down-world child" in a flick of her fingers.
I was designed to kill and I had easily found that out the dreadful night I spent in the forest after watching my parents die. I had ran out to the forest that night in search of freedom of a sanctuary outside of my home, which was MEANT to be safe but it could no longer be safe for me. I had ran for hours in the woods, looking for a cave or something to hid in for the rest of the night but found nothing, by dawn my bare feet were bleeding and I collapsed onto the hard earthy ground of the forest, knowing that I could continue my search when I woke back up but before I feel asleep, I thought I saw a man with wings kneeling beside me, I felt his arms wrap around me and I felt more safe than I had ever felt in anyone's arms. I knew I could fall asleep in his arms and that I would remain safe even in my slumber. I turned off the tap and still felt all tense, nothing would be able to release that tension, nothing but the fact that knowing my parents death had not been in vain and for me to know that, I had to feel the life evaporating out of their killer with my bare hands. I walked back into my bedroom and got myself dressed, packing a few rarer accessories that no 'normal' girl would wear, a dagger hear, a silver crucifix there, silver bullets in a silver silenced gun and killer high heels with black skinny jeans and a black shirt that said 'I really don't care' on the back. I looked at my image in the mirror one more time and realized I was missing two more things, my leather gloves that I wore when driving my motorbike and when I was fighting demons and a small silver cross on a chain, I had found it in a down-world market. I smiled happy at one thing for once, that I was fully prepared for my first encounter with an 'old friend' I guess you could say. I grabbed my keys from the hook just beside the door and walked down the steps to go to the garage to get my black Harley to ride on to get to Jeffrey's.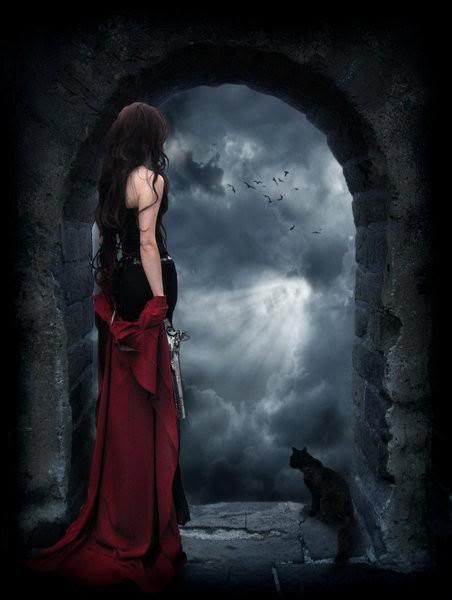 © Copyright 2019 forbidden. All rights reserved.
Other Content by

forbidden