Chapter 1 (v.1) - Arrival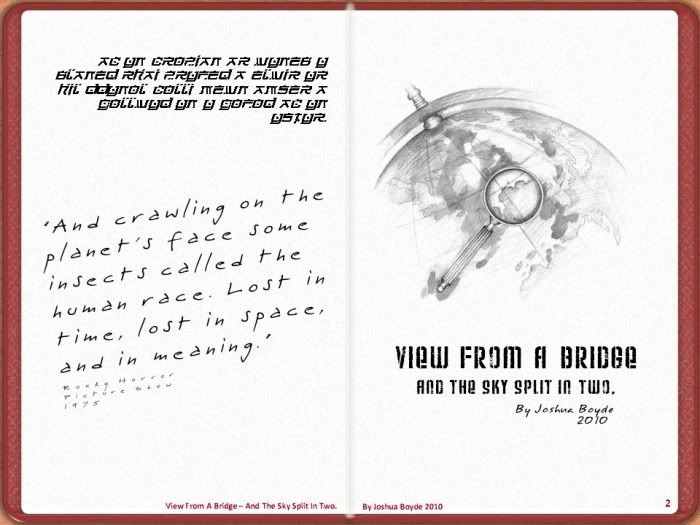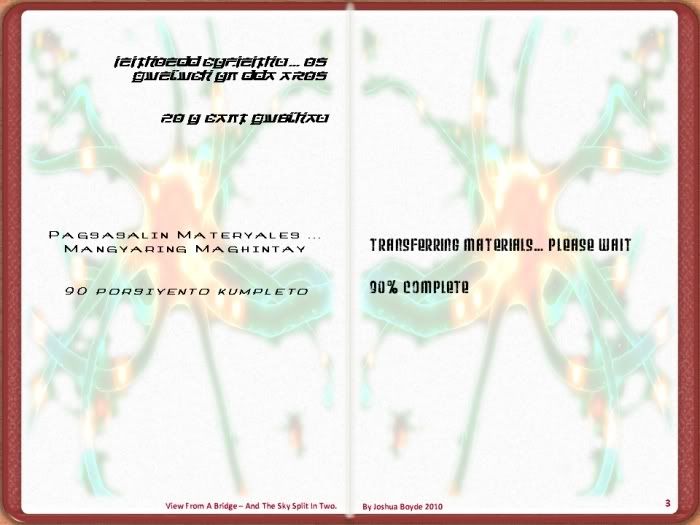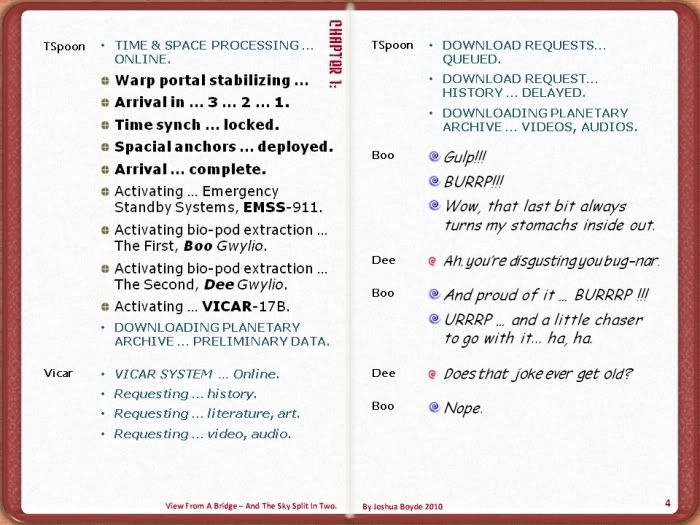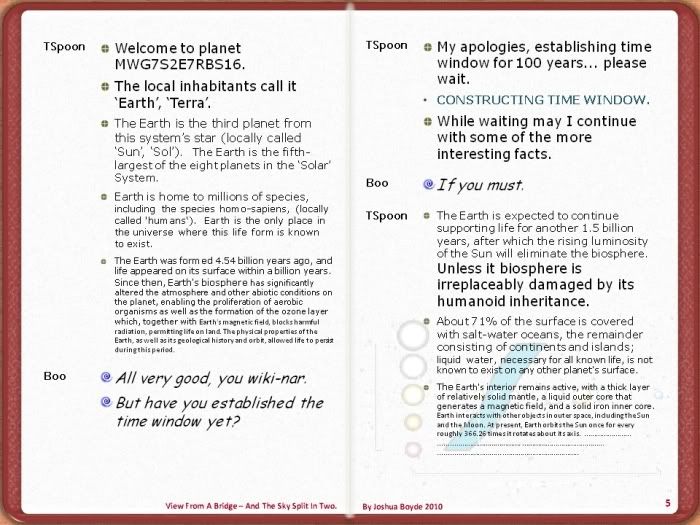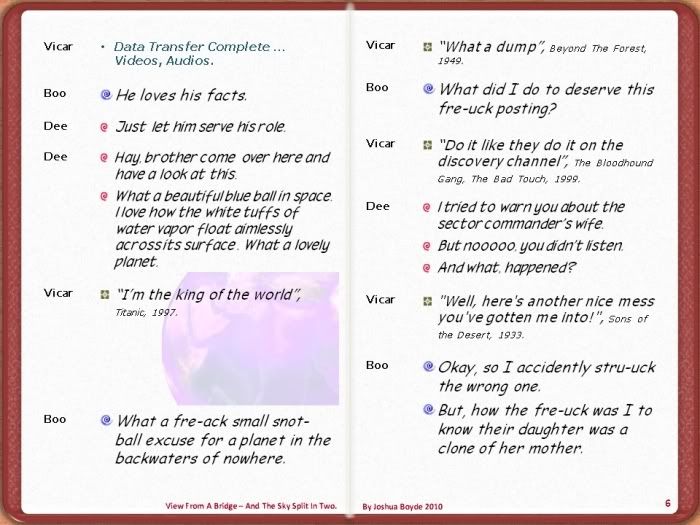 =====================
View From A Bridge… And the sky split in two.
By Joshua Boyde
=====================
Chapter 1:

"And crawling on the planet's face some insects called the human race. Lost in time, lost in space, and in meaning." Rocky Horror Picture Show, 1975

TSpoon
• TIME & SPACE PROCESSING … ONLINE.
• Warp portal stabilizing …
• Arrival in … 3 … 2 … 1.
• Time synch … locked.
• Spacial anchors … deployed.
• Arrival … complete.
• Activating … Emergency Standby Systems, EMSS-911.
• Activating bio-pod extraction … The First, Boo Gwylio.
• Activating bio-pod extraction … The Second, Dee Gwylio.
• Activating … VICAR-17B.
• DOWNLOADING PLANETARY ARCHIVE … PRELIMINARY DATA.

Vicar
• VICAR SYSTEM … Online.
• Requesting … history.
• Requesting … literature, art.
• Requesting … video, audio.

TSpoon
• DOWNLOAD REQUESTS… QUEUED.
• DOWNLOAD REQUEST… HISTORY … DELAYED.
• DOWNLOADING PLANETARY ARCHIVE … VIDEOS, AUDIOS.

Boo
• Gulp!!!
• BURRP!!!
• Wow, that last bit always turns my stomachs inside out.

Dee
• Ah, you're disgusting you bug-nar.

Boo
• And proud of it … BURRRP !!!
• URRRP … and a little chaser to go with it... ha, ha.
•

Dee
• Does that joke ever get old?

Boo
• Nope.

TSpoon
• Welcome to planet MWG7S2E7RBS16.
• The local inhabitants call it 'Earth', 'Terra'.
• The Earth is the third planet from this system's star (locally called 'Sun', 'Sol'). The Earth is the fifth-largest of the eight planets in the 'Solar' System.
• Earth is home to millions of species, including the species homo-sapiens, (locally called 'humans'). Earth is the only place in the universe where this life form is known to exist.
• The Earth was formed 4.54 billion years ago, and ….

Boo
• All very good, you wiki-nar.
• But have you established the time window yet?

TSpoon
• My apologies, establishing time window for 100 years... please wait.
• CONSTRUCTING TIME WINDOW.
• While waiting may I continue with some of the more interesting facts.

Boo
• If you must.

TSpoon
• The Earth is expected to continue supporting life for another 1.5 billion years, after which the rising luminosity of the Sun will eliminate the biosphere. Unless it biosphere is irreplaceably damaged by its humanoid inheritance.

Vicar
• Data Transfer Complete … Videos, Audios.

Boo
• He loves his facts.

Dee
• Just let him serve his role.
• Hay, brother come over here and have a look at this.
• What a beautiful blue ball in space. I love how the white tuffs of water vapor float aimlessly across its surface . What a lovely planet.

Vicar
• "I'm the king of the world", Titanic, 1997.

Boo
• What a fre-ack small snot-ball excuse for a planet in the backwaters of nowhere.

Vicar
• "What a dump", Beyond The Forest, 1949.

Boo
• What did I do to deserve this fre-uck posting?

Vicar
• "Do it like they do it on the discovery channel", The Bloodhound Gang, The Bad Touch, 1999.

Dee
• I tried to warn you about the sector commander's wife.
• But nooooo, you didn't listen.
• And what, happened?

Vicar
• "Well, here's another nice mess you've gotten me into!", Sons of the Desert, 1933.

Boo
• Okay, so I accidently stru-uck the wrong one.
• But, how the fre-uck was I to know their daughter was a clone of her mother.

Dee
• Arr … by asking around … everyone knows… well all the fem-marks know.
• And I did try to warn you!

Boo
• Yah well, if the rest of you fem-marks did not hint at things and just came out with it; then it would be a lot better place for gui-marks.

Vicar
• "What we have here is failure to communicate", Cool Hand Luke, 1967.

Boo
• That is no good reason to exile me here to do 'scientific research' on this backwater of a planet.

Dee
• Well look at it this way it is such an interesting little place bustling with so much life.
• This is going to be such fun… Da-lee-la, de-lee-la...

Vicar
• "Toto, I have a feeling we're not in Kansas anymore", The Wizard of Oz, 1939.

Boo
• If you did your job then her freg-nit would not have beamed in on us.
• But Nooooo, you can't do your brother a simple favor and delay the bug-nar.

Dee
• So does this mean you are going to be in this nuck mood for this entire observation mission?

Boo
• YES.
• Vicar … Don't!

Vicar
• "You talkin' to me", Taxi Driver, 1976.

Boo
• Great, the VICAR is playing up again.

Vicar
• "What's up doc", Bugs Bunny, 1950.

Boo
• Great, we need to reboot the fre-ack VICAR.

Vicar
• "Go ahead, make my day", Sudden Impact, 1983.

Dee
• Oh, about the VICAR I forgot to tell you that they upgraded the interactive archive personalizer.

Boo
• Well I don't like it… Beta-nar.

Vicar
• "You've got to ask yourself one question: 'Do I feel lucky?' Well, do ya, punk?", Dirty Harry, 1971.

TSpoon
• Time window established.
• Viewing period from local year 1910 to 2010.
• DOWNLOADING PLANETARY ARCHIVE … HISTORY.

Boo
• TSpoon, release anti-pandemic test sample 'A'.

TSpoon
• SAMPLE INJECTED INTO TARGET TIME STREAM.
• Test sample 'A' released at target date 1918, subject population, 1.6 billion.
• Receiving initial test results.
• Neutralization total 21,642,274 and rising … approaching 50 million.

Vicar
• "It's Alive! It's Alive!", Frankenstein, 1931.

TSpoon
• Test completed in … 3 … 2 … 1.
• Total collateral neutralization approaching 100 million.
• Success factor, 6.25%.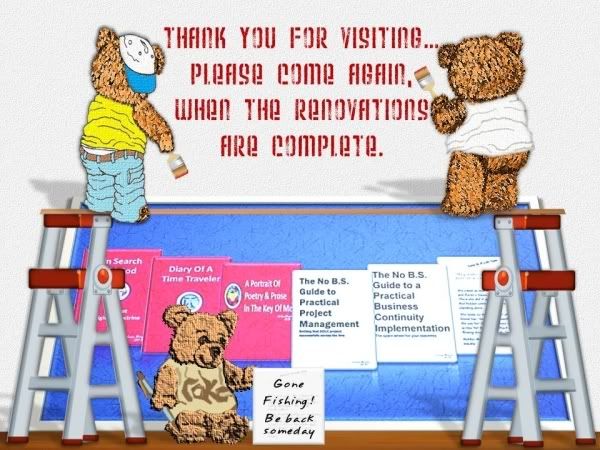 © Copyright 2017 joshua boyde. All rights reserved.
More

Science Fiction Books
Other Content by

joshua boyde
Book / Action and Adventure