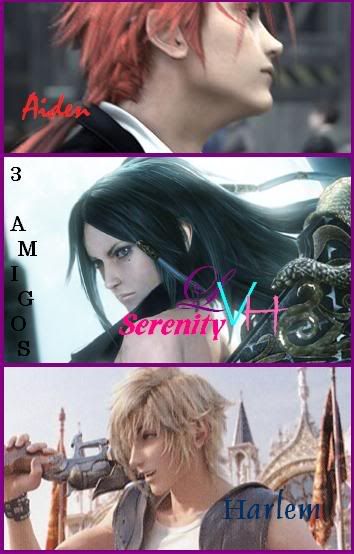 MissRachyVengeance
CHAPTER 3:
THREE AMIGOS
It was that one in about a billion chances that I would find a Vampire I knew in such a small amount of time. Aiden was literally sitting on the floor only a few feet away from me. I ran as fast as I could to grab hold of him. My heart was pounding in fear. It was fear that I would lose him. I was afraid if I did not get to him sooner then he would disappear and I would be lost once more. I needed him…regardless of how drunk he was. This was a miracle….at least in my eyes.
Harlem on the other hand looked shocked and confused. In his eyes Aiden and I looked deranged and in need of mental help.
"Aiden, hold up buddy. I got ya!" I said quickly. My hand grabbed a hold of his forearm. I instantly felt one step closer to home. My sense instantly inhaled his scent. It wasn't anything like Damien's but I was still just as glad to feel something familiar again. Aiden looked at me as if he had never seen me before. Either he was way too drunk or he had just forgotten about me completely after I left.
"Hey pretty lady….what's ur name…" He huffed with a giant burp at the end of his sentence. I smelt a nasty smell of hard rum coming from his breath.
"Oh…that's disgusting…" I gagged and helped him up, holding my breath. It didn't help that now my senses were hyphened from turning into a Vampire.
Harlem quickly came over and helped me. "You know this idiot?" He snapped as we walked out the Bar doors.
Meanwhile Aiden quickly started to shake his head annoyed.
"Who is THIS GUY??" He snapped at Harlem through gritted teeth.
Harlem just ignored him and kept speaking to me. "Wow, he sure is something special," he said sarcastically.
I vouched for Aiden. "This is Aiden, the one I've told you about. He really is better than this. He is very smart and useful."
"Let me go…I gotta…kick those…old Werewolves in the mouth" Aiden barked pathetically.
"They weren't Werewolves! Focus Aiden! It's me!" I snapped while we started walking into the hotel.
Harlem rolled his eyes. "I don't think I like this dude."
Once we reached our room we set him on the bed. He hit the bed laying on his stomach with a crashing thug. Harlem and I watched Aiden in silence as we stood next to the bed.
Harlem then looked at me with a raised up eyebrow. "And I remind you of HIM??" He asked in shock and then soon let out a snort. I've never seen him so drunk. I felt almost bad. Why would he drink himself silly like that?
"Is he passed out yet?" I heard Harlem ask. I glanced back down at Aiden. His eyes were closed behind his messy orange spikes that were falling over his face. He seemed to be knocked out.
"He seems to be out," I said after kneeling by the bed and listening.
Harlem was mumbling under his breath. "Ugh…Vampires…."
"I Heard that!" I snapped at Harlem.
He only shrugged his shoulder carelessly. "It's vampires like him that annoy me." Harlem said.
I glared at Harlem, annoyed myself. "And it's Werewolves like you who can't keep friends," I said without thinking. I knew it was a low blow. Harlem glanced at me in shock.
At first I thought he was truly upset. But, he then partially smiled at me.
"To She' my friend. You got some guts Cave Girl," He chuckled.
I didn't answer him. I returned my stare to Aiden on the bed.
"What has happened to you fire head?" Aiden soon let out a few angry grunts. I watched quietly as he started to get up from the bed. I then watched as he stumbled along on his feet. He walked a good three feet before falling. He fell by the edge of the bed and leaned his head against it.
"Don't judge me Serenity…." He muffled in a drunken tone. I stared at him with wide eyes. He paused for another five long seconds until finally something must have clicked within his brain. His mossy green eyes shot open and stared at me with so much shock, he looked almost horrified.
"SERENITY!!" He roared so loud the ground shook.
"Aiden I can't believe I found you!" I said happily. I kneeled down and hugged him.
"Either I'm too hammered and I'm hallucinating…or you are really here, ALIVE." He said with shock as I hugged him.
"You are not hallucination you DRUNK! I AM HERE!" I grunted and slapped him across the head with my hand.
"OUCH!" He yelled. "Jesus! Serenity what the hell happened to you!?" He forced out the words. The words started to pour out of me.
"Darius brought me to his castle and showed me his daughter. Mina thought of me as her mother. Then Darius kept on pushing and killing. He was so cruel! I kept hurting from the birthmarks and I thought of a plan to escape with the help of Leonce. And then I did it and found Harlem and!" I started to ramble.
Aiden suddenly shoved his hand over my mouth while was in the middle of my story. He closed his eyes. "I don't know what the hell you are saying……I'm too sloshed right now…" He said.
"Hah I'll say" Harlem snorted in the background.
I quickly turned to him. "You stay out of this!" I snapped but all of a sudden, Aiden past out on the floor again. "Oh, great"
"Just leave him, he'll come around later." Harlem said.
"I guess….you're right," I admitted. I let Aiden lay on the floor and sleep. I know it was best to let a drunk person stay where they were, It's easier for them and easier for everyone else. Aiden and I slept throughout the day. I still didn't want to risk going out in the daylight.Harlem also took note of the time switch. He too slept most of the day. Once it was sunset I started to get ready. I showered quickly and got dressed in a red and white sundress with red slippers.
Aiden was still sleeping as I walked out of the bathroom.
Harlem was sitting by the edge of the bed that Aiden was laying on the floor by. He was holding a black permanent marker in one hand.
"What do you think you are doing??" I demanded.
Harlem quickly looked at me with a smile on his face.
"Oh, come on! It's just a marker. I think he would look good with a mustache," he laughed.
"Grow up," I said and rolled my eyes.
Before Harlem could shout out a joke Aiden opened his eyes. He glanced around the room a couple of times, confused.
"What the hell?" He started to say. A few more seconds past when he suddenly went straight for the door.
"Get him!" I shouted. Both Harlem and I reached the door first and tackled him onto the floor. The three of us crashed onto it.
"Alright, Alright you win!" He yelled. I nodded at Harlem and we both stepped off him.
Aiden took a seat on the edge of the bed with a calm expression. He started talking to himself. "Alright so last night wasn't all a dream….this is good. This is a good start. A very good start."
"Aiden…are you alright??" I asked. Now he was starting to freak me out.
"Coo Coo" Harlem said off in the distance while twirling his finger around his ear in a circle.
I ignored him. "Aiden, please talk to me. I need to hear some good news." I said and quickly sat by him.
Aiden stared at me for a long time. He seemed to be taking me in. He was glancing at all the features of my face. "I could never forget those eyes that's for sure!" He said and then smiled. He pulled me into a hug. I hugged him back; happy to know he wasn't drunk anymore.
"I've missed you spiky head! I said.
"Same to you stripper," He said. I didn't even care that he called me that right now. (Even though I was so NOT a stripper) Once I pulled away he glanced at me in shock, "Serenity, you're a vampire but how!?" He asked.
I let out a deep sigh. This was going to be a long story for him. But it was important that he new. I told him about Darius, his brother Leonce and his daughter Mina. I explained my life there and the ball that turned into shambles. I told him about the powers too and how I escaped. Once it was all said and done Aiden started to ponder over it all very carefully.
"This is all so crazy. I can't believe you are here!" He said.
"Why are you down here, shouldn't you be at home?" I asked. Home, that was where I wanted to be.
Aiden bit his lip before speaking. I knew he didn't want to tell me the whole story. "I was going to see the Mexican Vampire Lord. I was actually on my way…er…home from seeing him but then surprise YOU dropped in on me," He said.
"Oh….I see. Well let's go. We have no time to waste! We've gotta get home and find out a way to beat that son of a bitch Darius!" I snapped. I got angry just thinking about him.
Aiden turned and glanced at Harlem after our chat. "Who the hell is this scruffy headed dog?"
"This DOG just so happened to save THAT VAMPIRE'S LIFE" Harlem snapped at Aiden while glaring his eyes.
Aiden seemed to scan Harlem over. Of coarse Aiden would know that he was a werewolf. There was silence for a short moment. What Harlem said was true though. Without him there was no way I would have made it this far.
I decided to break the silence. "Aiden, this is Harlem Cooper. He helped me get out of Mexico."
"Cooper huh? Well, it'll be fun to see you fight when the battles come," Aiden said with a half smile. "I'm curious about Werewolves."
Harlem found none of this offensive. In fact, he smiled as well. "It's dangerous to be curious," he said.
I quickly broke in, confused. "Battles? What do you mean?"
"There's no doubt we will come across Rouges' and all that. Don't worry Serenity, it will be fun. And besides you are less breakable now." Aiden laughed.
"Yeah right" I muttered. Vampire Rouges. That was the last thing I needed to come across.
"Alright lets get going, we've got a long ways to go yet" I said to both of the guys. Aiden quickly put of his pointer finger.
"Okay…but first things first, you and me have to go on a little Vampire hunt." He chuckled with a sly smile. I agreed only because I would be with Aiden. He would teach me the ropes of hunting. I knew regardless of how much he teased me I could trust him.
"Okay, BUT I don't want to kill them," I said seriously.
He started to pout, "Aww that's no fun."
I gave him a look, "Aiden"
"Alright alright! No killing" He vowed.
Once the two of us were done and Aiden had taught me a few vampire lessons we left the hotel. I felt extra revived and strong. My body started to really come in to it's own. I wasn't as scrawny and bony now. Aiden had a car here luckily. He was driving one of the mansion cars. It wasn't just any car though, Aiden was driving Damien's favorite car of all time, the Lamborghini Diablo. Nobody ever dared to even touch his car. I wondered why AIDEN out of all Vampires was using it.
"Does Damien know about this?" I asked Aiden once we hopped inside. I sat in front while Harlem sat in the back.
I noticed Aiden bite his lip, revealing one fang. "Not….exactly. But, it was for a good cause" He said as we started driving north on the main highway.
"mmmhmmm, we'll see about that once we get home," I said. He was going to be so busted once we got back. I expected him to say some smart-ass comment but he kept quiet, keeping a close view ahead.
"Damien? Who is he?" Harlem asked. I think it was to break the silence and he was truthfully curious.
My heart stopped in its place just by hearing his name. I was about to speak but Aiden intercepted me.
"Serenity's Vampire lover" Harlem nodded with amusement.
"aaa of coarse I should have guessed that. So this is the guy you are dragging me half way around country to find. Is he worth all the hassle?" Harlem asked curiously.
I nodded instantly, "Very much so, you'll see Harlem." I then turned to Aiden. "Right spiky brains?" Aiden seemed to be in deep thought.
"Yeah he's just PEACHY" he said dryly and then added. "…Hassle indeed."
Aiden confused me however I didn't question him further. It was probably the liquor still in him that was making him act funny. As the hours past the sun brightened over the horizon. Fog was clearing and the scenery looked beautiful with the mountains off in the distance along with the entire cactus scattered around the area. The Diablo's windows were tinted (luckily) or else Aiden and myself would probably start bursting into flames (or something along that line).
Harlem had it easy. He had nothing to worry about. He seemed like he had not a problem in the world. He just went wherever the wind decided to take him. However, I was a little nervous. The road that Aiden and I are going down is very dangerous. There is no turning black. We were both already falling into corrupted darkness by Darius. Now, Harlem was going to sink with us if he continued to help me. I decided to try and brighten the mood.
"Isn't this nice, the three of us preserving justice! We can call ourselves…the three amigos!" I laughed once I thought of the idea. I found it pretty clever.
Both Harlem and Aiden raised their eyebrows.
"Mexico and Texas must be getting to you Serenity" Harlem said but I just ignored him. "
Oh come on, stop being little shitheads and just roll with it for once. With the three of us together, nothing can stop us!" I said triumphantly while holding up a fist.
Aiden snorted, "Yeah, we've got a stripper, a hairball, and a fire head. Look out evil, the threat is here!" He said sarcastically.
I gave him a glare while Harlem couldn't help laugh. "awwww it looks like your little vampire friend can't handle the heat of battle." Harlem said.
Aiden laughed this time, "Oh, and this is coming from a guy who howls at the moon."
"Leech" Harlem muttered.
"Garbage eater" Aiden said back.
I intercepted the next name, "NO! We are the three amigos! That's it, end of discussion. So shut it meatheads!" I snapped to both of them. They both looked at me for a few moments in silence.
"Whoa, where is all this anger coming from Serenity?" Aiden asked curiously.
"It's from a little vampire called DARIUS," I said. I was already annoyed just thinking about him. Aiden nodded. Harlem was confused.
"Darius? The Russian Lord? Why were you with him?" "It's a long story. I'll tell you later." I told Harlem. I didn't want to explain the whole "vampire secret powers" thing to him. It was a long story and I knew he would freak out if he found out the true story. There was no way he would stay if he found out I was the secret once human that harnessed a valuable power for vampires. I was the most wanted girl in the vampire secret world amongst humans.
"You two are so weird. Are all your Vampires like this?" Harlem asked. Both Aiden and I laughed.
"Oh, you have NO idea." I giggled. Aiden stepped harder on the gas pedal, letting the Diablo rise to 110 mph. If we kept up this speed we would for surely arrive home in no time. At this point in time I was content, and even happy. I was happy because for once things were finally going MY way.
Submitted: July 19, 2009
© Copyright 2021 MissRachyVengeance. All rights reserved.
---
Facebook Comments
Other Content by

MissRachyVengeance