Chapter 1 (v.1) - Preface
[ click here for the trailer ]
[ click here for character pictures ]
[ rated pg-13 for language :) lol ]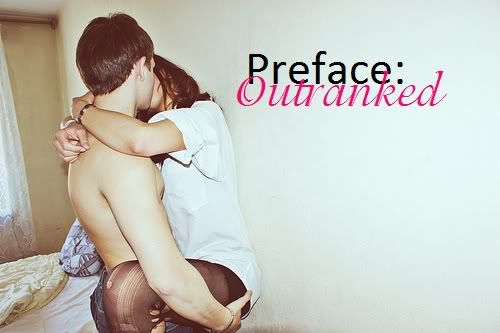 Preface:Outranked
You'd think with a name like Ariel, you'd have to be this sweet, disney-like lady, that cares more about the wellness of everyone else and not just yourself. Well, some people just do not live up to their names.

My dad thought that she was pretty great, though. And by "pretty great," I mean he thinks she's a nice piece of ass. I mean, she's pretty, but she's also skanky and gross.

There's only one good thing that came out of Ariel's horrible existence. Gavet. Her cute, adorable, amazing baby boy.

A baby boy whom I'm trying to get to say my name.

"Come on, Gavet!" I'm thinking bribing him with cheerios may not be the best tool but he's already said the ma in Mallory, so I think it's working. "Mal-lo-ry," I say slowly, so that he can grasp the whole word.

"Ma." He holds his tiny fingers out, and I can't help but give him the cheerio. I may be a bitch most days, but I'm not a baby abuser.

I pick Gavet up from his high chair at the exact moment Dad and Ariel decide to walk in. She gives me a smirk. "You're going to have to watch Gavet tonight."

I snort. "Can't. I'm going to a party."

She swings her blonde hair over her shoulder, and crosses her twig-like arms. "Well, I have an appointment at the tanning salon and your father has to work late."

"Fuck you, Ariel." I spit back at her. "Dad!"

So, I know that on the outside, this looks bad. I'm just another one of those bitchy teenagers who hates their dad's girlfriend, right? Wrong. Yea, that part is true, but it's not like Ariel is a princess. I mean, she would rather get a fake tan than spend time with her baby.

I walk in to the garage, where Dad's checking out his new car. The Mustang is nice, but this is important.

"Dad, Ariel said I have to watch Gavet tonight."

He shrugs, not really paying much attention. "Then watch Gavet tonight, Mal."

I stomp back into the house where Ariel's sitting at the dining table, sipping on a glass of red wine. I hope she spills it all over her tight white dress.

* * *

When they're gone, it's too easy to do anything that I want.

Boyfriends are all too easy to "sneak in" through the front door.

"What is he doing here?" Tommy points to a sleepy Gavet. He's sitting on the floor, playing with his lego blocks. His eyes are droopy, like he's fighting to stay awake.

"I told you. My dad made me watch him. But give me two seconds." I help up two fingers.

He grinned. "How 'bout one?"

I smile and he brings me in close to him right there in the doorway. He closes the door behind him as he leads me onto the couch.

"Tommy . . ."

"What?" he whines in between kisses.

I push him away lightly. "Just let me put Gavet to sleep."

He sighs, reluctantly getting up, letting me take Gavet to his room. It takes me a little while longer than I thought to get him to fall asleep, but Tommy's waiting for me when I get back out to the living room.

I sneak up behind him and whisper in his ear. "Hey, hot stuff." I giggle. He smiles and turns around to look at me.

"You wanna get me something to drink, babe?"

No. "Yea, sure."

I go to the fridge to get a can of soda. As I get back up from bending down, Tommy stands there, ready to wrap his arms around me. We make out in the kitchen for what seems like forever. We're so into it, that we crash into everything. I laugh as he kisses down my neck. I drop the Pepsi cans.

He picks me up while I wrap my legs around his waist and leads me, again, to the couch in the middle of the living room. His hands make their way to my waist, then travel upwards.

All the sudden, this disgusting, almost repulsive burning odor emanates the room.

I break our kisses. "Do you smell that?"

He's not paying any attention. "No."

"No, seriously."

"I don't smell anything, Mallory." He sounds kinda annoyed, so I just take his word for it and continue with what we're doing.

It's not like we haven't gone this far before, but getting felt up when Gavet is sleeping in the room barely down the hall just doesn't feel right.

Before I can say anything to him, the door flies open.

I have never seen anyone move as fast as Tommy does. "Fuck." He nervously runs his fingers through his flawless hair.

I know what it must look like to Dad and Ariel. It wasn't good. My shirt was a little higher than halfway up my stomach, Tommy's hair was a complete mess, and mine probably looked the same way.

My eyes went wide. "Shit. Um . . . hi dad."

Ariel's focus is over my shoulder. "What the hell, Mallory!"

I sigh. "It's not like it's a big deal."

She shakes her head, and runs to the kitchen. I follow her with my eyes and then see what she's so freaked out about. The kitchen stove is engulfed in bright orange flames. I instantly feel hot.

I turn to Tommy and smack him on the shoulder. "You asshole! I told you I smelt something!"

He gets close to my face. Too close. "Excuse me if I was too into something else to notice. My fucking bad!"

"Something? Is that what I am? A thing!?" I shout.
He shrugs, and I slap him, this time straight across the face. "Bitch," he mutters.

At this point, my dad decides to intervene. "Mallory, stop!" He pulls me back by the shoulders, then walks up to Tommy and gives him a good shove. "Go home."

Dad isn't one for yelling, so when he actually does, I know he's beyond mad.
Tommy heads for the door, but at the last second turns back at me and says, "See you on Monday, babe," then shuts the door.

Dad turns to me. "What the hell was that?"

I shrug. "I couldn't go to the party, so the party came to me."

He buries his hands in his hair and shakes his head, probably in disgust. "Do you realize what just happened?"

He doesn't have time to tell me, because as soon as he asks the question, Ariel storms out of the bedroom, holding Gavet in her arms and giving me a hard death stare. She had already but out the fire, so the kitchen is covered with white fire extinguisher spray.

"What is your problem?!" she yells at me.

I look away. "Don't yell when your holding Gavet, you're right next to his ears!"

She ignores me. "You could have killed him! And you were way too busy getting felt up by your boyfriend that you wouldn't have even noticed Gavet getting burnt to a crisp right behind you! Do you even give a shit about him?!"

I scoff. "Way more than you! You were out getting a tan instead of being with your own son, you bitch!"

She steps forward in one stride and slaps my face with the back of her hand. I, of course, flinch a little. I mean, she had a damn ring out, making it sting. But I wasn't going to take it. Two seconds later, I raise my hand up.

My dad catches my wrist just in time. "Stop!"

"No!"

* * *
It's two o'clock in the morning when I wake up to the faint voices of Dad and Ariel talking. About me, no doubt. I can't quite hear them from where I'm at, so I quietly get up and tiptoe to the hallway, where their voices are perfectly clear.

"You remember the place I was telling you about?" I hear Ariel say first.

Dad sighs. "Yea. But Ariel, I don't think sending her away is going to help anything."

Send me away? That bitch is trying to send me away? I resist the urge to run out to the living room and explode in her face.

I picture Ariel with a smirk on her face. "It's safer for us . . . including Gavet and -"

"She loves Gavet, you know that."

"Maybe, but she didn't show it very much today, did she? The next time, it could be so much worse." Her tone is filled with fake sincerity, and I hate it. "That school in Switzerland is perfect. No boys, no tolerance for stupid shit. Come on, Blake.

No one talks for a few minutes.

Does she really think that she can convince my dad to send me to Switzerland? It'll never work. He may be really mad at me right now, but he would never go to that. I just know it.

She huffs. "I didn't want to have to say it, but, Blake, it's me or her."

Shit. I'm ninety nine percent sure that he'll pick me. However, I'm not so sure now I think about the only reason why I haven't totally driven Ariel away, the only reason why I haven't been at my absolute worst with her.

No Ariel, no Gavet.

He thinks about it for a good five minutes. All the while, I'm crossing my fingers.

I've never hated or completely disgusted anyone in my entire life as I do Ariel right now. She's putting the decision on him to chose between people that he loves. I would have never asked him to do this.

I sneak a peek around the corner to see him rubbing his eyes, thinking hard about the choice in front of him.

All I can think is Come on, Dad!

Finally, he looks up, but not at Ariel. I'm guessing he can't meet her stare. She's just sitting there, as calm as ever, legs crossed, hands folded in her lap. It's like she's possessing him with her mind or something. Like a witch.

"I'll talk to her in the morning."

Betrayal and annoyance flashed through my head as I run to my room and slam the door. I realize right after I did that that I blew my cover and I punch my pillow.

But Dad doesn't come into the room. He heard my door shut, he knows that I heard everything that went on in that living room, and he doesn't bother to come to me and explain himself.
It's like he doesn't even care.







A/N: Hey! So, this is my second novel on Booksie! Please, please tell me what you think! Coment to give constructive criticism :)

And for the people wondering when I'm going to update "While You Were Gone" (Seth 2) it'll most likely be VERY soon.The first few chapters, at least for me, are the hardest to write! lol

© Copyright 2017 peace629. All rights reserved.
Other Content by

peace629