Chapter 1 (v.1) - Blind with hurt
CHAPTER 1?COULD THIS BE POSSIBLE?
When i was a little girl me and my two brothers had to go live with my father. See the reason was my mother was driving to the mall. When an on coming truck hit her. She was rushed to the hospital and she died that night. I remeber cause it wasFriday and she was supposed to pick me up from first grade. I sat there on the sidewalk all alone in the pouring rain. Thats when i got bored i took off my jacket and started twirling. While i was dancing i started singing.
"Im dancing with tears in my eyes." I sung. But every word i sang i could feel the cold air picking at my throat. I didnt care and kept singing. " just fighting to get through the night!" I sang louder. "I must be losing it, cause with every move i die," I sat down and cried out the rest of the song. "Im fading im broken inside, Im waistng the love of my life" Thats when my dad finally pulled up.
" Hey bud..." He said with bad news trying to roll of his tounge.
" Lets just go i have to practice writing on the way home." I said annoyed with him. Mainly cause i was a little girl with a mouth. But i mainly said it cause i wanted to finish the song.
"Hey where not going to your house tonight were going to the hospital!" He said like he hated me. Man i would have thought he really did.
We drove for hours trying to get to the hospital. I think my dad was on parol. Cause he would never drive that safe other wise. Ya my dad was on parol alot. He always had to ask my mom for more money to. I think it was to fill his beer and weed obbsesions. We finally got to the hospital and he walked me inside to my mothers room. I ran up to her and tried to climb onto the bed to lay next to her. Thats when i noticed something scary. My mother wasnt breathing. I ran out of the room and started screaming to all the doctors. They came running in by the hundreds.
" Im sorry sweetie but she is gone there's nothing we can do." he said with tears in his eyes. I sat down next to my mom and cried. Then a hour later i pulled out my notebook.
"Dad i wrote this for you and mommy today at school." I said pushing tears back. I started to sing again. " Here we go welcome to my funeral." The doctors looked at me. " Without you i dont even have a pose, all alone its dark and cold with every move i die." My father started to pay attention to me for the first time ever in my life. " Here i go this is my confession, My lost cause, nobody can see my soul, i am so dalussional, with ever move i die." He started to cry both my father and the doctors. " Im dacing with tears in my eys, Im fighting to get throught the night, im losing it cause every move i die, Im fading im broken inside, im waisting the love of my life." They smiled mainly my dad i knew he had a get rich quick scam.
" Now where did you get the talent to sing like that cutie." Said my father with a smile.
" From your ex-wife Mary and i can draw from your ex-wife Lizzie,I can also dance from your dead ex-wife my mother," I screamed at him. "guess what i wrote a song for you listen to this."
" I think you got the best of me, cause your sleeping with the enemy, you left me al alone alone alone alone, the beat drives, Im so alone, my heart stops oh i already know, you left me al alone alone alone alone." The doctor looks at my father in concern as i went on. "I'm sick and tired of the mess you made me ,Never gonna catch me cry ,Oh whoa whoa ,You must be,blind if you can't see ,You'll miss me til the day you die ,Oh whoa whoa
Without me, you're nothing ,Oh whoa whoa ,You must be blind if you can't see ,You'll miss me til the day you die ,Oh whoa whoa!" My dad started to cry. I just sat up and walked next to my mom.
?Author note:? i hope you like my second story but the songs are off of Ke$ha's animal Cd there not mine i wish they were but there not. Thank you for reading ?/ThinkTurquoise/?

Picture: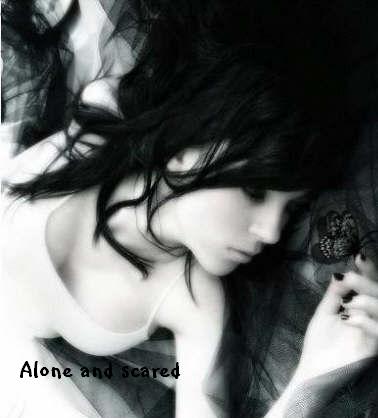 it says alone and scared at the bottom also this is cori when she is 15
© Copyright 2017 ThinkTurquoise. All rights reserved.
Other Content by

ThinkTurquoise