Steel, Magick and Faith
In the ancient and wild world of Glenryth, Fey creatures and a nascent humanity have come into conflict, the motives of each other mutually unfathomable and alien.

Technological cults and Monotheistic religions are worshipped; any suspicion of pagan or Fey magickal taint is reviled. Prophets spread far and wide, offering hope and comfort to the beleaguered masses. Mankind is not totally separate from the energies that suffuse Glenryth, as an unfortunate few are born as Touched.

When local dwarves put a curse upon the town of High Peaks, Remus, the aloof and irritable woodcutter and sage, must try and ebb the tide of xenophobic anger that could engulf himself and any other folk that are labelled as outcasts. But when a caravan of technocrat pilgrims fails to arrive, and the body of a local child is found in the woodlands, Remus, along with the capricious Touched Elaina, must try to understand the nature of morality in a world cloaked in suspicion and fear, and, ultimately, to prevent a brewing war that could send the region spiralling into chaos and destruction.
My rating = 3.5
This novel contains flaws. The sentences are often awkward sounding, in many cases 'telling' instead of 'showing' and grammatical errors are present too. Besides, even though T. P Grish strives to make the characters morally grey, he ends up with ones which are not totally three dimensional, except perhaps some of the minor characters, who were surprisingly more well rounded.
All the same, I'd recommend this book to anyone who enjoys fantasy. Why? Well, despite the flaws T. P Grish writes such that his love for the story and characters radiates from the pages. Nowhere throughout the novel did I feel the author was losing interest or getting tired. Hence I was able to feel totally invested in the world of Glenryth.
So go download 'Steel Magick and Faith'; plunge in expecting a bit of a bumpy yet enjoyable ride. In the end you'll feel happy you read it.
And did I say it's free on Smashwords? Click here!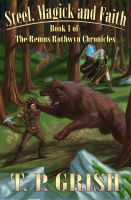 © Copyright 2018 A J Chaudhury. All rights reserved.
More

Fantasy Book Reviews
Other Content by

A J Chaudhury