TWO GIRLS AND A POND A DROWNING.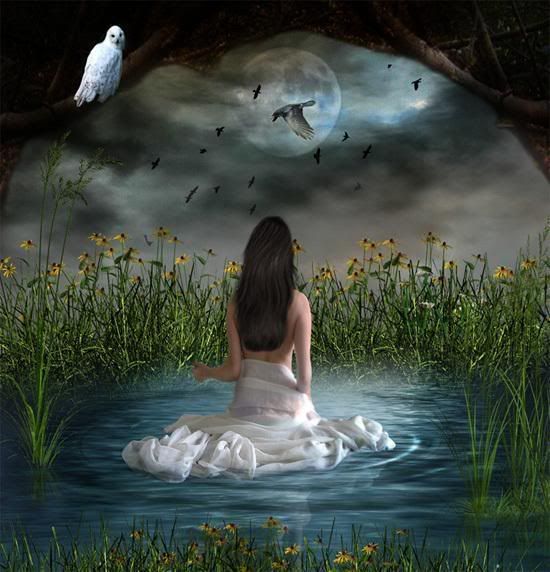 "This was our pond", said Petunia,"Petra and I called it our sacred lake. We came here as schoolgirls, running down through the woods after school or at weekends when our chores had been done and we were free to do as we pleased. We came to the pond and sat down at the edge, staring out across to the other side or just sitting and taking in the calmness of the surface, talking about matters we didn't want others to hear or know about. Sometimes we just lay down and gazed at the sky and held hands, not thinking anyone would come by the pond and see us, and not really caring at the time, as we thought that no one ever came there, and if they did, we never saw them. Occasionally we would lay closer, kiss, and close our eyes and think of nothing but being close, and listening to each other breathe, feeling the sensation on our lips, even after we had parted and lay back on our backs. Once after school we came to the pond and sat throwing small pieces of wood onto the skin of the water to see them float, imaging them to be small boats, taken over the pond by the slight breeze. Petra stood up, went to the edge, and put her fingers in the water, and then she turned and smiled at me, and came running toward me, and with her wet fingers made a cross on my forehead as if she were a priest. You are my sister, blessed by the waters of our sacred lake, she said, kneeling beside me, leaning forward and kissing my forehead. I held her toward me, kissed her lips and we lay close to each other in silence. I don't know how long we lay there; I remember her lips, her hand in mine, the way she looked at me, the softness of her fingers as she touched my thigh, the way she tenderly caressed me and held me. That was our last time together by the pond. She didn't come to school the next day or the day after. She was found drowned in the pond by a local farm boy who had gone there to fish and he had reeled her in thinking she was something else that his hook had been caught up in. Now the pond seems eerie, as if her spirit still lingered here, as if she wandered about the pond looking for me and waiting patiently for my return. No one knew about our sacred lake, no one saw us there, no one ever asked me about that or about us and our shared time together. I miss her, miss her kisses, her touch, her closeness, and sometimes, when I sit by the pond, I feel her near, sense her breath on my neck and her fingers damp and cold trace a cross on my forehead, or run slowly along my thigh, and the soft wind though the trees above, releases a sound very much like a lonely drawn out sigh. And I want it to be her breath, her calling me, want her beside me again, want us to make love again as we did that last time together, that evening as the sky darkened and the moon shone over us like some guardian angel and the stars our only witnesses twinkling like spilt silver coins on the dark cloth of the sky."
© Copyright 2019 dadio. All rights reserved.
Poem / Religion and Spirituality