A comment on shows like "Underbelly" (Australia) and TV news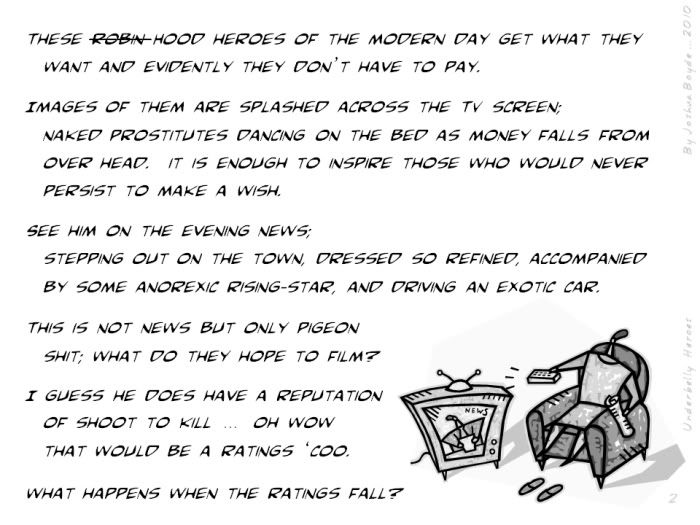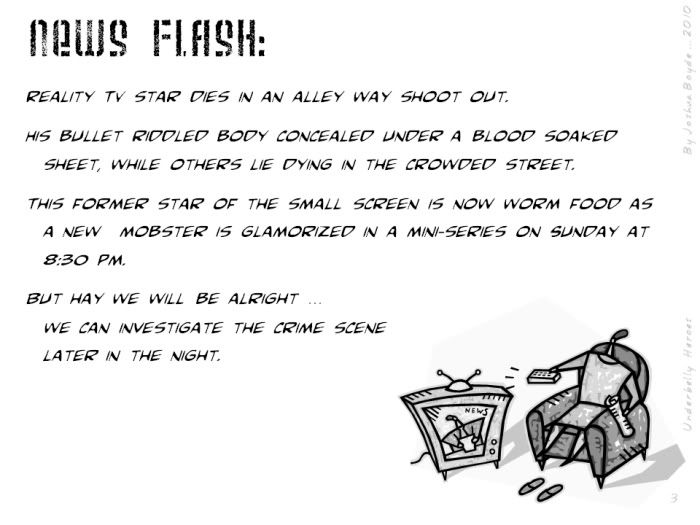 "Underbelly" Heroes
What makes sense in a society when … real-world criminals are portrayed as heroes on the TV screen?
What is the problem with a society when … under-world identities become celebrities, invited to corporate events that are not open to John Q. Citizen?
What is the point of a justice system when … evidentially the prosecution is on the other side of the law?
…
Has our society really become such a whore in a world of television ratings wars?
...
These Robin Hood heroes of the modern day get what they want and evidently they don't have to pay.
Images of them are splashed across the TV screen; naked prostitutes dancing on the bed as money falls from over head - it is enough to inspire those who would never persist to make a wish.
See him on the evening news; stepping out on the town, dressed so refined, accompanied by some anorexic rising-star, and driving an exotic car.
This is not news but only pigeon shit; what do they hope to film?
I guess he does have a reputation of shoot to kill … oh wow that would be a ratings 'coo.
But what happens when the ratings fall?
...
NEWS FLASH:
Reality TV star dies in an alley way shoot out.
His bullet riddled body concealed under a blood soaked sheet, while others lie dying in the crowded street.
This former star of the small screen is now worm food as a new mobster is glamorized in a mini-series on Sunday at 8:30 pm.
But hay we will be alright … we can investigate the crime scene later in the night.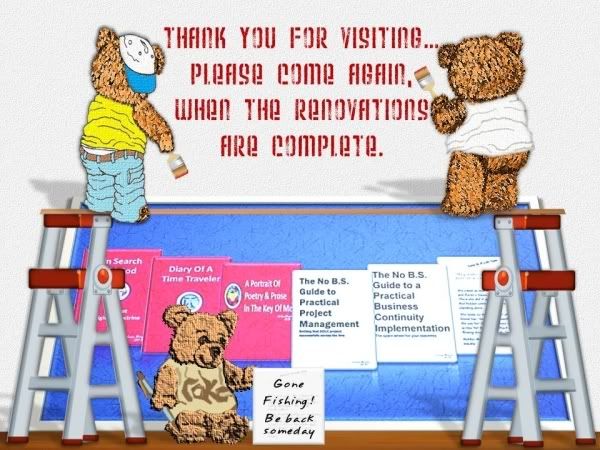 © Copyright 2017 joshua boyde. All rights reserved.
More

Non-Fiction Articles
Other Content by

joshua boyde
Book / Action and Adventure