REMOVE OBAMA or CORSI-TRUMP CONSPIRACY.
By Mikhail Kryzhanovsky, a former KGB and CIA
prof777prof@yahoo.com
New York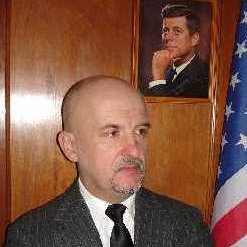 INTRODUCTION.
R?: Jerome Corsi files formal complaint against Mueller
Former federal prosecutors contacted by NBC News said they believe Corsi's claims have no merit.
Dec. 3, 2018
Conservative author Jerome Corsi has lodged a formal complaint with the Justice Department accusing special counsel Robert Mueller's office of misconduct in the investigation into Russian election interference.
Corsi, an associate of Roger Stone, alleges Mueller's team tried to pressure him to admit that he lied about his efforts to learn WikiLeaks' plans ahead of the release of Clinton campaign chairman John Podesta's stolen emails in October 2016. Corsi insists he never lied. He says he forgot about the messages he sent to Stone and others seeking to find out what damaging information WikiLeaks had on the Clinton campaign — and later amended his testimony after he found them.
"The special counsel and his prosecutorial staff threatened to indict Dr. Corsi, who is now 72 years old, and effectively put him in jail for the rest of his life, unless Dr. Corsi would provide the false testimony that they demanded, even after being informed that the testimony desired would be false, " says the 78-page document. "This is criminal. "
The paperwork was addressed to acting Attorney General Matthew Whitaker, the Justice Department's inspector general and the District of Columbia Bar.
Former federal prosecutors contacted by NBC News said they believe Corsi's claims against Mueller have no merit.
"Filing a complaint based on Corsi's version of the truth abuses the role of the inspector general to ferret out wrongdoing within DOJ and seems to be more of a public relations stunt than a meritorious concern, " said Daniel Goldman, a former federal prosecutor who is now a legal analyst for NBC News and MSNBC.
Mimi Rocah, who served as an assistant U. S. attorney for New York's Southern District, described Corsi's claims as "patently ridiculous. "
"This is somebody who doesn't like the fact that he's being caught in his lies, " said Rocah, now a Pace University law professor and legal analyst for NBC News and MSNBC.
The experts said a typical claim of prosecutorial misconduct could lead to a Justice Department investigation or be referred to the District of Columbia bar.
Corsi has previously released a draft plea agreement from Mueller's office charging him with one count of lying to federal investigators. Corsi has said he rejected the deal, which would have forced him to give up his writing and speaking opportunities until sentencing.
In an interview Monday, Corsi said he hopes the complaint will trigger an investigation of Mueller.
"I filed this complaint so we can get a fair special counsel and so he and his team can be put under investigation, " Corsi said. "I'm doing this because I don't want anybody else to suffer at the hands of Mueller and his henchman as they have caused me to suffer. "
Episode 1. Erase Obama or go to FBI "special jail"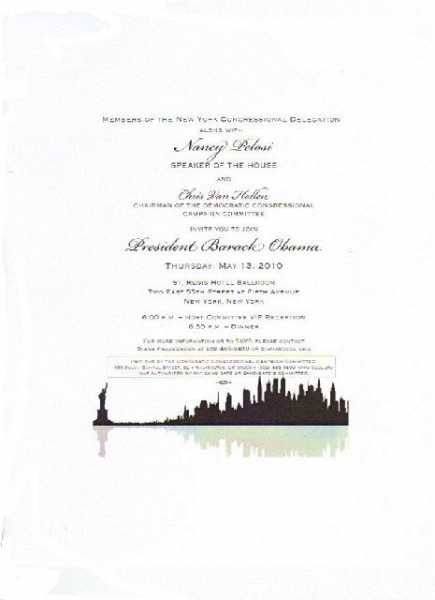 I got this invitation for a dinner with Obama in NYC – Trump wanted to set me up after the President's assassination.
March 12, 2010, New York. An invitation for a dinner with President Obama and Speaker of the House Pelosi came from DCCC (Democratic Congressional Campaign Committee) signed by Ian Sugar, Director of Development. "Mike, we wanted to make sure you received this invitation for a very special occasion. We would love to have you be a part of this event. DCCC needs your support to fight for the American people. We hope to see you on May 13th in new York City".
So, I had to come to St. Regis Hotel, New York to join President Barack Obama Thursday, May 13, 2010 (St. Regis Hotel Ballroom, Two East 55th Street at Fifth Avenue, New York, New York). 6:00 p. m. – Host Committee VIP Reception 6:30 p. m. – Dinner
I got St. Regis ballroom plan. Actually, I could eliminate "Obama" but it's a suicide to work on the roof of the hotel.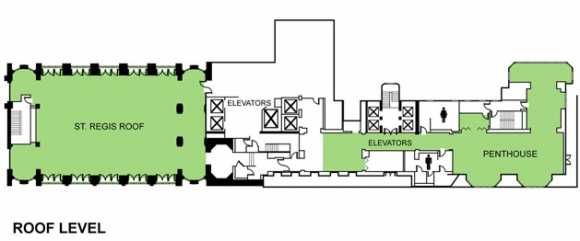 It wasn't very complicated job if I would have taken it. All I had to do was: buy 9mm Zig Zauer (Secret Service pistol), practice shooting in the forest upstate, come to St. Regis unarmed, disarm any Secret Service fat pig and do the job.
The problem is, I'm 40 years in espionage business and I'm always listening to what my intuition says. It was a 100% CIA pre-assassination setup – I come, they kill "Obama", arrest me and kill me in a jail same day. Same thing they did to Lee Harwey Oswald.
It was a very serious problem and I've informed the U. S. Special Counsel Patrick Fitzerald.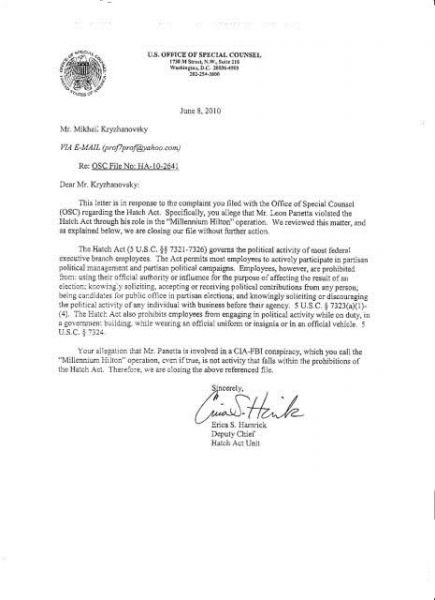 June 8, 2010
Bill Clinton and Obama's murders were not Patrick Fitzerald's ( the U. S. Special Counsel) business – he didn't want to get a bullet from Mr. Mueller or Mr. Panetta.
U. S. Office of Special Counsel 1730 M Street, NW, Suite 218, Washington, DC 20036, 202-254-3600 RE: OSC File No: HA-10-2641
Dear Mr. Kryzhanovsky,
This letter is in the response to the complaint you filed with the Office of Special Counsel (OSC) regarding the Hatch Act. Specifically, you allege, that Mr. Leon Panetta [CIA Director – M. K. ] violated the Hatch Act through his role in the "Millenium Hilton" operation.... We are closing our file without further action... The Hatch Act (5 U. S. C. p. p. 7321-7326) governs the political activity of most federal executive branch employees.... Your allegation that Mr. Panetta is involved in a CIA-FBI conspiracy, which you call the "Millenium Hilton" operation, even if true, is not the activity that falls within the prohibitions of the Hatch Act. Therefore, we are closing the above referenced file. Sincerely, Erica S. Hamrick, Deputy Chief, Hatch Act Unit
I've called the White House and sent e-mail to Barack Obama, telling the whole story and saving his life in such a way. Obama made a mistake – he asked Secret Service to look into the case.
And Secret Service sent a team to kill me
January, 20 2011
FBI special agent Eric Perry, FBI NYC field office (tel. 718) 286-7100), informed me that my actions [telling the truth – M. K. ] made "high authorities, people on the very top extremely nervous". Perry said I better disappear for some time if I don't want to end up at FBI "special jail".
I was sure CIA- FBI -Secret Service planned to kill me. I was right – the U. S. Secret Service Director Mark Sullivan sent a team of killers to hunt me.
October 12, 2010
I've got confidential information that two Secret Service teams were hunting me all over New York City: team #1 (two guys) and team #2 ( two guys and a woman).
Team #1 asked my friend to give me their phone number, so I could call them, emergency.
Team #2, armed with handguns, broke into my wife's apartment, searched it and interrogated her in a very rude manner, ordered her to keep their visit secret, took her PC and left. Soon after that my wife (we were separated) had a stroke and in 2013 she died.
I talked to team #1 on the phone and then I met them in a safe place. They said they came from Washington to stop team #2 from killing me. They also asked me to shut up about the dinner with Obama. I said: "If they want to kill me, tell them to put a sniper in a house across the street – I'm not scared". They got very nervous and asked me to slow down and stop talking if I don't want problems.
I got team #2 members' names Here they are, my killers: Chris Lienemann, special agent, tel. 718-840-1263, Susan Klemm, special agent, tel. 718-840-1448, Gene Gurevich, special agent, tel. 718-840-130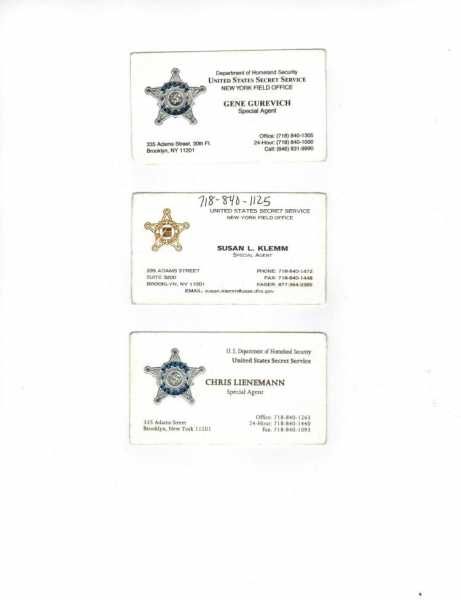 Episode 2. $50, 000 for what?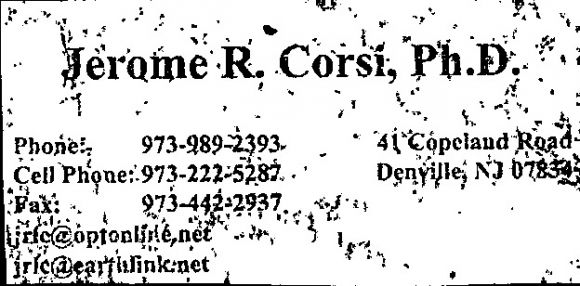 The story starts with Jerry Corsi, an American author, WorldNetDaily political commentator best known for his New York Times bestselling books The Obama Nation, Unfit for Command and Where's Birth Certificate, personal Obama's enemy. He investigated Obama's life in details and proved that the president wasn't born in USA and his presidency is illegal.
The WorldNetDaily (WND) is a very popular and influential radical Conservative website which supported Donald Trump's very aggressive anti-Obama campaign to remove him from the office as a fake US citizen.
April 12, 2012, Queens, S. Richmond Hill, New York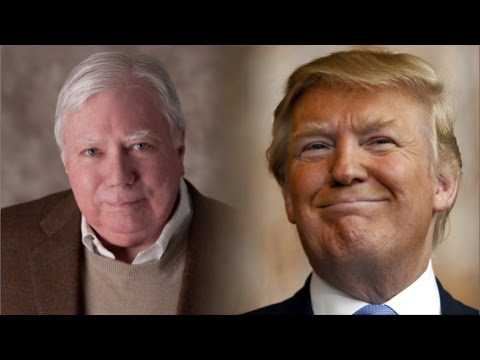 Jerry Corsi came to see me (he lives in New Jersey) after we communicated for couple of days via e-mail about our anti-Obama investigations – read my full version of Obama's real biography below.
Corsi brought me his book "Where's Birth Certificate" and gave it to me for "my courage". We talked three hours at the nearest café. He was impressed by my experience as a spy and KGB sniper. We made arrangements for the next meeting and Corsi promised me some big and important job. May 20, 2012, same place
Corsi brought a simple anti-Obama conspiracy plan. A big fake.
I had to go back to Russia and find 2 former KGB officers who allegedly knew that Obama was working for KGB intelligence. These officers had to write down personal statements and didn't have to sign them with their legal names. I come back with the papers and "anonymous sponsor" pays me through Corsi $50, 000. Sponsor wants to remove Obama from the Oval Office.
Anonymous rich sponsor paying cash.
Trump.
Money was big, but there was a problem. CIA was watching me on the daily basis and I could never leave USA alive for this conspiracy trip.
Corsi was angry – I understood him. if Trump pays me $50, 000, WND guys and Corsi could get a million.
I said "No". I can imagine how angry Trump was.
Now I have a question for president-elect Trump.
Corsi asked me how good I am as a sniper. Mr. Trump, you still want me to kill Obama?
Episode 3. Remove Hillary
November, 12, 2018
An associate of longtime Trump confidant Roger Stone confirmed that he expects to face charges in the special counsel's Russia investigation. Conservative conspiracy theorist Jerome Corsi said on his YouTube show that negotiations fell apart with special counsel Robert Mueller's team and he expects in the coming days to be charged with making false statements.
"I'm going to be indicted, " Corsi said on his show. "That's what we were told. Everyone should know that, and I'm anticipating it. " Corsi's attorney, David Gray, declined to comment Monday evening. A spokesman for the special counsel's office also declined to comment. Corsi is one of several Stone associates who have been questioned by investigators as Mueller probes Stone's connections with WikiLeaks. American intelligence agencies have concluded that Russian agents were the source of hacked material released by WikiLeaks during the 2016 campaign, including emails belonging to former Clinton campaign chairman John Podesta. And Mueller's office is trying to determine whether Stone and other associates of President Donald Trump had advance knowledge of WikiLeaks' plans.
Corsi, the former Washington bureau chief of the conspiracy theory outlet InfoWars, said Monday that he had no recollection of ever meeting WikiLeaks founder Julian Assange. "To the best of my recollection, what I knew in advance about what Julian Assange was going to do in terms of having the Podesta emails, I figured out, " he said. Corsi said also that he has been cooperating with the Mueller investigation since receiving a subpoena in late August. He said he gave investigators two computers, a cell phone and access to his email accounts and tweets. But he said talks with investigators recently had "blown up. "
"I fully anticipate that in the next few days, I will be indicted by Mueller, " he said, as he made a pitch for donations to his legal defense fund.
When prosecutors indicted 12 Russian intelligence officers in July on conspiracy and hacking charges, they referenced WikiLeaks — though not by name — as the Russians' conduit to release stolen documents via the hacker Guccifer 2. 0, who is believed to be a front for Russian military intelligence.
Special counsel Robert Mueller is asking Paul Manafort, the former chairman of President Donald Trump's campaign, for information about the longtime GOP strategist Roger Stone, ABC News reported.
Manafort has been cooperating with the ongoing Russia investigation since September, when he pleaded guilty to two counts of conspiracy and obstruction of justice.
He is arguably the most significant cooperating witness to date, given his prominent role on the Trump campaign during a pivotal time in the 2016 election season.
Manafort was the chairman of President Donald Trump's campaign when he offered a Russian oligarch "private briefings" on Trump's bid. He was one of three top Trump campaign officials to attend a meeting with two Russian lobbyists offering dirt on Democratic nominee Hillary Clinton at the height of the campaign.
And he was leading the campaign when the radical pro-transparency group WikiLeaks began dumping thousands of emails from the Democratic National Committee that had been stolen by Russian operatives.
WikiLeaks published thousands of hacked emails from the Democratic National Committee and the Clinton campaign at the height of the 2016 election. The US intelligence community believes the breaches and subsequent dissemination of emails were carried out on the Kremlin's orders.
© Copyright 2019 Mikhail Kryzhanovsky. All rights reserved.
Other Content by

Mikhail Kryzhanovsky
Article / Mystery and Crime