my 1st horror story
I DONT KNOW IF THIS IS ANYGOOD SPUR OF THE MOMENT THING LIKE UMMM NOW HEE HEE PLZ TELL ME WAT YOU THINK!
"Jace" i say as i walk into the club ' i wonder if hes in the back room' i walk towards the back of the club entering a room i see people in the corner "jace?" i say stareing at the girl that is in plain sight "jace?" i say again and someone (thing) grabs me from behind i try to scream but the note is caught in my throat "jace!" i choke out as a vioce sounds in my head telling me to sleep "no.' i breathe as everything goes black
i wake up in a small seller with jace lieing beside covered in blood and barely breatheing i check for a pulse as i kiss him gently on the lips his eyes fly open and he starts to struggle i press my fingers gently to his lips "shhhhhhhhhhhhh" i kiss him again to calm him everything grows quiet upstairs i look up as a door opens and a woman walks in carrying another boy she stares at me smuggly as she drops him he groans with a wave of her finger many men come fileing in carrying more peopls one of whom was a male and was wide awake he glares at me i look back at her frightened but standing my ground
when she finally leaves the boy wich she left has a tantrum breaking stuff hitting the wall i try to calm him i wrap my arms around his body but he swings me away throwing me into a wall he finally stops stareing at me laying back to the floor looking at the ceiling real pissy when i sit up i glare at him
but we hear the woman upstairs talking he runs over to me putting his hand over my mouth warning me to be quiet so he can hear " everything is ready sir for your guests" she hisses "the banquet will be great i hear jace start to cough "go shut him now " the boy says taking his hand from my mouth and shoving me in jaces direction " jace shhhhhhhhhhhhh you need to be quiet" i whisper in his ear and he grows perfectly still and silent but i hear the boy say "at least hes a good listener " under his breath "are they done katrina are they lovely my dear"an old sounding voice chirps from upstairs "yess my lord " she says and i hear the fear in her vioce "my daughters and son will enjoy dinner to night " the man croaks again i gag i pull jaces head into my lap he lifts his hand and presses it to my cheek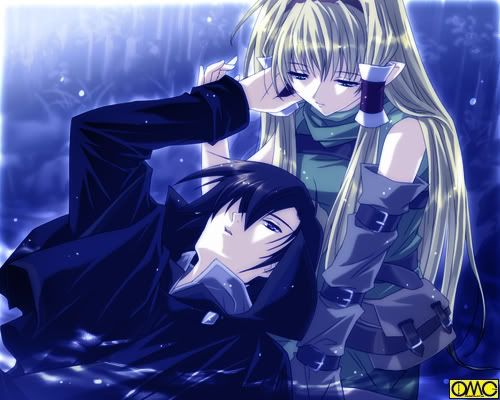 a small tear runs down my face but he wipes it away with his thumb the boy stares at us disgusted by our slight intamacy "we need to come up with a plan and wake up all these people " the boy shouts "sense when do you care?" i say remembering being thrown "jace stares at me 'what did he do?' he mouths i shake my head " you know i never said i didnt and im sorry for throwing you i was out of my head " he smiles "by the way im sam" i stare at him confused but when i finally start to respond the door to the celler flies open and both boys jace and sam take a protective gaurd in front of me i try to get past but they are to focused my sholders start to shake my knees collaps im on th floor shaking tears rolling down my cheeks they both turn to me jace takes a step back pulling me into a tight embrace but the men that come down take the sleeping ones first then they come for jace only wanting him "no i say wraping my arms around him and holding him tightlyhe pulls away leaning me down and kissing me with passion
but she pulls him away and i fall to the ground alone tears continue to roll down my cheeks as sam pulls me into his arms holding me trying to calm me down but we hear a gun shot and then a scream jaces scream "no!" i scream and struggle to get free but sam holds me there he wont let me go so i settle for hitting his chest repeatedly saying "no,no,no"screaming it he holds me trying to calm me down while whipering "im sorry im so so sorry" when i finally calm down he still holds me
but the woman walks in taking us both this time we pass jaces body hung to show us that it was no game i hug sam tighter but the gaurds soon seperate us from each other taking me to a roomin pitch blackness i cant see anything and sam to another theroom somethinggrabs me sinking its teeth agresively into my neck i feel my body getting weak as my blood is drained i see a sillouhette behind the one hurting me raiseing something and bashing it over the head he pulls me into his arms and takes me out of the room its sam he sets me gently on the floor as i bleed out in front of his eyes he leans down whispering soft assurance into my ear "itll be okay" is the last thing i hear before i passout (dead)
© Copyright 2017 rosalieemo. All rights reserved.
More

Horror Short Stories
Other Content by

rosalieemo