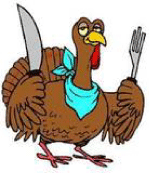 I decided to deep fry my turkey yesterday. Like most mechanically inclined men I need not read the silly directions to this simple fryer kit.
I light it up after assembly and had a nice flame going. Next I fill the pot with oil but only up to about one inch below the top, you can't be too careful with these things.
At 360 degrees I plop my 30 pound poultry partner in and jump back.
HOLY SCHNIKEYS! Hindenburg-esk came to mind right quick like. Hindsight; those forgotten laws of displacement became all too clear now.
I thought "good thing I thought ahead and did this in my kitchen near a water source".
So I start spraying the blaze with that sink spray thing and suddenly I'm dodging flaming bullets of superheated water and grease balls alike Keanu Reeves in The Matrix.
Thinking quickly I stopped dropped and rolled. This decision simulated the basting of a traditionally roasted bird only it was fried Russ.
Lucky for me my insurance agent said I opted for the moron clause and he repeatedly reminded me how this was the purest clear cut case of moronism he has ever seen. Chalk one up for me and my forethought.
Sadly, the payment check was applied directly to my running account with the fire department
but just knowing I outsmarted the system is simply sublime. This should put me over the top on my "Frequent Fire Miles"!
© Copyright 2016 Russ Teed. All rights reserved.