Cajuns, Kamikazes, and The Holiday Inn (Swamp Series Part I)
The first in a series of insane stories about Cajun Country.
In my distant past, I was a "Lounge Lizard." Not the Liberace type – just me, and an acoustic guitar. Anyway, my booking agent shipped me all over the place. Cool! I was in my twenties, got to travel, made some dough, learned a couple hundred songs, all good.
So, I was in Edmonton, Alberta, Canada and I got the call that I had a week to get to Morgan City, LA. (Check a map.) I finished my gig at the Hotel McDonald in Edmonton, and left on a Sunday morning headed down the middle of the US. I stopped to visit my Grandma in Houston, hit Highway 10, took a right at Lafayette, onto Highway 90, and entered an alien world. A fantastic alien world.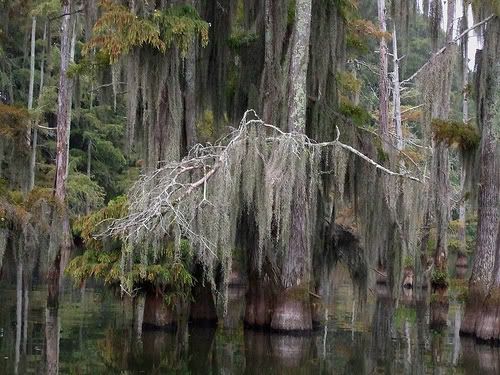 Spanish moss dripped from the trees, turtles sunned themselves on logs in the water off to the side of the road, many armadillos (bummer) had lost their lives the night before…and wooden shacks were scattered here and there. I pulled in for lunch at a crawfish place called Blanco's. No gravel here – crushed white shells made up the non-paved roads. I tried a couple pounds of crawfish, was an instant "mud bug" junky, chased them down with a Dixie Beer, and was back on down the road.
There were sugar cane fields. There were bayous. I went from "parish" to parish, which I really liked instead of "county," and tried to wrap my brain around how to pronounce words like Atchafalaya. Halfway down the 90, which ends up just outside of New Orleans proper, I got to Morgan City and sought the Holiday Inn. My gig.
Checked in, got my room key, found out where the lounge was, set up my stuff, changed into stage clothes, and down I went for 4 sets of music I thought fitting. Plus requests, of course. Very friendly people! Very! The drinks just kept coming! On my way back to the room that night, I noticed that there were "outside" air conditioners for each room. Under each was a little puddle of condensation. And in each and every puddle, a frog. I was in heaven.
Fast forward about 15 years. I'm trying to explain all this to my spouse, a Michigan native. I added in tales of learning to water ski on a bayou, tried to explain what pickled pigs lips looked like, but I got a glazed look in return. To prove I was not a big fat liar, we booked our next vacation to Houston, rented a car, visited Grandma, and off we went with our final destination being New Orleans.
Shortly onto Highway 90, he was hooked. It's stunningly beautiful in a haunting way. This time lunch was crawfish pizza. Woah, Mama. You have NOT lived until you've had some. To make my memory lane complete, I booked us a night at – the Holiday Inn! We arrived, checked in, and hit the lounge. Empty. I mean ghost town. Where was everyone? Barkeep suggested the bowling alley. Nope. No one there. Dejected, we trudged back to the Red Slipper Lounge at the Holiday Inn. We went to the lounge, because there was nowhere else to go, and that's when the game let out.
We went from 0-60 in about 20 minutes flat. Morgan City College (or whatever) had won. The place was packed! We Lounge Lizards had long since been replaced by a D.J. Cheerleaders, in uniform, were dancing on the bar! The locals were ordering, primarily Kamikazes. By the pitcher. The Kamikaze Cocktail consists of equal parts of Vodka, Triple Sec and either Lemon or Lime Juice. It usually comes in a shot glass. Not in Cajun country,
I had my Cajun dialect down pretty well – I had done several tours of duty at the Holiday Inn those many years ago – 8 weeks at a pop, three times. I was almost a Morgan City resident. We were soon at a table of 6, Kazies flyin', along with stories of Cajun grandmamas and swamps. "My Granmama say, you wanna walk wit tree shoes? Tree shoes, Granmama? Yeah! Two o' yours and one o' mine – up you butt!" And comparisons of whose granmama told the worst story of the hideous Rougarou, most often described as a creature with a human body and the head of a wolf or dog - similar to the werewolf legend, to keep the grandbabies from venturing into the swamp. It worked. And on into the night.
We had new best friends. A hunky Cajun boy name of Ricky Fredricks, and his scrawny Cajun girlfriend whom he called "Cher" which sounds like "Sha," so we did too, because we didn't know her real name. There was also a thin little Cajun guy, name of Boudreaux, who had ridden in on his bike. More pitchers of Kazies. My soul for a tape recorder! Because by now, I wasn't going to remember a damned thing by morning. Barkeep said we're cut off. Ricky 'splained that we and he and Cher were hotel guests and Boudreaux was on a bike. We squeaked in 2 more pitchers, right before last call.
Cher whispers in my ear. She suggests, "Hey, Cher! (Whadaya know! Same name!) Let's you an me ditch dese muthus and go stab us some bullfrogs!" I declined.
On our way back to the room, about 4:00 AM, the air conditioners were revved up – one per room. Under each one, a puddle. In each puddle, a frog. "I didn't believe you! I thought you made the whole thing up!" said the spouse. No, no I didn't. Truth IS stranger than fiction.
© Copyright 2017 Victoria Reid. All rights reserved.
Other Content by

Victoria Reid