Was She Eaten by The Python?
What happened to you? Were you eaten by that thing around your shoulders?
Many of you have expressed concern. "What happened to you?" "Where have you been?" "Were you eaten by that snake??" "How come you're not writing anymore?" Well, I am.
For a few months, a tried several sites, trying to find a new home after I left Newsvine. I have finally done so. I am now officially the reptile geek at http://www.Mahalo.com. I honestly have no idea how I stumbled upon Mahalo. It's been a ton of work and very gratifying. However, the original content on my pages is really "How To" information about all my critters. I now manage 20 pages. So, I've been loving the critter part, but missing the creative writing part.
Then, epiphany! I created an accompanying blog, http://thealternativepetandyou.blogspot.com/. I added Twitter. I installed Google Analytics. I linked to my all my own pages. I added Google's AdSense.
"This is a killer! And I've only dented the surface!" I whined.
Then, one of my advisors told me that people like funny stories on blogs. Bingo! Funny stories is me!
So now, I'm posting little pet stories on my blog. Here's an example: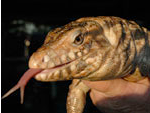 How to Feed a Tegu in a Hurry
A South American Tegu is good-sized lizard, and quite excitable at dinnertime. Even though I work with these creatures frequently and they are docile and friendly, it's a different story when food is in the mix. I developed a new technique today. I needed to feed a big Red Tegu, Miss Scarlett. As I slid open the door to her vivarium, she came at me, gaping mouth wide open and full of lots of pointy teeth!!
Now, I happen to know that Tegus love bananas. So, I stuffed one end of the banana in her mouth, and after she bit down, I threw the other half into her habitat, then quickly slid the door closed. Mission accomplished! She looked pretty silly with banana oozing out the sides of her mouth and a dreamy look in her eyes, but I still have my fingers.
Here's another goofy little pet story. Someone wanted to hear about an unusual way in which a person has been awakened by a pet: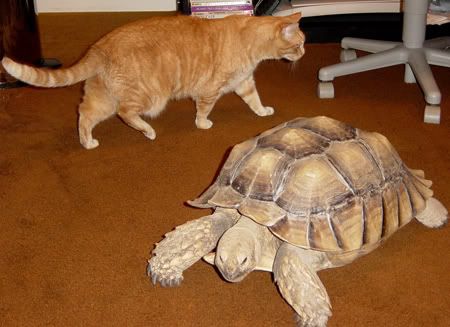 I was working in my home office. My old cat likes to hang out in his kitty bed at my feet. The other day, my 45-pound Sulcata tortoise, Timmy, wandered in and stole the pet bed! Now you tell me - this photo looks like one ticked off cat, and one smug tortoise. Perhaps it's my imagination...
So here I am.I'll get the story thing down a bit better, but prepare yourself. They will all be about these bizarre creatures and how they rock my world.Cheers!
© Copyright 2018 Victoria Reid. All rights reserved.
Other Content by

Victoria Reid