H a p p i n e s s ?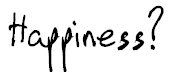 ...
The opinions of other people are far echoes of our will. Oftentimes, it pulls us away from what makes us happy. Our friends are usually involved in this. We always tend to ask some advice from them. What we don't know is that we, ourselves, know where our happiness is. Nobody can tell you that if you do this and that, you will be happy. You, yourself may know that either.
Our instinct, questions, or simply doubts push us to be curious of what others think. We often become conscious about this; we open the windows of our memories to others. When we do this, we usually listen to the shallow flow of the river. Just keep in mind that it is not always a right move to do what others say. Especially, when things deal with happiness. Trust yourself, if that's the last thing you can do. Joy is a wooden door carved not for criticism. Find yourself, to a place you'll call home.
If friendship sometimes fail you, hold on. When hesitation bothers you, clear your mind. Keep your young guard a good smile. Worries are mirrors of foggy mists. Once you wipe those tears away, the pain eventually leaves you no mark of anger but a trail of hurt. From hurt we learn, from learning we become new. We strive to be the better us. We make room for happiness spending it as if it's the first time we met it. Just when you forgot who happiness is, meet yourself. It is a hidden room having its key within you.
-W.A. Garcia

The Adventure - Angels and Airwaves
...

© Copyright 2017 wikhaiinn. All rights reserved.
More

Editorial and Opinion Essays
Other Content by

wikhaiinn