The Roller Coaster's Riddle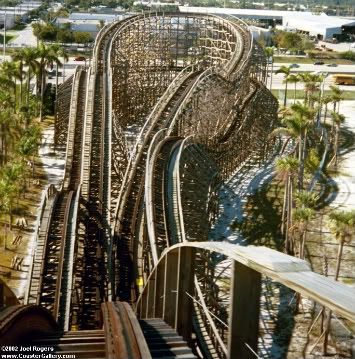 ?
Have you ever wondered why we should close our eyes
In order to concentrate in our thoughts
Why we need silence to think of something,
Why we are blindfolded by somebody for a surprise,
Why we should close our eyes to sleep,
And open them when we wake up
Why we get unbalanced and fall down
Why we succeed when we didn't even expect
That we'll win over them all.
And the same as to lose at the moment you thought
That winning is surely right in your paw.
You know,
They all come for a reason
Too figurative to be your lesson;
Anyone can catch this,
Unless unwilling to accept it,
This is why things happen,
And results to;
And this is why you should heed strength
Whenever it's your turn…
Some ways are one way
Some are intersected,
Sometimes you should cross a bridge,
Sometimes you pass a narrow road;
But wherever your dreams may lead you,
You should keep an eye to where you're going,
Slow down for the humps,
Don't overtake,
Be ready to spin in circles,
And make sure you have your seatbelt,
Coz this'll be a bumpy ride!
See, the world is changing,
And we must not do nothing.
Don't worry about what's in and out,
Think of the things rightly to wonder about;
This is patience and strong will,
On understanding and fortress…
Now, here are the clues for you
All you have to do
Is to focus deep in you…
Don't think of what's best for yourselves,
But of what is right for each and everyone of us,
Don't be disturbed of what others think nor say,
Instead bother yourselves of what you should do.
I won't ask why they want to kill you,
Why everybody is leaving you,
And why deplorable things are seemingly chasing you
Instead I will ask you,
Why do you let this foolish people to not know
How much special you are to me,
Why don't you let me wipe those tears away?
Why,
Did you ever thought of dying
If that isn't the moment for you,
Why did you let yourself overcome you…?
And even for awhile,
Let's recall the most precious moment we had
Let me see your wonderful smile again
And let yourself be content,
Once in a while,
Sweet and unshiver;
No don't you weep
No, don't you be sad
Because
I dedicate this to all of you
Let me speak of what I have for you…
If you're still breathing,
Breathe with me,
If you feel the killing,
Fight for your right,
If you're being crushed,
Soften you're heart
And let it morph
Into your unbreakable soul,
If your fears continue throwing you away,
I'll catch you
Whenever you fall;
Look at the stars at the sky,
I know we can make it right,
Hold their shimmer
And pour them on your knees,
Let me feel that you're alright,
Shout it out loud,
And watch them as the world spins,
Recover my sight,
Mend the bleeding,
Build the strength,
Be yourself…
We are not left!
Coz
There's no such thing as worthless,
There's no such thing as meaningless,
Unless you will believe,
And do not believe of what I say…
Oh I know it's not that easy
When your eyes are blurred,
But please believe that we will be safe and sound,
Live it like its good,
Sway with the rocket,
Wave your mind
And you'll know the answers that I bind.
trivia:
the song that you hear in this poem is my favorite song,
and I consider it as the song of my life...
the title is "The Adventure" by Angels and Airwaves
© Copyright 2018 wikhaiinn. All rights reserved.
More

Editorial and Opinion Poems
Other Content by

wikhaiinn