Member Since: January 2009
Open for read requests:

Yes
Connect with writer Carmell
Connect with and receive their publishing and news updates. You can disconnect at any time.
Send a message below to notify him about your intention.
Remove book from Published Books
Featured on Booksie by
Carmell
---
About
Okay guys,
I have something really important to tell you guys. I am officially quitting Booksie. I don't think I will be coming back! So if I entered any of your challenges, please croos me off! Bye! And please don't comment on my stuff anymore!
All About Moi
I'm a human being
So does that make me normal?
Of course not.
I was never normal.
*Basics*
name: Carmell Manson birthday: August 1 zodiac sign: Leo! Rawr. where were you born: Hmmmmm......somewhere where do you live now: Again.....somewhere... height: LOL, don't know. I'm super tall. Wait, let me check.....oh. 154 cm hair color: Raven black eye color: Dark chocolate, and not the kind that make you feel all melty and swirly inside tattoos: Um, nah piercings: Ears? But I probably want to pierce my nose when I grow up
*Favorites*
color: Purple!!! food: Mmm......chocolate candy: I'm really weird....I don't eat candy movie: Ooh, that's a hard one! I'm a totaly movieholic! tv show: OMG, I have so many! But currently, it would be Gilmore Girls and Hope & Faith actor: Will Smith!! Duhhhh actress: Anne Hathaway! Eeeep!!! band or singer: Taylor Swift ROX MY SOX! song: Anything by Taylor Swift or Leona Lewis holiday: Anything that doesn't make me go to school month: August, my birthday!! season: Summer, my birthday happens then! Also, I get to go swimming and eat lots of ice cream! And I go to see my BFF and grandparents! day of the week: Friday, that's when our weekend starts store: Westside.... restaurant: I'm more of a fast food kind of person......but I'd say Noodasia sport: Ew, sports suck. But I like batminton.....and basketball animal: Walrus!!!! EEEEE! flower: Um, jasmine? Don't know

*Have You Ever....*
danced in the rain: LOL, yeah, and also had my mom get MAD at me a lot cuz of it! tripped and had an embarassing fall: Duh! I'm known to be real accident prone :S smoked: No way! got drunk: Ahem. done drugs: Hello?!?!?! gone skinny-dipping: Ew.......nuh-uh been in a car accident: Um, no, but I've been hit by a car plenty been in love: Not really...... met the president: Of what? I met the President of Losers and Stupid though met a celebrity: Yep!!!! A lot!! cried over a movie: Unfortunately, yes. I'm really sensitive shoplifted: By mistake, yes laughed so hard you cried: Ahahaha.....definitely cried for no reason at all: I always do

*The Last.....*
thing you said: "Whatever" thing you ate: Don't tell anyone......*whisper* A Kinder packet song you heard: White Horse by Taylor Swift movie you saw: Uh.....I watched a lot.....oh! I remember! Another Cinderella Story cd you bought: Great. Um, Celine Dion....I think book you read: Shoot. I'm a total bookworm, but I think it was The Clique by Lisi Harrison phone call: Sarah! IM: Jude AND Sarah! person you yelled at: LOL, my sister
*This or That*
pepsi or coke: Pepsi, def mcdonalds or burger king: McDonalds....never been a fan of burgers chocolate or vanilla: Hard one.....vanilla....with chocolate chips! tv or movies: Movies colored pencils or markers: Markers...though I HATE coloring sun or moon: Sun, I'm scared of the dark day or night: Day........get to play pants or shorts: Depends long sleeve or short sleeve: Again....depends n'sync or backstreet boys: BACKSTREET BOYS ALL THE WAY! burgers or hot dogs: I'm vegetarian, so I'll go with burgers rock or rap: Rock n Roll! aim or phone: They're both cool romantic comedy or thriller: LOL, romantic comedy AND thriller waffles or pancakes: Eeeeee!!! BOTH!! peanut butter or jelly: Peanut Butter, def
*Others*
what color is your toothbrush: Um, okay......it's blue do you believe in love at first sight: Maybe......sure have you ever wished upon a star: Lol, I TRIED to! what other language(s) do you speak: Tamil, and I'm learning French if you dyed your hair what color would you dye it: Um...brown with red streaks! if you could change your name what would you change it to: Some really exotic name......or not. But I always change my mind about my fave name. Right now...it would probably be Tabitha what are the last 4 digits of your phone #: Excuse me? what's the weather like right now: Cloudy.....miserable what instruments do you play (if you play any): Piano....yuch do you talk to yourself a lot: LOL, yes, unfortunately
*Things I Will Read*
Thrillers - Who doesn't love a good thriller? I love anything having to do with murder and stuff. This is my favorite!
Romance - Anything that's sweet. But I don't want anything that will make me feel too uncomfortable, like, PG-15 stuff or R-rated.
Humorous Fiction - I love laughing. It's sort of like my hobby. So anything you have that might make me laugh, I'm definitely coming over to read it! Two funny novels that I'm reading are:
Be Kind, Rewind by Keayva Mitchell
Diaries of the Obsessed by cantlive4evr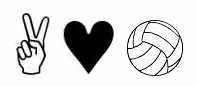 *Things I Will Not Read*
Fantasy - Sorry, I really don't like things about fairies, werewolves, etc etc. This leads me on t my next topic.......
Vampire Novels - OMG! Seriously, every single vampire novel is the SAME. I've never read any different vampire novel. Booksie is flooded with them!
Fan Fiction - Grrrr.......why can't you make up your own stoy? No offence or anything, but seriously. :( . I especially can't STAND Twilight fan fiction.
Poetry/Scripts/Essays/Articles - I like story. Scripts....nah. Poetry......don't understand most of them. But I love my best friends Laila's poetry. Essays.....yawwwnnn! Articles? Oh please.
That's all for now! Bai!
---
Quickees
This is where you can leave a short message for the writer. All Quickees are public. To leave a private message, use the private messaging system.
If you want to write a quickee (a remark or a hint for example) on this writer's profile, please sign in.
---
Leave a message for the writer with penname Carmell.
Send Invitation Mail for Profile
Invite friends to visit your profile on Booksie.