Location: Tracy (Stalker), United States
Member Since: March 2009
Open for read requests: Yes
I know I chang this too much, but there is just too much to talk about. Sorry, but if you don't like it, get off of my page. I don't want to hear your insults, that shit it seriously what I don't need right now.
And all you people who keep on bashing on Jacob B. because you all think that is not him in the pic, shut. I googled this Alex Evans guy and guess what? All of the pictures of "him" are not even the same faces. And unless he has this amazing superpower to change the color of his eyes every time he takes a pic, That is not him. So "Alex Evans" is the poser, not Jacob. And like I said before, no one really cares what you have to say. I'm pretty freaking sure that he is not going to delete his pic just because you think he is a poser. So really, you are fighting with him for no freaking reason. So to conclude this rant, I'd like to say; SHUT UP!!!
Now that my info about other people is done, I will say some crap about me! Woopady do! (Sarcasam)
I like no love MUSIC!!!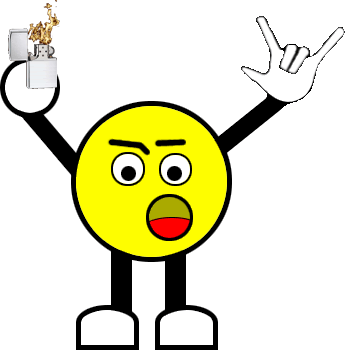 Best Friends are my EVERYTHING!

Angels are freaking AMAZING!!!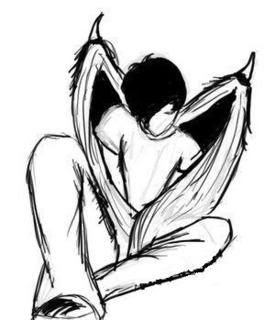 Mostly bad angels though. Like the ones that are from Hell. The other kind from Heaven are too goody goody.
They are all; I'm BAD then im GOOD. It just annoys me.
Me and SATAN are homies. When I die, i'm goin down there to live with him. Because Hell is where you can do all the crap you couldn't do as a human.
And guess what? Satan and I made up a Steed for him!
But! That does not mean that I am a Sadist. I don't acctually believe in Hell or Heaven. And for that matter, I don't really believe in God or Satan. I'm just saying that, If there is a Satan or Hell or anything, I would go there. That's all.
Jus to let you know, I am always changing/updating this page so always stay tuned to see what I will think up next. Because of course, I am out for world domination, and when one day I rule the world, you all can say, "I knew her when..." Yeah! I like that. XD
Ok, so this is another update! Yay!!! So incase any of you were wondering why I allways put the XD face when I write comments, ect. It is because that is my thing. I love that face! I don't know why, I just think it is cute. So don't be surprised if that face is after everything I say. XD
And also! Another thing! I love reading mostly anything. So if you want me to read something of yours, shoot me a comment or e-mail me at, chewierlexicon@gmail.com OR avlasak@mac.com those are my two e-mails, so talk to me. I'd love to chat! XD
Also another another thing! I have a website! www.thedailylexicon.weebly.com Check it out, and see what I am posting! I'm also a publisher, so just ask and I will post your writing on my site! XD But if I ask you, say yes plz, cause if I ask you, that means I really like it.
Ok this is the last another thing. I am going to start doing a top 10 readers list every week. So stay posted with me and see if you make it! XD (Ok im done talking and taking up your valuable time! See ya laters! XD)
Update:
Ok, so, sorry I haven't been on for a while. Someone who was very close to me died on May 9th, 2009. He'd been sick for a while, but didn't decide to tell anyone. He just thought it was the flu. But the flu turned into something entirely different. His breathing stopped in the hospital. We all cried. I still can't help but cry when I think about it. I really miss him.
Tristen Seth was the most amazing person anyone could ever ask for. He was sweet, caring, kind, and just simply amazing. He always put other people's needs befor his own, which, in the end, lead to his demise. When he first started having problems, he just blew it off, because he thought it was just a cold and it would go away. But later, his cold started getting worse. His cough started to get worse, and he started staying home from school a lot. On a friday, I took his homework to him at his house, and ended up finding out, that he couldn't even get out of his bed. He couldn't move. I felt so bad for him. I just broke down and started crying. He told me not to cry. He told me he would be ok, and he would get better, and that I shouldn't feel bad. But soon after that, he was taken to the hospital because he started choking, and couldn't breathe. When we got there, he started breathing again. Three days past, and he started feeling a lot better. He could walk again, he started eating again, and his color started returning. He was told, that he could go home the next day. Everything was looking great for him. But good things allways have to end. That night at 1:30 a.m, Seth stopped breathing. His heart stopped, and he died.
I miss him. I miss him a lot. My life is just not the same without him. I don't think I have smiled or laughed since his death, and now I have to start counsuling because my parents think I am depressed. I can't help but think about his last words to me though. "Alice, don't worry. Everything will return to normal, with or wihtout me." It was like he knew he was going to die. I miss him, and I love him a lot.
Quickees
This is where you can leave a short message for the writer. All Quickees are public. To leave a private message, use the private .
If you want to write a quickee (a remark or a hint for example) on this writer's profile, please sign in.
chewierlexicon is a

Fan of:
chewierlexicon is a

member of: