Location: Columbus, United States
Member Since: March 2008
Open for read requests: Yes
Hey, I'm Skye. And out of a strange turn of events, my nickname became Chipmunk. If any of you are wondering why I have that nickname, it's because that's the name I received from my friends at school after they found out that i was addicted to sunflower seeds. LOL! My favorite writer is Ace Meyhem because she is so kick ass and I lovers her. I am 18, I host at O'Charley's, I have some of the greatest friends ever, I play the cello, I have really short brunett hair, I have a very active imagination, I am addicted to World Of Warcraft, I love watching anime, I am wiccan, and, I have a little brother who I love very much. I also love music and spend most of my time writing. I really love getting comments, so feel free to leave me some! LOL!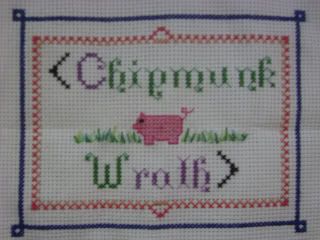 Quickees
This is where you can leave a short message for the writer. All Quickees are public. To leave a private message, use the private .
If you want to write a quickee (a remark or a hint for example) on this writer's profile, please sign in.
Chipmunk Wrath is a

Fan of:
Chipmunk Wrath is a

member of: