Location: marietta , United States
Member Since: October 2010
Open for read requests: Yes
my name is Amber, my friends call me Ambes. I am 22 years old and I was born December 17, 1988 in Columbia, pa. I now live in Carlisle pa. I have vacationed in Huntington beach Cali, for 10 years. I have been writing fan fiction since I was 9 and I have a collection of note books with all my stories and I can not wait to share them with all of you! My absolute favorite band is A7x. My main suspects for all my stories. I have 5 tattoos and 8 piercings, my favorites are my Monroe and my industrial. I sell merch for a band called Negative Space, and I promote a band called The Riot. They are all awesome and sexy as hell! I decided to go outside of my bandness, and now I am currently engaged to an Asian. (I love me some Asians) We are due to get married October 30th, 2010. I can't wait! I have an older sister named Stephanie and a little Brother named Maximo. My parents divorced and remarried. I still have my step mother, however I am sad to say that I no longer have a step father because he died of a tragic car accident. RIP.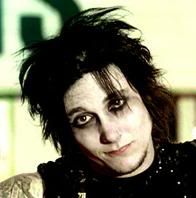 He is and will always be my secret lover. He is sooo god damn sexy!
He is the greatest drummer in the world, the vibes i got from him, gave me chills. I am sad that he died, and he will be forever missed in my home. 12/28/2009, so soon after Christmas.
This is Negative Space. On Halloween in 2008. They honestly crack me up. Here is a normal photo of them....
Josh, Jimmy, Britain, Mark and Rick!
Quickees
This is where you can leave a short message for the writer. All Quickees are public. To leave a private message, use the private .
If you want to write a quickee (a remark or a hint for example) on this writer's profile, please sign in.
cleck6661 is a

member of: