Location: United States
Member Since: July 2008
Open for read requests: Yes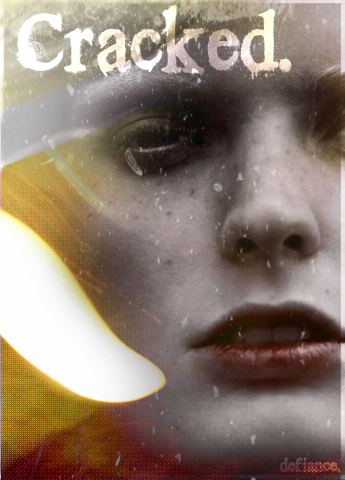 note -- the profile picture was taken by ME. The cracked promo was created by me but the picture is from here. You can use it to advertise or something, but do NOT edit it and/or claim it as your own.
I don't know if there's a lot to say about me or if I just can't think of anything to say right now. I'll just put down what I can for now and if I come up with something later I'll put it up or something. As far as my location goes, I'm only saying that I live in the Mid-West region. Sorry, not getting any more specific here. I only stick with people I know in person. I tend to write more than read which has become an annoyance to my parents. Don't try to get me to read classics; they just don't fit under my kind of category. Practically every night I write and wear out my pencil. I'm trying to type up these writings with the time I have over the vacation. I mostly write fan-fictions, since I have something to start from, but I feel that is unfair and I'm doing my best to stick with my own original work. My most treasure work is a school assignment that I wrote. It's 63 pages of pure blood, sweat and tears. As part of the assignment, we were supposed to write an original mystery. I had it planned out already and typed it up. Within days, I'd lost my work on the computer and had to re-type it. Pure hell. Once I got my grade back, I was thrilled. I'd received an A+ and soon after that I was admitted into Advanced English for the following year. (I didn't get in just because of the story, I've had other pieces of impressive work to my teacher.) I want to get it onto this site as soon as I can, which probably won't be a problem. Concerning me, I don't really have a lot to say about myself. I have a lovely cat named D'Artangan (after the character in The Three Musketeers). I also enjoy sports a lot, American football and baseball the best. As of now, I've officially become brain-dead on things I want to say.
About me
Name: Natalie
Nickname: Newt, Nat
Birthplace: Texas
Current Location: Midwest region
Eye Colour: green
Hair Colour: Brown/Blonde
Height: 5'2"
Boyfriend/Girlfriend: God, I wish.
Vehicle: Not yet.
Overused Phrase: ...the hell?
------------------------------------------x
Favorite
Food: Fettuccine Alfredo
Restaurant: Olive Garden
Candy: Dove chocolate in small amounts.
Number: 11
Colour: Green
Animal: Black Panther
Drink: Peach Nectar
Perfume: Ralph Lauren
TV Show: Chuck
Music Album: Black holes and Revelations (Muse)
Movie: Billy Elliot
Actor/Actress: Jamie Bell / Kirsten Stewart (they both make-out with eachother in Undertow. T_T)
------------------------------------------x
This or That
Pepsi or Coke: Pepsi
McDonalds or Burger King: Neither
Chocolate or Vanilla: Vanilla
Hot Chocolate or Coffee: Hot Chocolate
Kiss or Hug: Kiss.
Dog or Cat: Cat.
Rap or Punk: Punk. (Alternative Rock, preferrably.)
Season: Autumn.
Scary Movies or Funny Movies: Funny
Love or Money: Money.
------------------------------------------x
Random
Bedtime: Depends
Most Missed Memory: My old hometown. I miss that place as dangerous as it is.
Best physical feature: I'm guessing my arms and eyes.
First Thought Waking Up: Rethink dreams.
Ambition: To go to Ireland.
Best Friends: Savannah, Brittany, Rita, Jessica and Ashley. Emily, Meghan, Shelby, Gaby, Christina, Calvin, and Ashton from my old hometown.
Weakness: Big hammers
Fears: Underwater vents and automatic toilets.
Longest relationship: Not yet.
Ever been beaten up: Plenty of times.
Ever beaten someone up: I guess if you want to call it that..
Ever Shoplifted: No.
Been Dumped Lately: No relationships, dammit.
------------------------------------------x
In A Guy
Favourite Eye Colour: Doesn't matter
Favourite Hair Colour: Still doesn't matter
Short or Long: short.
Height: Anything taller than me.
Style: Indie or an artsy rebel.
Looks or Personality: Someone who can make laugh and make me feel safe and secure mentally and physically.
Hot or Cute: Ooh, tough. I'd say both.
Muscular or Really Skinny: As long as he's healthy and not outrageously over weight, I don't really give a damn.
Extra: Must know how to cook, must be educated (and smart) and must have interests in the arts. If he knew how to play an instrument, that'd be nice.
------------------------------------------x
More random
What country do you want to Visit: Ireland
How do you want to Die: Hopefully of old age.
Mall Lately: Last week.
Get along with your Parents: Yep.
Health Freak: Hell yes!
Do you think your Attractive: Depending on where I am and who I'm surrounded by. xd
Believe in Yourself: Not a majority of the time.
Want to go to College: What the hell kind of question is that? Of course.
Been in deep crap: Literally, yes.
Been in Love: Yes.
Do you Sing: With the speakers on full blast, yes.
Want to get Married: Yes.
Do you want Children: I guess. Haven't really made that decision yet. Too young.
Ever embarrassed yourself to get his attention: Kind of...
Hate anyone: Pretty much all the guys at my school, except for four.
LISTENNOW.
THECRACKEDSERIES.
Quickees
This is where you can leave a short message for the writer. All Quickees are public. To leave a private message, use the private .
If you want to write a quickee (a remark or a hint for example) on this writer's profile, please sign in.