Hello!
My name is Fahmida, Im just an ordinary girl who really love writing,poems,novels,stories of all kind.
I love animals and I do have pets...
My very first poem I ever written is " Beautiful Dream " on 6.9.2011 (tuesday) you must read it it would be glad to me.
BTW I'm science student and only get time in vacation to write my stuffs... poor me!
well there's much to tell about me but I'm ending here.
Enjoy my writing and please do comment,and you can also fan me I'll fan you back.
My email id:backtosunshine@gmail.com
also fahmida.hpage.com
Well, I also write Quote. Here are some......
<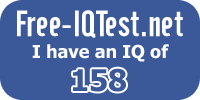 Free IQ Test
That's True...