Location: United States
Member Since: July 2010
Open for read requests: Yes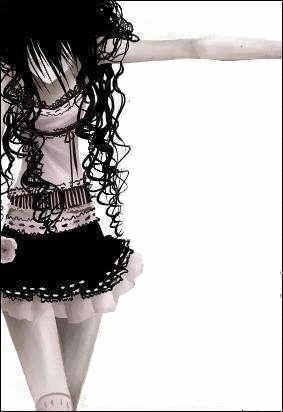 hi!
I've always been an avid reader, and writing essays or stories at school. Well, mostly in primary school but hey! whatever!
i love making things my own.
I'm into fashion but i'm not a sheep. i quite often alter clothes, and i'm loving vintage. Lace all the way!
I hate it when everyoen looks the same. I like to stand out. Be different.
I hate being told what to do. In a like "Do this. NOW." sort of way. that soooo gets on my nerves! which isn't acutally gramatically correct but who cares? (rhetorical question!!)
I use makeup as a way of expressing myself. I'm confident, loud, and (i like to think) funny. I don't get picked on for being different. I stand up for myself.
I'm not sure what i want to do yet, but that doesn't bother me.
I want to thank my beautiful boyfriend for always being supportive of me.
Thank you my lovely!
I Love You
(i bet hes gonna reply: not as much as i love you. cos u always do! xx)
***
Thanks to my cousin Louise and my BFF Ines for always being there for me.
<3 i LoVe YoU <3
***
Also thank you to all those who have been so nice and encourageing to me!
Quickees
This is where you can leave a short message for the writer. All Quickees are public. To leave a private message, use the private .
If you want to write a quickee (a remark or a hint for example) on this writer's profile, please sign in.
FairyCouture13 is a

Fan of:
FairyCouture13 is a

member of: