Location: sydney, Australia
Member Since: February 2009
Open for read requests: Yes
NEWS!!!!!!!!!!!!!!!!!!!!!!
My book 'The Devil's Concubine' was taken down from this site as it is now availabe to buy on Amazon.
[] Online [X]Offline
Hey Guys, If you are on either Fanfiction.com OR Fictionpress.com can you guys please add me. My username is Forbidden1991.
Here are the links to my sites :)
fanfiction.com/~forbidden1991
fictionpress.com/~forbidden1991
p.s. I will ofcourse return the favour
Updated Recently
- Home is Where The Heart Is (20/6/11)
- My Whole Life Changed: I'm a VAMPIRE Now (4/8/11)
- The Devil's Concubine (6/7/11)
- Music of the Night (6/5/11)
- My Best Friends a Vampire (5/6/11)
- A Twist in Time (31/5/11)
***************
Hi and welcome to my page, I never really know what to say on these things but take a look around, I promise you wont regret it.
****************
My Favourite Author's on Booksie =)
Madison Rose: Two Brothers
Angellynn: All of her Poem's
Bouganvilla: Kissing Henry
Star Reader: Tag I'm it
Miss L: The Devil's Army
Merderous Melody
SmileyFication
ToniTaylor: All of her Poems
I suggest reading their work's they are all AMAZING!!!!!
****************
NOVELS I'M WORKING ON
* Home is Where The Heart Is *
When Zoey was five, she experienced her first kiss from a guy she never liked before she had to leave the country the very next day. Twelve years later, she has returned home with her parents, to the same house and to the same Queensland. But now she has to go to highschool, rather than being home schooled, and guess who she literally runs into. While there still be a spark between them, or will they learn the hard way, that home is where the heart is.
* The Devils Concubine * (Aka The Fire Within)
Now Available on Amazon!!
Its 1899, a turn of the centuary for some and a left hand turn into hell for Annabelle. She's turning seventeen and for her seventeenth birthday instead of spending it with friends she has to spend it with her six suitors, and one of them will be granted her hand in marraige by the end of the night. If you haven't guessed yet Annabelle's a princess, and soon enough she's going to be the Devil's concubine but will she fall for the man or the beast, or will she succumb to his fiery needs.
* MY WHOLE LIFE CHANGED: I"M A VAMPIRE NOW *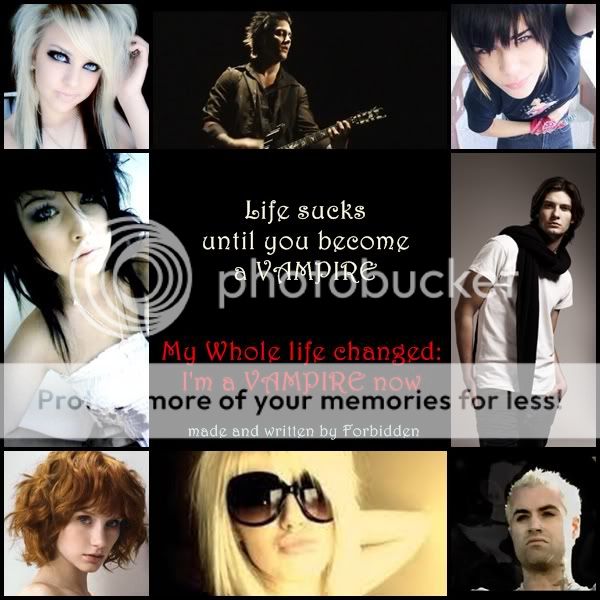 Charlotte wanted a lot of things for her sixteenth birthday but never in her life did she ask to become a vampire. Now she has to go to St. Dracu's Academy for vampires and learn how to become a vampire, you'd think that would be enough to change anyone's life but no not for Charlotte, she has to learn how to be a ROYAL vampire but can she do all that before christmas break? Find out in My Whole Life Changed: I'm a VAMPIRE now
*MY BEST FRIENDS A VAMPIRE (NEW !)*
Alexandra is your everyday Cinderella. Her mum died in a freak accident which some how involved her once best friend Isaac. A few years after her dad married a totally spoilt bitch and then dies from a heart attack a year later. So Alex's all alone with a royal pain in the ass for a stepmother. Her ex-best friend - Isaac - comes back in the middle of the year to start at her school but he's got a secret that he's keeping from Alex. Question is will she be able to solve the Mystery that is Isaac Rookwood or will she die trying?
****************************
Upcoming Novel's
***************
Miss Underworld
I asked you guys what poem of mine you wanted me to turn into a novel and the winning poem was "In Hade's Allies". This is
the novel version of the peom.
Now Available on Amazon
Melinoe had been abandon at birth, for what reason she has never known, but she knows this, she isn't like everybody else. Her eyes are a mismatched colour, one of pure black, the other filmed white. She can see ghosts, and at times she is able to help them crossover, she destroys everything in her path as well as any relationship she has ever been in. Melinoe is sick of her depressing life, until one day she meets Morpheus, and when she learns that he has a secret of his own, she'll do just about anything to find out what it is.
Quickees
This is where you can leave a short message for the writer. All Quickees are public. To leave a private message, use the private .
If you want to write a quickee (a remark or a hint for example) on this writer's profile, please sign in.
forbidden is a

member of: