Location: United States
Member Since: May 2011
Open for read requests: Yes
First off, I'm gonna start by saying: If you fan me, I WILL fan you back. Thanks!
Now, for my hobbies and stuff: I love to write and read (well, I guess that's pretty obvious...)
Um, I don't know what else to put here so I'm just gonna be random...
Okay, starting with things I like... Oh... so for books. Anyone read James Patterson?
Now, what I write... Stories? Poems? All that fun stuff...
Oh! Music! Just started listening to Kpop and Jpop like three months ago (well Kpop three, Jpop like seven, hehe) Jpop is mainly from watching loads of anime (opening and ending themes, you know?)
I love Bruno Mars!
And especially Asian Dramas :D
And anime/manga :PPP
Join the movement! Become part of the:
If you want to join, put it in YOUR profile! Luv you people! Less than three! :D
Adopt a plop!!!! <3:

Shrey-Shrey! <3 (Shreyasen11) My talking/chatting buddy! :D Less than three!
Alice! :P (KurosakiStella) My other talking/chatting buddy. Anime YAYZ!!!
Rainbowchi (Rainbowchi) xP LOVE YOU!!! You're amazing and I love our discussions :D
Kaori (Kaori Fujihara) xD Thanks for reading my stories. YAY GO KPOP EH!? <3 <3 <3
Darkie <3 (Darkie) You're awesome, Darkie! And thanks for reading all my writing. xD
Melody XP (Murderous Melody) Ooh~ Thanks for talking to me on Booksie!
Kawaii (Kawaiidomo) Yes, I love Kpop and Domo too! Nigahiga fan buddiez! <3 xP
Smileyz (Smileyfication) Aww you're so sweet smileyz! Thanks for the scrollbar! <3 You awesomez~!!! Here's a rose for you awesome people:
Shika (Shika) I love you and your awesome, encouraging comments! <3
And here's another one:
Mrow! Mrow! Mrow! Fish!!!!
Ooh~~~ Sparklessss
I WUV SUGARRRR!!!!
~~And Presenting.... ...MORE SPARKLESSS!!! <3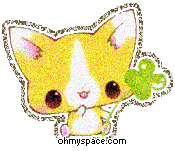 Quickees
This is where you can leave a short message for the writer. All Quickees are public. To leave a private message, use the private .
If you want to write a quickee (a remark or a hint for example) on this writer's profile, please sign in.
IchigoKyutai is a

Fan of:
IchigoKyutai is a

member of: