Location: United States
Member Since: April 2009
Open for read requests: Yes
(Talking about Adrienne)
Kim: She's from Russia!
Adrienne: Am not! I'm Armanian.
Kim: Oh...same thing.
Life at its best.
Buffy Quote...
"Just relax...and take off your pants." - Faith
This...is fricken adorable!!!! ---------->
* New poem up titled TWIG! Check it out and leave some comments!!! I love comments!!!
*If your brand new to my page lemme give you a few suggestions to what to read. I know there are lots of options. I would suggest reading SLEEPING SUN, RED MOON'S GLOW, and what I have of EVENING STAR. Personally I believe those stories are my best. If you're looking for a good screenplay read check out Silver Masquerade. I also have a random assortment of poems for you to check out so have a blast!
Upcoming..........
*Ideas are floating around. Expect a new vampire and/or superhero story sometime soon.
Some writers you should check out on Booksie...
-KazWay
-ChocolateRainbowKisses
-Harli Quin
-Dusk Dawn
Gonna be honest. I kinda love Kingdom Hearts...
...and Bleach :D
Commerical Break: When in doubt, lightsaber out!
-Superheros are always fun. Lots and lots and LOTS of fun.
"We're all in our private traps."
-Psycho
EGGS!!!!!
Surrender in Treason by Crooked Fingers
This song reminds me of a certain person I love to death. Thank you honey. :)
"I've been thinking about ol' Cain and Able, sitting at a breakfast table Talking about the way things used to be Well Able looked at Cain and said all that shit was in your head I'd like to think that Cain was hard to please I know now So if you want me you'd better knock me down Cause I ain't easy and this ain't hallowed ground She said no one loves you more than me I looked at her, she looked at me I think she's waiting for me to believe I wish that love was all it took I'd fall into you if I could Hoping for a graceful recovery"
-Cain and Able by Josh Kelly
Not much to say...I like to write. But maybe that's a little obvious. I don't know. Hmmm, what to say to everybody? I know!!
I'm in love with Johnny Depp. I know, I'm so odd. Vampires are so cool. Hiss! Whatever I decide to do with my life it will have something to do with writing. Music makes my world go round. I love so many artists, bands, and composers that I simply cannot list them. Check out my stories and I hope you enjoy them. I like getting feedback because it only helps in the end.
Oh, and as for my pen name, i promote insanity.
My website devoted solely to Sleeping Sun: www.beautyofthebeast.weebly.com
COVERS!!!!!
Currently Working On:
-Evening Star ( Book #3 in the Unlikely Duo trilogy.)
-Playing Chicken (screenplay)
-Dead With Wings (screenplay)
-Tears to Roses (novel)
-Split (updating 3 scenes a day, ChocolateRainbowKisses Challenge entry)
Completed works:
-Sleeping Sun (book #1 in the Unlikely Duo trilogy.)
-Moon's Red Glow (book #2 in the Unlikely Duo trilogy.)
-Your Eden (Scarlett's challenge)
-Silver Masquerade
To Come:
-Guards of Brennus novella (a novella focusing on the other characters in the Unlikely Duo trilogy)
-Prequel to Sleeping Sun
-Split (screenplay entry for ChocolateRainbowKisses challenge)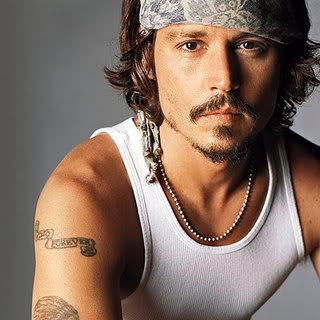 This right here is my man. Yummy!
"I don't pretend to be captain weird. I just do what I do." -Johnny Depp
"Am I a romantic? I've seen Wuthering Heights ten times. I'm a romantic." -Johnny Depp
"The only creatures that are evolved enough to convey pure love are dogs and infants." -Johnny Depp
"Tomorrow it'll all be over, then I'll have to go back to selling pens again." -Johnny Depp
That's my nerd! You go Chuck!
"Guys, I know Kung Fu!" - Zachary Levi on Chuck
"There is nothing like going to the emergency room at 2 a.m. and telling the doctor you are there because of a video game." -Zachary Levi
"I may not be quite as nerdy as Chuck is, but I've got a nerd heart." -Zachary Levi
"It's never safe in the car!" -Zachary Levi on Chuck
Invader Zim!!!!
"But, invader's blood marches through my veins like giant radioactive rubber pants! The pants command me. Do not ignore my veins!" -Zim
"It's not stupid, it's advanced!" - Tallest Purple
"The disinfectant, it's almost gone! All hope is lost if I don't find more! Clever! I won't give up! I'll destroy you! And you! And you! And yoooouuu!" -Zim
"Ruined. Ruined! Irken engineering reduced to...this! Surely that was no human bee! Once I take care of the humans, I will begin my war against...the bees!" -Zim
"Must obey the taco man!" -Gir
"Awww, I wanted to explode." -Gir
"Guess who made WAFFLES?!" -Gir.
Must See Movies!!!!
Tron Legacy
Harry Potter and the Deathly Hollows Part 1
Megamind
Music!!!!
Choices by The Hossiers
Paperplanes by M.I.A
The Funnies are COMING!!!!
Birds of Prey: "Costume Regret"
Buffy The Vampire Slayer
"Angel and Spike...Love?"
Quickees
This is where you can leave a short message for the writer. All Quickees are public. To leave a private message, use the private .
If you want to write a quickee (a remark or a hint for example) on this writer's profile, please sign in.
insanityfirst is a

Fan of:
insanityfirst is a

member of: