Location: United States
Member Since: March 2010
Open for read requests: Yes
I've moved too wattpad.
http://www.wattpad.com/user/hated4whoiam
if you woud like to contact me at all, please hmu at jacktac20195@aim.com
I love booksie, but it feels like a desolute wasteland.
please have the common curtesy not to take my stories.
kthanks.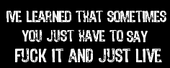 Osea Academy:
Welcome to Osea, where old celebrities escape.
Where people with bad historys go to for privacy.
Where ex-convicts and petty criminals go.
Maybe even murderers.
Where theres betrayal, mistrust, and pain. Lots of pain.
And of course, the ocean. And a school right on it.
Don't forget the big waves.
Quickees
This is where you can leave a short message for the writer. All Quickees are public. To leave a private message, use the private .
If you want to write a quickee (a remark or a hint for example) on this writer's profile, please sign in.
Jax Malo3 is a

member of: