Location: Elkriver, United States
Member Since: July 2009
Open for read requests: Yes
( )ONLINE (x) OFFLINE
Hello My name is Bobbi Jo. I am fifteen years old, and I going to be a Junior in high school.
I love the color BLUE
I love to read and write
I love music more than anyother
I ironically, hate haters
I'm a friendly person, and am easy to get along with most of time, unless you screw me over. I typically write all types of romances, but I can do other themes too, I just prefer to write romance, because that is what I'm intererested in.
That's pretty much all you need to know! Stop by and read some of my work,if you don't like it tell me, I don't bite... hard.
Oh, and all of you reading my "Ten Years Of Memories" Novel.... I have the playlist with all the songs from chapters 1-6. So yay!!! Here ya go!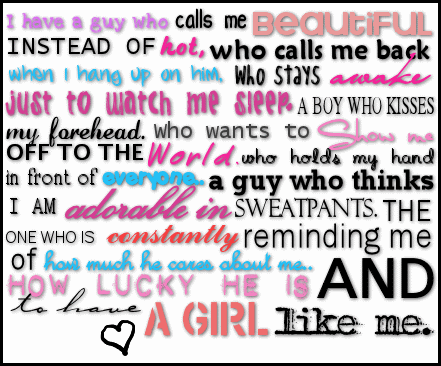 Quickees
This is where you can leave a short message for the writer. All Quickees are public. To leave a private message, use the private .
If you want to write a quickee (a remark or a hint for example) on this writer's profile, please sign in.