Location: Front Royal, Va, United States
Member Since: March 2013
Last online: May 2020
Open for read requests: Yes
Thank you everyone! Big Things Come in Small Packages has finally broke the 1200 read mark and also has 325 comments and counting.
Welcome to my Booksie Page. Do check out my novel: Big Things Come in Small Packages. I'd love to hear your thoughts and opinions on it.
Books I'm dying to get:
Dr. Sleep by Stephen King (the sequel to The Shining)
NOS4A2 by Joe Hill (Stephen King's son) Finally picked this up! :o)
Joyland by Stephen King (Hard Case Crime novel)
Books I'm currently reading:
The Fellowship of the Ring: Book Two by J. R. R. Tolkien
I Am Legend and other short stories by Richard Matheson (RIP)
Roadwork by Stephen King writing as Richard Bachman
Books I've recently finished:
Long Walk, Rage, Firestarter, "IT", and Dark Tower 8: TWTtK by Stephen King
The Hobbit by J. R. R. Tolkien (RIP)
Candles Burning by Tabitha King and Michael McDowell (RIP)
Prey, Next and Pirate Latitudes by Michael Crichton (RIP)
Booksie Authors I'm currently reading and their novels:
Anna's Attic and Married to Unhappiness byR A B Bradbury #1 fan
The Demise of Hirkland Town by BUnique #1 zombieland
Casualty of Conflict and Shadow of a Life byM K Brown #1 editor
Angels andHalo SkybyTheTeddyBearNinja #1 "lil sis"
My Sexy Online Lover andLove me, Sell mebyTake the World by Fire #1 sexiest
Operation EX byFrootLoop246#1 romance queen
Four Students and a Zombie andBy Grand DesignbyPeacemaker06 #1 best mate
Fields of Heaven by Taylor Reel #1 new comer
The Bloodline: MindBreaker byGraveLyn83 #1 genkey master
The Lost Souls byAirLionHeart #1 best new artist
A.D.T.O.C. Unstable Flame byYankeesFan68 #1 junior slueth
Elisabeth McBride by Angie Blake #1 "mystery machine"
Love Rekindled and Dare to Love?? by Princessniki #1 heart taker
The Language of The Trees by JessGS #1 tree whisperer
Stilna by DragonSlippers #1 X-Woman
Ugly Duckling Story by writinglover #1 friend saver
Die to Live by RissaG #1 party madhouse
The Great Quest and Titans and Heroes by Malaxter #1 fantasy hound
The Black Factor and The Inspector James Series by silver 84 #1 rock city
Favorite Short Stories and Poetry on Booksie:
A Life Full of Death andThe MissionShort Stories by YankeesFan68
Jack and Theodora Short Story byDarkness is my Light
Zombie Slayer Short Story byKellerina
Red Berries Short Story byPurpleDream19
The Dead Become Living Short Story byAshley I Read
Trapped and Tracked Down Short Story byTwistmybutterfly
Good-Bye to You Poem by ZAE
A Lit Candle Poem byDarkkittypaws66
World War Three Lullaby Poem byLady Cataluna
All the Poetry written by ValeriyaPonomarfor it is all really great!!!
As well as all the Poetry byLittle Blue Birdfor hers is deep and dark. Right up my alley.
Also, go check out Malaxter. I think I've read and liked every poem that guy's, probably, ever written.
This cat really rocks out, silver 84, go check out all his poetry for it is all really quite exquisite. Hard to believe he is only 16! He's got a couple novels coming along nicely as well, check it all out.
Go check all these guys and their pieces out. They really are all wonderful.
The Best of the Best: My Booksie Friends and "Family"
R A B BradburyM K BrownFrootLoop246Take the World by Fire
Peacemaker06WildPatienzBUniqueSgroi123Kellerina
YankeesFan68silver 84MalaxterRebecca1994 Angie Blake
Valeriya PonomarRaeBlair KathyLiD rsjakovac Sierra Virgie
Much of my work is pretty dark, perhaps disturbing even, but please let's remember people, that these are works of fiction. And even though I may have been inspired by things I've seen or feelings I've felt, i doesn't mean that I'm actually depressed. Well, maybe I am a little. From time to time. Per usual.
I am very much a fan of Stephen King, or any horror writer for that matter, probably why my work is the way it is, and I am slowly working my way through his books. I believe I'm on my 37th one now, the Bachman book collection (rage, the long walk, roadwork, and the running man), and I recently finished Firestarter and "It" before that; both were amazing by the way. Very powerful. His wife and son are both incredible, as well. But I enjoy many different genres, as I said in my one poem's introduction, I'm also reading the Lord of the Rings right now, too. And i recently bought "Holes", used, for like a dollar; and I wouldn't be surprised if I read that one too.
I am an umemployed bricklayer, struggling to find work, and have been looking for a while now. It's quite frustrating, but at least it gives me plenty of time, and much inspiration, for spitting out my written works. I enjoy writing, though know, i could and should be a lot better at it. The Gollum poem I recently wrote, was particularly fun to write.
Anyway, a little about myself:
I love pizza, and watching movies. I actually aspire to write or direct movies one day, though as i get older that dream seems to slip further and further away. I had hoped maybe writing could be the hidden back door into that field as so many before me have already found. One comes to mind, obviously, Mr. King. Through his words and inspiration and his writing tips, I've been trying to follow the dream ever since. But every year goes by, and the reality sets in that it is probably just that; nothing but a pipe dream. I keep getting off track, whoops! I enjoy much tv and music. I really love Big Bang Theory (Bazinga!), and just about everything on TBS. Including their recent show, that just ended Thursday, the King of the Nerds. I really enjoyed watching it. But I like a little of everything. Same goes for music. My favorite has to be DMB though, for I've seen them more than any other band, I think 8 or 9 times. But I like a wide variety, from classical to country. Though really not that much country, there's only a few songs I can stand, the rest I really could do without. But i like to say and use the word 'howdy'. Go figure! I can't stand tomatoes. but love pretty much anything you can make out of the fruity, little bastards. I don't mind tomato soup, but hate tomato juice. It's weird, I know, and I really don't understand it either. As for movies, you probaby guessed it, I like horror. But I love most movies, really. To me they are almost like works of art in a museum, even the bad ones that most people hate, must be good and have at least some merit; for they are hanging in the very same museum. So props to anyone that's been involved in any moving picture artform and got recognized, whether good or bad. You're still in the spotlight. At least, the spotlight of my mind.
My Booksie Contest Winning Pieces:
Fi-Fi Fiddle Dee-Dee (Bazinga) - WonThird Place in Sexy Scarlett's April Contest
Trippin' 'Billies - WonSecond Place in LetsGetReading's Short Story Song Lyrics Contest
So High (The View From up Here) - WonFirst Place in LetsGetReading's Hidden Poem Contest
Seven - Won First Place in Synesthesia's Cyberpunk Competition
Jackson the Butcher - Won Second Place in R A B Bradbury's May Competition
Fall of Winchester Gap - Won Second Place in The Challenge Maker's Mystery Contest
A Preacher's Creature Feature: Zombies, Cheerleaders, and the Little EMO Girl - Won Second Place in Coralie's HELP ME Title Contest
For the Greater Cause - Won First Place in Malaxter's Lustra the Temptress Competition
Night Surfers - Won Third Place in rsjakovac's Setting Contest
Get Out! - Won Third Place in BUnique's Flash Fiction Contest
Faster Than a Speeding Bullet - Won First Place in FrootLoop246's Song Short Story Contest
The Infestation - Tied for Third Place in YankeesFan68's All Survivors Contest
The Rage Lingers On - Won First Place in R A B Bradbury's Banned Music Competition
To Dream Within a Dream - Won Fourth Place in silver 84's August Dream Contest
This is actually part of the prize for Synesthesia's Cyberpunk Competition that Seven took First place in. I had to come up with a new character to be put into the second installment/ novel of The Silver Sparrow Series. Here's what I came up with. -Km2-
A balding, elderly man working in a shop in the deepest depths of the city works on making his potions and elixirs. Almost always wearing goggles and thick rubber gloves on his hands, for he is almost always working on his craft. Now he sits, breathing heavily through his manditory respirator, mixing his latest batch of moon elixir. Smiling deeply, though no one would ever be able to tell. His eyes hidden behind the goggles, but consisting of a fine silver hue. Though, again, only a few have gazed upon them. His hair, what was left, a wirey tangle of salt and pepper. The salt winning the battle for total dominance. His body a frazzled, frail, remnant of what it once was. Becoming jittery at the first slip in concentration, due to the many years of handling the toxic, high-grade, pharmaceuticals. As he then finishes mixing up the moon elixir, he quickly checks his plans. Preparing to work on his next project, a very powerful potion for the Dark Prince. Comet elixir, it will be called. And the creator's name, the alchemist, is: Vladimir Coelho Razzil.
Km2's Monthly Contest Winners:
A Fantastical Tale by R A B Bradbury took First in May's Fantasy Challenge
M or M? Morpheus or Morphine? by Malaxter took First in June's M&M Challenge
Make Believe by Angie Blake took First in July's Ho-Com Challenge
Heaven and Hell by Sgroi123 took First in August's Ang-Dem Challenge
The Demon Within by thegiver and The Devil Wants Wings by QTTA7777 tied for Second in August's Ang-Dem Challenge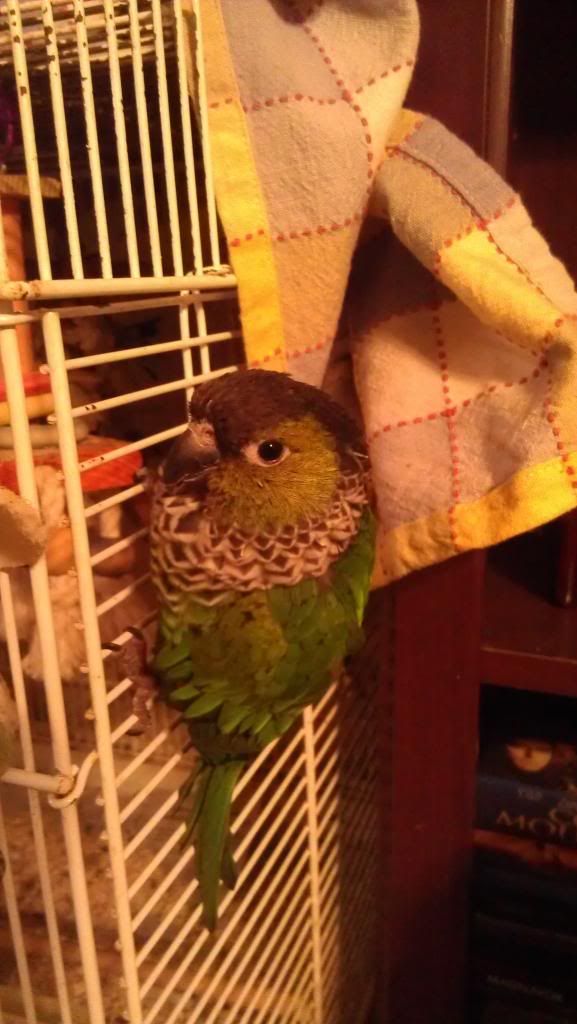 Rest in Peace, Magic, 7/2/13. You will be sadly missed by all. You were a good little "taco", may you soar high in heaven for all the rest of eternity. :'(
Quickees
This is where you can leave a short message for the writer. All Quickees are public. To leave a private message, use the private .
If you want to write a quickee (a remark or a hint for example) on this writer's profile, please sign in.